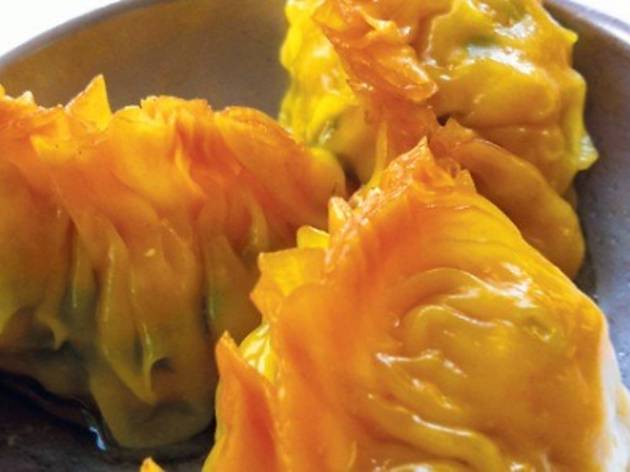 January 2013
A long time ago, Tin Ho Hweeh was my regular haunt. The wantan mee had a pleasing bounce on the teeth and the roasted meats are better than the usual garden variety. I knew that the coffee shop – loud, busy, grimy, with a massive overhead television blaring Cantonese teledramas in an endless loop – was also popular for its dim sum, but the odd desultory side order of siew mai aside, I didn't really dabble, not when the draw of noodles was so alluring.
Fast forward to an indecisive Sunday, when a craving for wantan mee collides with a random noodle memory, and I'm suddenly steering towards Tin Ho Hweeh. The coffee shop on Sunday is a totally different creature. Teeming with hungry Chinese bent over little metal plates of steaming dim sum, the wantan mee and roasted meats are suddenly relegated to second place, until lunchtime at least, when the thirst for breakfast and dim sum has been slaked. It's almost impossible to get a table, but industrious as almost all coffee shop operators are, a table is quickly found and chairs gathered.
I waste no time ordering my wantan mee, and a reassuringly expansive spread of dim sum, just to see what the fuss is all about. Disappointingly, the noodles are nowhere near as springy as I remember them to be, although the flavour is still rich and rounded. And maybe I've been spoilt by restaurant dim sum, because the siew mai here is sticky and the porky taste unrefined and in your face. Even the fish balls have a distinctly rubbery texture, while the beancurd skin wrapped fish balls yield a strange sensation in the mouth that is not unlike masticating on Glad Wrap encased pencil erasers. The chee cheong fun, which is a house specialty, is clumpy, dumpy and noticeably lacking in prawns or char siew. And yet, all around me, customers are tucking in with a distinctly satisfied air. It's very likely that they are much less fastidious than I, but surely even they can discern the surfeit of starch and absence of finesse in their dumplings?
Maybe it's price and convenience that dictates the eating habits of these customers. Certainly, textural issues aside, the dim sum is by and large fairly flavoursome. And the huge selection of economy rice dishes and roasted meats means that come lunchtime, if you're still hanging around and are still unsatisfied, there won't be a shortage of food to fill your belly. Fay Khoo
Venue name:
Tin Ho Hweeh
Address:
495 Jalan Ipoh
Batu 3
Kuala Lumpur
51200