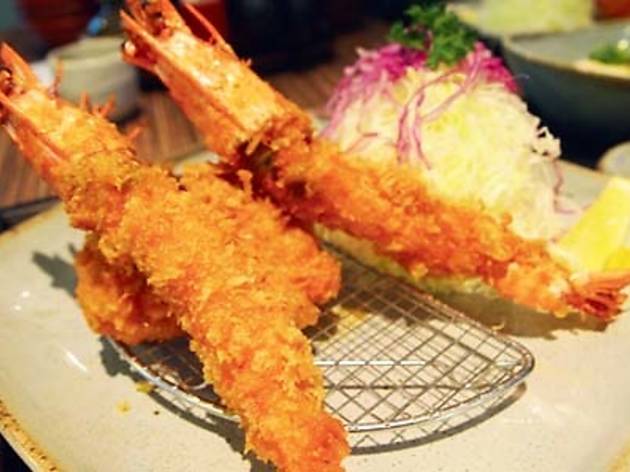 Time Out says
March 2014
With a straightforward moniker like Tonkatsu, Wa Kitchen's two-and-a-half-year-old Japanese restaurant isn't being particularly subtle about their speciality. Patrons enter this wood-accented eatery on Pavilion's top floor for one reason, and one reason alone – Tonkatsu's namesake dish. Clearly, consistency is Tonkatsu's primary strength, and the restaurant employs a single-minded strategy to largely persist with what they are good at.

The signature breaded pork fillet cutlet is crafted using a classic marinade of salt, pepper, flour and egg, and coated with a fine layer of imported Japanese-style panko breadcrumbs. Deep-fried to a luscious golden crisp, the hire katsu zen (the pork loin option is called rosu) was tender, light and, as a result of the chef's expert execution, virtually oil-free.

The refillable sides of tofu, pickled vegetables, rice, miso soup and shredded cabbage (which come with the set) were decent enough, but the sheer inconspicuousness of them all left us with no doubt that the tonkatsu was the undisputed pièce de résistance. Even the cosy restaurant's much-heralded premeal shtick of supplying patrons with a cutesy mortar and pestle to grind sesame seeds and prepare the tonkatsu sauce was relegated to a mere side show. And for all the hoopla surrounding that DIY sesame-Worcestershire sauce mixture, we mostly ended up returning to the creamy tartar sauce that accompanied the seafood furai zen (breaded salmon, oyster, scallop and prawn).
Our third dish, the katsu soba, came with a helping of rosu katsu. On its own, the succulent breaded pork loin cutlet, much in the vein of the hire katsu and seafood furai, was excellent. Nonetheless, we're curious to see how a combination of soba and buta shogayaki zen (pan-sautéed pork belly with ginger sauce) would fare as an alternative.
Despite our much-documented love affair with Japanese cuisine, tonkatsu speciality outlets in KL are surprisingly few and far between (1 Utama, The Gardens at Mid Valley and Publika each has one). Tonkatsu by Wa Kitchen's nifty rendition of the classic Japanese comfort food decidedly puts it in the driver's seat, and if you crave breaded pork fillet cutlets, it will deliver. Wong Boon Ken
Details