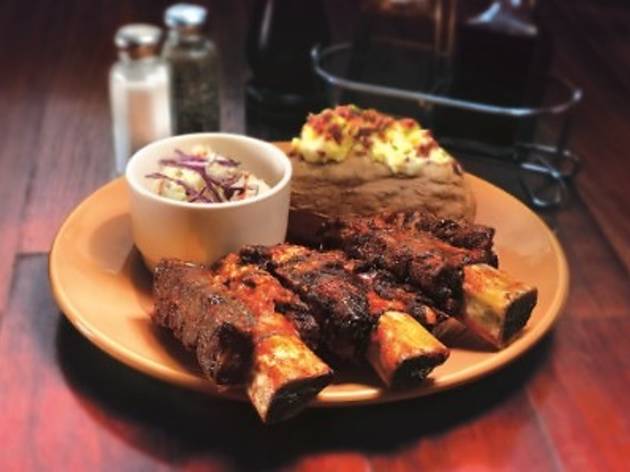 Time Out says
May 2008
Clearly no one has told Tony Roma's that they aren't a high-end restaurant. But for your sake and mine, I hope no one ever does. Their self-delusion of grandeur results in a quite surprisingly good dining experience, especially if you are with your family. The calm, interested and knowledgeable service from the staff seems more fitting of a higher-class establishment rather than an outlet that could be considered a glorified burger bar. And the really remarkable thing is the attention given to your food.
The chef's diligence is apparent in the taste combinations on the simple menu and the concern shown by the member of the kitchen team who sent out our steaks and waited while we confirmed that they were indeed cooked as desired. All far above and beyond our expectations and needs from a simple family diner.
For starters, we chose the potato wedges and chicken wings, accompanied by no less than three types of barbecue sauce (I wasn't so keen on the honey, but the smoky one was terrific) – another example of Tony Roma's doing that little bit extra.

The quality of the meat also surprised us. The chicken in the Buffalo Chicken Sandwich was a decent fillet, while the rib-eye steak was deliciously tender and juicy. I've paid far more money for far worse pieces of beef than that. It is surely the highlight of the menu. The vegetable selection though was pretty uninspired. 'Fresh vegetables' suggests a variety, so to receive just a handful of broccoli florets was disappointing.

And, lest we run away with the idea that Tony Roma's is some kind of gastronomic haven of perfection, it still sits within the ranks of American Grill-cum-diners that you'll find at any mall or shopping centre. Hence, why it only merits a three out of six here.

However, the great thing about Tony Roma's, and the reason that they could be considered superior to the likes of 'Chilli's', is the fact that they are not prepared to accept this label, even if you or I try to attach it to them. They try not to just churn out burger after burger and steak after steak. They take care of you. And I think they succeed. Matthew Bellotti
Awards
Food Awards 2009 and 2010

Tony Roma's was shortlisted in the Best Steak House category of the Time Out KL Food Awards 2010, and also shortlisted in the Best Family Restaurant category in the 2009 awards. Our food awards are 100% voted for by the people of KL. This way, we guarantee that popularity and consistent performance is rewarded.
Details