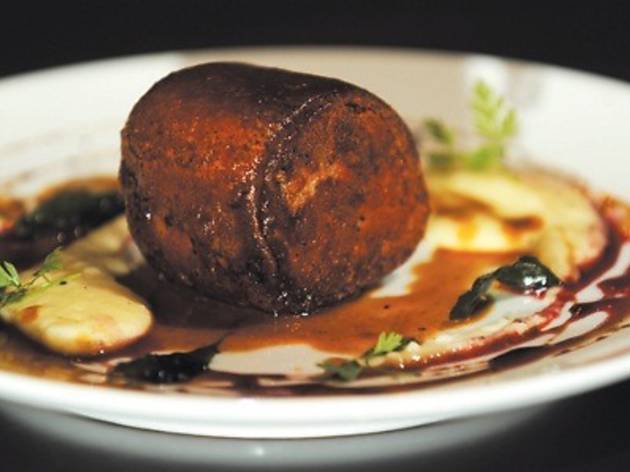 August 2010
Not so long ago, Ultimo – named after the suburb in Sydney where the owner spent his halcyon days – was a rarity in Solaris, serving fine dining and well-considered degustation menus to diners who had had their fill of Korean BBQs. Suddenly and inexplicably, there was a change in genre and even as I write this, the eatery has been split into two concepts: a more informal dining area downstairs now serves tapas (for goodness' sake, why?) while the upstairs dining crèche aspires to a more formal dining style that harks back to the eatery's erstwhile fine dining/modern Australian aspirations.
Because the décor looked as though someone had spent a lot of thought – if not a huge wad of cash – putting it together, and because the service was effusive and earnest, I wanted, I really wanted the food to put a spring in my step. Alas, the menu comprised a clutch of quasi tapas dishes that ranged from mediocre to suspiciously two-dimensional (call me pedantic, but I don't for the life of me know how fried barbecue chicken wings and pork satay qualify as tapas), with the best of the bunch being the sticky sesame pork balls which, while erring on the side of sweetness, at least had a semblance of vivacity in both texture and taste.

Main course dishes like the braised pork belly with shitake mushrooms and onions were pleasant enough, but they lacked the power that inspired cuisine has of invoking unscheduled cravings in food lovers. The skin was gooey, and much like the overall flavour, had a suspiciously phlegmy taste that just couldn't euphemistically be passed off as smooth or unctuous.
Perhaps my disapprobation has been coloured by Ultimo's previous incarnation. If the eatery had just opened, it would be fine, satisfying as a suburban eatery both in terms of price and food quality. With that in mind, let's take a glass half-full approach and say that at the present Ultimo, you would not be unreasonable in expecting a nice setting, good service, above-average food and wine, and fair prices. Fay Khoo
Venue name:
Ultimo
Contact:
Address:
13A Jalan Solaris 4, Solaris
Kuala Lumpur