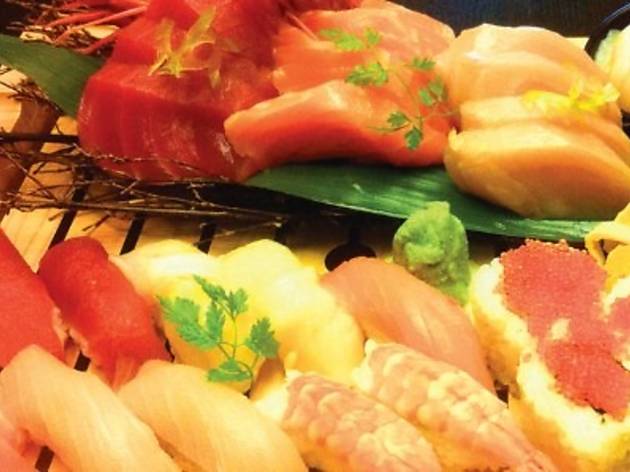 June 2013
Call me prejudiced but there is something horrifically impersonal about touchscreen ordering in a restaurant. It may be fine for a karaoke lounge, but the absence of human contact right up till the food is delivered with perfunctory briskness is off-putting, to say the least. And that was how my visit to the 'halalfied' Malaysian outpost of Australianbased Wagaya begin: inauspiciously and rife with suspicion of what was to follow.
Don't get me wrong. Apart from the glow of computer screens on every single table, Wagaya's décor is perfectly adequate, if a slightly hectic setting is to your taste. What got my goat was the fact that the food arrived in a huge cluster, so the sashimi was mixed in with the fried and simmered items, which of course meant that by the time we furiously masticated our way to the latter, it was already cold and – in the case of the ox tongue – taking on a mealy/rubbery texture that did not bear consuming.
For a chain that has as many outlets as Wagaya, this rookie error is unforgiveable, especially when the mentaiko spaghetti arrived even before the cold items. Unfortunately, the proportion of roe to pasta was woefully imbalanced so any hopes of dispelling our initial misgivings evaporated, while the plate of spaghetti squatted like a malevolent dwarf in the middle of the table, radiating a somewhat toxic red glow.
We tried to order uni, but it wasn't available, and the sashimi, when it arrived, was tellingly dull in colour, and two days off being fresh enough for a purportedly top-notch Japanese restaurant to classify as 'good enough for its diners'. For good measure, we had also ordered gyozas (unremarkable), agedashi tofu (gluey and inedible), tempura (middling) and chicken cartilage (unmemorable). And there's no greater indication of failure than the knowledge that you will be going for supper at the conclusion of dinner. Wagaya is apparently also popular for such 'pubby' items as the mini pizzas with mushrooms, rice cakes and chicken, and the grilled chikuwa fishcakes with cheese, but since I have sworn off cheesy Asian food such as the likes that is served with great success at Kim Gary, I see no reason to eschew my principles for the Japanese version of the same.
Was it simply a case of the restaurant having a bad night? Quite possibly. But with a sea of more than adequate Japanese eateries vying for business in the Klang valley, it's hard to imagine I will volunteer either wallet or palate for a second go. Let's just say it will take more than some convincing. Fay Khoo
Venue name:
Wagaya
Contact:
Address:
D5-G3-5, 1 Jalan Dutamas
Kuala Lumpur


You may be interested in: