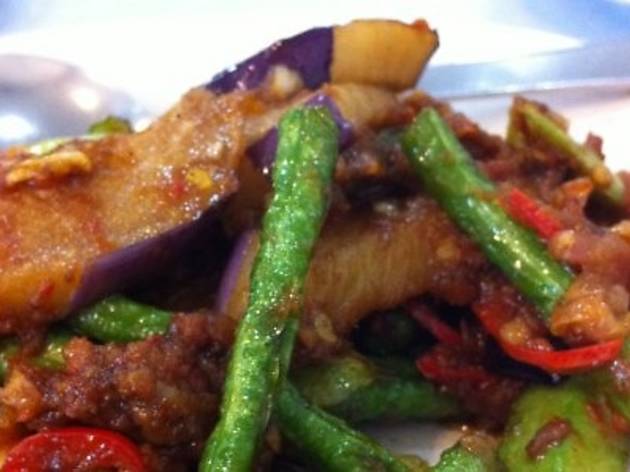 January 2012
Subang Jaya confuses me. None of the road numbers make sense and I have more than once almost shed tears of despair when trying to reach my destination. But I continue to persevere because it is also home to some great eateries. KL's best chicken rice (Kah Heong) is there, as is my latest find, the inexplicably monikered Xfrens Café and Restaurant. While it's not going to win any prizes for ambience, and—despite the promise of the name— you certainly won't make any friends who work in the porn industry there, the eatery's home-cooked Chinese dishes more than compensate with enthralling flavours and extremely reasonable prices.
The marmite ribs with sesame seeds are perfectly glazed and yield an immensely satisfying crunch while the Thai style lemon chicken is just piquant enough to provide a zesty counterpoint to the crispy meat. Teochew style steamed fish is a hot ticket at Xfrens, and that's because the fish is flaky and the broth soul-satiating and nourishing. Pretty much all the food at Xfrens is cooked with skill – the hotplate sizzling tofu with minced pork and egg was no exception and provided a lovely blend of taste sensations. And although an unorthodox mix of unlikely bed companions, the petai, string beans and aubergine sambal stole the show. A tousle of textures and flavours, it came together with the happy harmony of a musical masterpiece.
Probably the only drawback is the horrific crowds at mealtimes, so unless you're a desk-bound pencil pusher— and you have my full sympathy if that's the case—I would strongly recommend you opt for brunch, or early dinner when you decide to dine there. But make the effort, as it's thoroughly worth it. Fay Khoo
Venue name:
Xfrens Café and Restaurant
Contact:
Address:
51, Jalan SS18/1B, 40400
Selangor


Opening hours:
Mon-Fri, 10.30am-3pm, 5.30-10.30pm; weekends from 5pm.
You may be interested in: