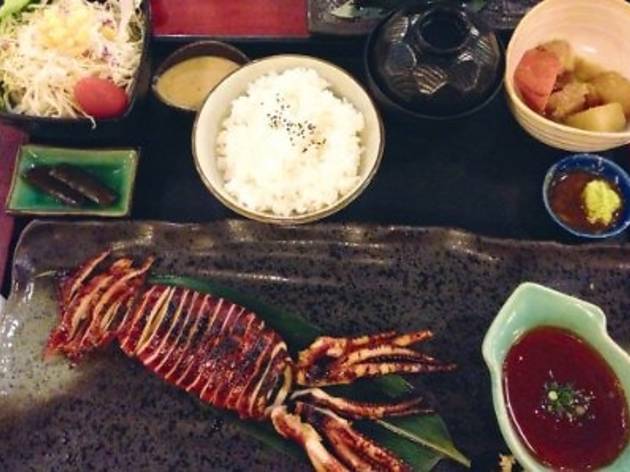 Time Out says
September 2013
From the Thai trinity of Lai Thai, My Elephant and I'm Spicy to The Grind Burger Bar's gourmet burgers, PJ's Section 17 boasts a healthy variety of food options that goes beyond its standing as a Chinese cheap eats paradise, but Japanese cuisine has been the neighbourhood's one glaring omission for the longest time. That is until Yokotaya came along in mid-January to rectify the situation.
We visited Yokotaya one weekday evening for the purpose of testing out its nabeyaki hamburg steak (RM25.80), but our pursuit of the claypot beef and pork steak was thwarted by the bestselling dish's lack of availability. 'Sold out,' explained our friendly server, who a few moments later broke the news that our second choice, the salmon belly kushiyaki (RM21.80), was also unavailable for the night.
Eventually, we came across two mains in the spacious Japanese restaurant's extensive menu that weren't sold out – gindara saikyoyaki and surumeika. We weren't disappointed for long. The former (wine and miso sauce-grilled cod fish) was a revelation, with a thin crust, tender fish fillet and delicate salty-sweet tang. Meanwhile, the latter (grilled whole squid) was perfectly complemented by the secret ikawata sauce, a tart mixture of Japanese saké and squid liver. Both the dinner sets came with rice, chawanmushi, salad and a hearty bowl of miso soup that tasted suspiciously like Chinese ABC soup.
Yokotaya's penchant for fresh, well-executed seafood was further exemplified by the sole 'sashimi' we ordered – salmon carpaccio. Unlike the ubiquitous slimly sliced raw meat appetiser from Italy, this delectable iteration featured a thick raw salmon slab and a flurry of onion slices that had us waxing lyrical. The lure of pork at Yokotaya, which possesses another outlet in Kepong, was also meant to be a highlight, but the pair of aspara bacon kushi (asparagus wrapped in bacon skewer) we opted for wasn't particularly noteworthy.

Section 17 already had the wantan noodles and tom yum market covered; with the belated arrival of Yokotaya, we can add soba and unagi to the mix. Sure, the imposing wooden front door isn't the most welcoming and the yellow lighting doesn't translate well to photos, but Yokotaya's above average Japanese fare and affable service more than make up for those aesthetic shortcomings. Wong Boon Ken
Details