Acme Bar & Coffee Bangsar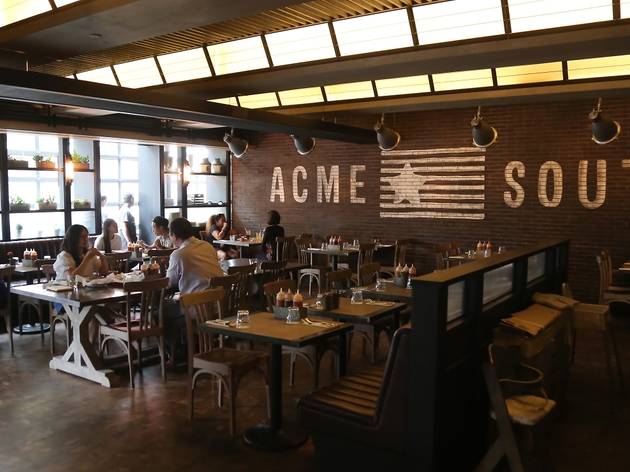 1/6
Photo: Hizwan Hamid
Acme South is set up like a Southern dive bar.
2/6
Photo: Hizwan Hamid
Po'boy shrimp sandwich, RM29.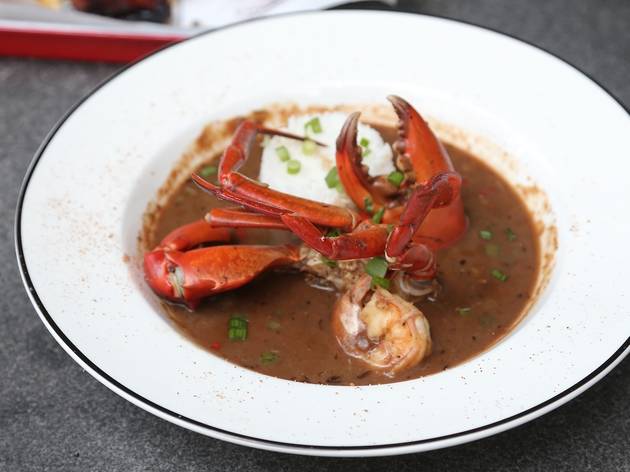 3/6
Photo: Hizwan Hamid
Gumbo, RM39.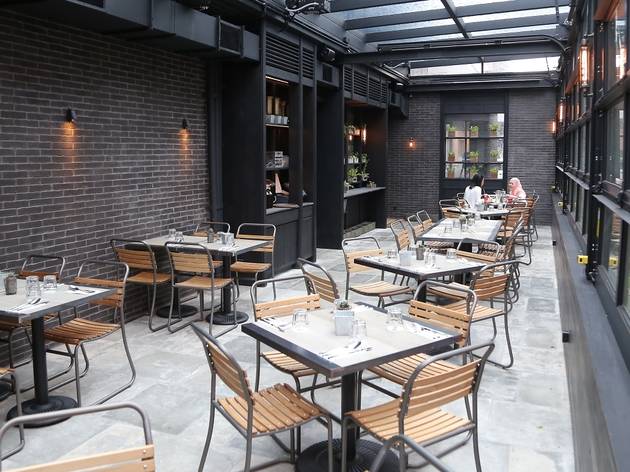 4/6
Photo: Hizwan Hamid
Sit outside for more intimacy.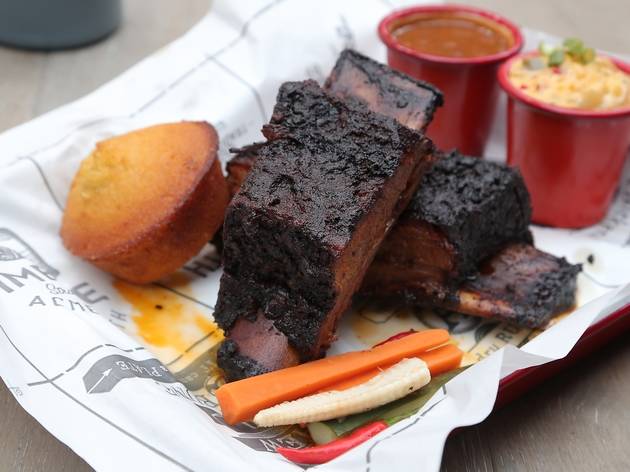 5/6
Photo: Hizwan Hamid
Ribs, RM89.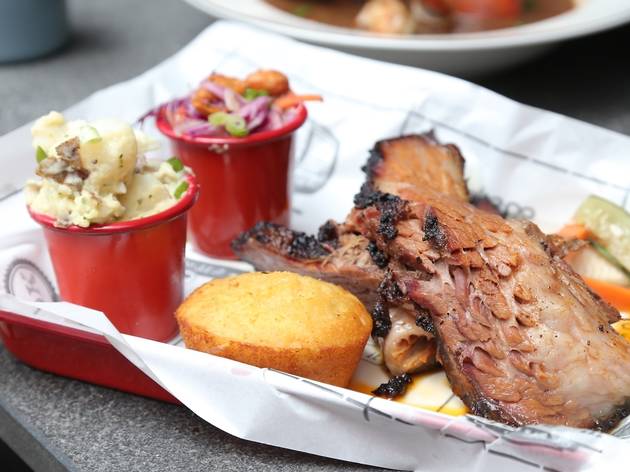 6/6
Photo: Hizwan Hamid
Beef brisket with two sides, RM49.
Likely weekend scenario: You put on a nice dress and go to Bangsar for a nice brunch. You look around and are surrounded by glittery cafés and coffee bars: Plan B, Milk & Butter, Three Little Pigs & The Big Bad Wolf, etc. You feel dispirited by your surroundings of mediocrity, settle for one of the shops by random and forget about the food five minutes after you walk out the door. Bangsar does that to you – it's all flash and lights, but when you want to have really good food, you're stuck. 'So many places, yet so few,' we say.

This is all to point out the significance of Acme South's opening in the area. Taking over Garibaldi, it's the second project for the team behind Acme Bar & Coffee, one of KL's prettiest. 'The idea has been germinating for over a year,' says owner Andrew Wong. The time spent on the space is telling in the setup – the restaurant takes from an old-fashioned Southern dive bar but it never, ever borders on tackiness. It has the American family restaurant charm but without the checked tablecloths, the exposed bricks or those awful wall adornments of iconic American logos and stars.

The food too, is Southern, a cuisine whose name is tarnished because of repeated bastardisation in malls. But instead of half-baked Tex-Mex grub, it comes down to mostly one thing at Acme – barbecue. Barbecue is to the Southerners what nasi lemak is to us – precious. For this reason, Andrew and his team brought in Bryan Duck, a Louisiana-based food consultant to advise on just about everything that's being put on your plates.

Smokers and wood chips were also brought in to achieve the Southern version of 'wok hei', a peppers-and-spice rub was created, and a rigid 24-hour cooking method (12-hour brining and 12-hour smoking) was introduced. After all the poking and prodding with cooking times, the barbecued beef briskets are just how Andrew imagined them to be: Because of the lengthened cooking hours, the fat on the beef's surface melts into the flesh, and while all that happens, a blackened crust forms on the meat's surface to protect the fats from seeping out. This results in meat that contains the fat and juice without compromising texture from its thin 'shell'. Espresso and watermelon sauces are among the kind to choose from, but Andrew reckons the briskets are best eaten on their own. Dare you ask for barbecue sauce or ketchup?

Other highlights are the ribs, po'boy sandwiches (in oyster and shrimp), gumbo (A Louisiana Creole dish that has a nice bite on the rice), smoked chicken, hushpuppies (a type of corn fritter) and grit sticks. In a month or so, the breakfast menu will launch, banishing all your indecisiveness when caught in the Bangsar rut. At brunch time, you'll soon be welcoming biscuits and gravy, shrimp and grits, and Southern hash browns. If Southern is a cuisine that suffers from bad rep, Acme South is clearly on a mission to fix it.
Venue name:
Acme Bar & Coffee Bangsar
Contact:
Address:
LG 10
Bangsar Village I
1 Jalan Telawi 1
Kuala Lumpur
59100

Opening hours:
Daily, 10am-12midnight