Aunt Christina's Sarawak Laksa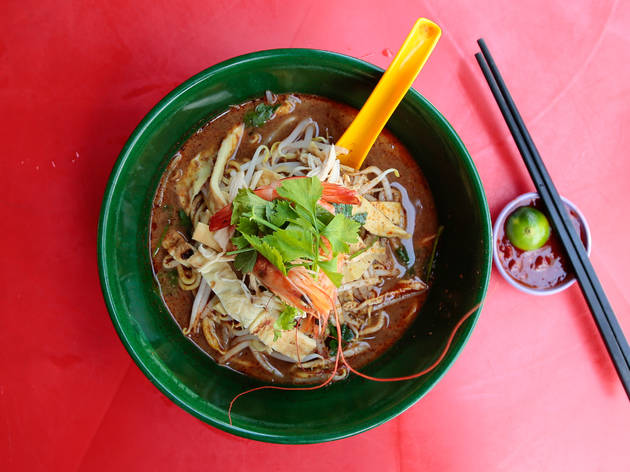 Time Out says
Note: Since the review was written, Aunt Christina's Sarawak Laksa stall has moved from its premises in Bangsar to Petaling Jaya.
July 2008
Sarawak laksa is a bit of a mystery. Google 'laksa lemak,' 'Penang laksa,' even 'laksa utara,' and pages of links to recipes appear before your eyes. Yet few and far between are the web-published recipes for the dish most often associated with the coastal city of Kuching. Luckily a Sarawak-worthy version of the state dish can be found in a quiet corner of Bangsar.

The petite, sweet-faced vendor dishing up Sarawak laksa at Nam Chuan coffeeshop hails from Cat City and tells us that many of her ingredients do too. She declines to elaborate on exactly what goes into the fabulously spicy coconut milk-based soup she spoons over your choice of yellow mee or beehoon (pssst … go for the rice vermicelli; they're a better balance for the rich soup), but we're guessing ingredients include candlenuts, garlic, ginger, and dried spices including ground coriander seeds and one of Sarawak's biggest exports, black pepper (drain your bowl of soup and you'll leave a ground-spice ring).
If the ground dried chilies don't set your tongue a tingling add a dollop of roasted chili sambal, served alongside with a kalamansi half. Blanched bean sprouts add a bit of crunch and a flurry of chopped Chinese celery some colour, and halved prawns, shredded chicken, and sliced omelet round out the dish.

This vendor offers other notables as well: chopped pork-topped abacus seeds (chewy yam mini dumplings that vary in color from dull gray to shocking violet, depending on the type of yam that went into the dough that day) and, on weekends, spicy black pepper pig stomach soup and a comforting stew of herbal chicken. But her laksa is firmly, and deliciously, front and centre. In Kuching, Sarawak laksa is breakfast food, found at too many stalls and coffee shops to count from 6am on. We can't think of a better way to start the day. Robyn Eckhardt
As featured in Time Out KL's 101 things to do in KL
Details