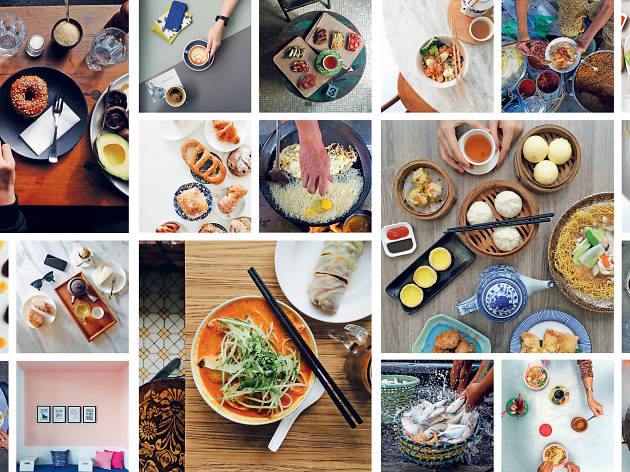 Camera eats first: Is Instagram changing the way we eat?
...and is it for the better?
For all its popularity (400 million active users at time of print), Instagram has a bad rep among food purists. We hear of acclaimed restaurants banning phone photography, citing bad manners, infringement of intellectual property and disturbance of other diners' experience. No surprises there. When Instagrammers go to near-obsessive lengths (standing on chairs, placing freshly brewed lattes on the floor, meticulously styling and rearranging the entire table until the food gets cold), some sceptics wonder what is being lost as food becomes social currency for the digital age. Whatever happened to living in the moment and conversations with companions? Is the act of Instagramming eclipsing the act of eating the meal itself?
For the sake of Instagram, some of us have actually done things like buying an expensive bottle of artisanal soda just because it would look nice when held up against a wall. This got us wondering: Is Instagram influencing how we eat?
Now that a whole generation seems unable to enjoy their meals without a sprinkling of 'likes' on the side, we talk to the city's top Instagrammers and restaurateurs to find out if the online pictorial medium is influencing our dining landscape for the worse. Turns out, it's (sort of) not.
Who made it okay to pay RM15 for a cup of coffee?
Starbucks did. And that set the stage for the age of the Australian brunch. When we were still hanging out at the local mamak, McDonald's or Starbucks, the advent of the Australian brunch and coffee scene (and with it, latte art) was a welcome progression to how, where and what we eat. Suddenly, the ambience, the setting and the concept started to matter as much as the actual food, if not more.
Freelance food stylist (whose clients include The BIG Group and DoubleTree by Hilton KL) and mega-Instagrammer (not kidding; at the time of publish, she has 116k followers and counting) Trisha Toh (@trishates) started her Instagram account in 2012, when the café scene was just picking up. 'When the whole specialty coffee thing was introduced in Malaysia, everyone just went wild, like, finally, something good! With Instagram, I wanted to document where I went every weekend.'
All of these factors – the latte art, the eggs Benedict, the stylish space – come together to become an intensely 'shareable' experience on Instagram. Call it keeping up with the Joneses, call it curiosity, but if someone has had a good latte and we see it on social media, we'd (consciously or subconsciously) want to try it too. If we ended up liking it, somewhere along the line paying RM15 for coffee or a slice of cake became acceptable – because we'd get a nice photo out of it, which could lead to validation on social media.
It changed our palate
Drawing a parallel to Melbourne (where she studied architecture for five years), full-time architect and mega-Instagrammer Lim Sher Reen (@sherreenl) says that Malaysians are where Melbourne was five years ago. 'Melbournians have a very sophisticated palate; they're very serious about their coffee. But it wasn't always like that. We all have to start somewhere. I think Malaysians are becoming more sophisticated, but these things take time. We're just starting.'
The very act of trying out new things and indulging in brunch brought about a bigger change than expected. Malaysians used to eat five meals a day: breakfast, lunch, tea, dinner and supper. Brunch was never part of the vocabulary. Lim says, 'I mean, which Malaysian ever woke up and went, "I want some eggs Benedict?" We're supposed to crave nasi lemak! When did our palates change?'
That's not necessarily a bad thing, though. Because of Instagram, a lot of what we're allowing ourselves to see has resulted in a change of appetite and in the emergence of a new culture, almost. It created more facets to the food conversation and evoked curiosity about food.
'I mean, which Malaysian ever woke up and went, "I want some eggs Benedict?"'
Instead of conversations revolving around roti canai, now we can talk about local ingredients, cold brews, sustainable farming practices, and much more. This interest led to cravings and explorations, which hopefully brought about a more varied palate, and in turn drove the proliferation of restaurants and cafés.
It accelerated the obsession with food
Co-owner of Fat Spoon café and Mei by Fat Spoon Michelle Pong says, 'Five years ago, when Fat Spoon first opened in Damansara Uptown, it took us about three months to get the word out, even though there was already a blogging scene along with Facebook and Twitter.' In contrast, when Mei by Fat Spoon opened in Desa Sri Hartamas this year, it was full from the get-go.
Yes, there was Facebook, there was Twitter, but Instagram is an application made for the mobile age. Let's face it: It's easier to look at pretty pictures than to read a whole blog post or status update. We habitually scroll through Instagram before we go to sleep, the moment we wake up, at the breakfast table, while we're stuck in traffic. There are some who even admit to using Instagram more than WhatsApp. Like it or hate it, it's here to stay. Taking into account the fact that humans are visual-oriented creatures and along with the unspoken Instagram rule that all images should be of a certain photogenic standard, the visual pull of a photo on Instagram can be very strong.
Seeing an image of a dish will subconsciously remind us that we've not visited that restaurant for some time, or alert us to a new place we should check out. Pong muses, 'I think, Malaysians are followers. We join the queues for crowded restaurants and avoid empty places. We are more willing to step into a restaurant if we find that someone else has already been there. With Instagram, we can find out how the new place is like, and just like that, half the battle is won.'
It changed the way we relate to food
At a time where the shrinking currency, the recession and the rising prices are apparent, the café scene seems to be stronger than ever. We hear that retail sales are slowing, people are forgoing shopping, but one thing stood out: Food (good food) is still untouchable. Perhaps we're too broke to purchase the big stuff (research shows that millennials are buying less houses and cars), but if it's any consolation, food is one 'luxury' we can still afford.
'Pre-digital, I don't remember anyone (apart from myself) taking pictures of food on film for personal use'
Having travelled the world on assignments for publications the likes of The New York Times, The Wall Street Journal and Saveur magazine, veteran food photographer Dave Hagerman (@davehagerman) offers a different perspective: 'Food is a subject that we can all relate to. There have always been people who are obsessed with food. I certainly was, long before even food blogs came around. I mean, my parents' generation in the '70s was very interested in food too, but that interest manifested itself in food publications, dinner parties, that sort of thing. Pre-digital, I don't remember anyone (apart from myself) taking pictures of food on film for personal use. It's just that technology has given us more ways to indulge and share that obsession all over the world.' With hashtags and geotags on Instagram, it became a lot easier to find like-minded people to feed and nurture that obsession with certain food trends and places.
Sceptics worry that people visit new restaurants not for the food, but as an indicator of social status, or for the sake of 'gramming every angle (before someone else does it first), or chasing after different combinations of tastefully placed number blocks, flowers in jars, table tops and cups. Some may even bring along their own tablecloths, marble-printed paper, props and cutlery for a mini photo shoot. You may scoff at the way they seem to be more preoccupied with the composition of a photo than with the food itself, but look at it on the flip side – the more they seek out photo ops, the more they're probably going to eat, and the more their palates are only going to improve.
How to get in on the 'gram
For Toh, when she first started out she tried fitting in about two cafés a day over a weekend, and she admitted to standing on a chair to get the perfect shot. Now, she feels that one can take a good photo anywhere you go. She says, 'Know your boundaries, be in the moment. There are so many angles and stories to photograph; it doesn't have to be a perfectly styled photo of the meal itself! It can be the restaurant, outside the restaurant, or even your leftovers. At the end of the day, come on, it's fun. It's supposed to be a fun application.'
At least now we know better than to fork out big bucks for that pretty-looking artisanal soda.
Get Instagram tips
Top tips on how to get the best Instaframes, as advised by veteran food photographer Dave Hagerman and mega-Instagrammers Trisha Toh and Lim Sher Reen.
Best selling Time Out Offers