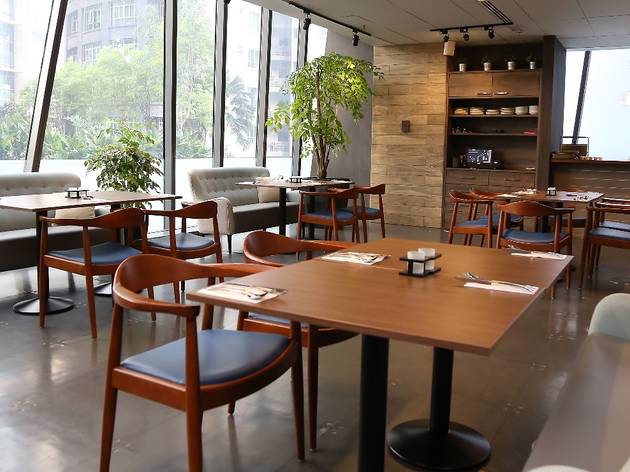 1/3
Photo: Hizwan Hamid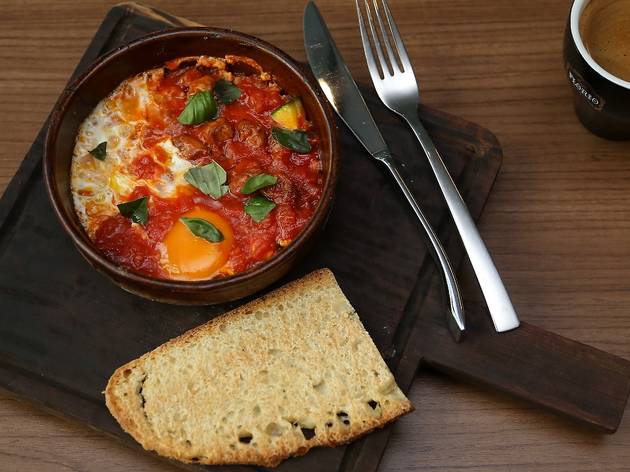 2/3
Photo: Hizwan Hamid
Shakshuka (RM20)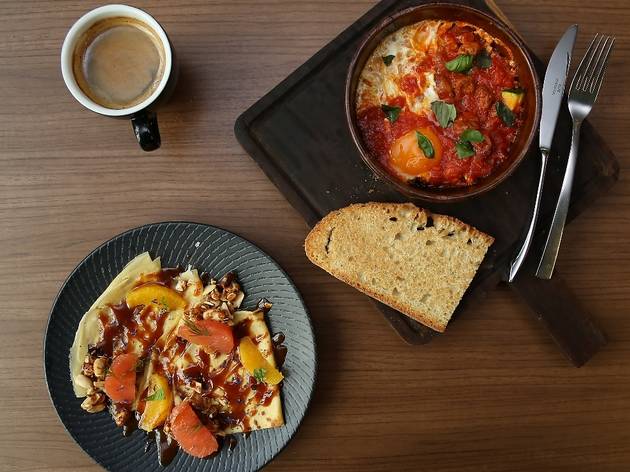 3/3
Photo: Hizwan Hamid
Poppy seed crêpes (RM15), shakshuka (RM20)
Time Out says
Another month, another modern European restaurant. But Copper is unique in that it's completely halal, an important fill in the brunch market gap. It's a tastefully designed space – lots of steel colours and powder blues matched against flourishes of copper. It's just a shame that it operates on the fifth floor of Brickfields's Menara Shell – hardly the location for the trend-obsessed, let alone a European-inspired brunch.

The menu is a reasonably exciting one, and a lovely lady I assume is co-owner Zeehan Zahari acquaints the items to us. That's just about the highlight of the morning. I begin with shakshuka – what I think is the ultimate strike-of-noon food. It comes with chicken chorizo (an oxymoron if I ever saw one) and zucchini with a slice of sourdough. Alas, the eggs harden through no fault of Copper's – I leave it sitting for a couple of minutes at the expense of the yolk crumbling into powdery chunks when prodded with a fork. The dish, as a whole, is extraordinarily average. There's a lack of body and heat that I associate with shakshuka, and the zucchini, though unusual, doesn't do a good job in soaking up the sauce.

The soft shell crab comes with the promise of green peppercorn mayo, but what arrives is a brush of a thin, unidentifiable sauce on the curve of the plate. The spice-battered crabs are good enough, but I'd much rather a tub of mayo than the side of lettuce and potato salad, and most oddly, segments of grapefruit. The big breakfast is treated just as peculiarly – it comes with crushed potato and a large mound of lettuce. I appreciate the hard work that goes into the food here (the baked beans are surely house-made), but it's beginning to look like Copper's ideas are getting the better of something far more important – taste.

My theory comes full circle when the last main arrives – poppy seed crêpes with salted rosemary caramel and nuts. The crêpes are cooked beautifully, but there is far too much going on in a single plate. There are orange and grapefruit segments, peanuts and dill – all that are supposed to go hand in hand with caramel. It doesn't quite. But some salvage is gathered at dessert when the waiter recommends the grilled pineapple. The fruit is held by a gently whipped coconut yoghurt-cream, which is lovely. The orange blossom pavlova, meanwhile, is sickly sweet even if the pumpkin seeds are a clever touch. It's a pity that the sum of its parts is greater than the whole, like most of everything else I try at Copper.
Details