Heads up! We're working hard to be accurate – but these are unusual times, so please always check before heading out.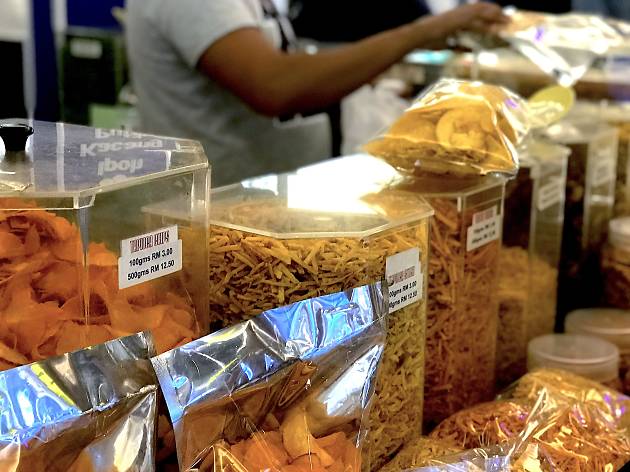 Guide to kacang putih
How well do you know what the kacang putih man sells?
The history of the kacang putih (literally translated as 'white nuts') business goes back to the 1940s, when the British brought in migrant labourers from the Ettayapuram village in Tamil Nadu to Malaya. A few families settled down near the limestone hill in Gunung Cheroh, Ipoh – until 1973, when the residents were relocated to Teluk Kurin B in Buntong after a slab of limestone fell onto a longhouse, killing 42 people.
It was in the new settlement that business kicked up. The new, larger homes allowed owners to set up retail storefronts selling kacang putih, as well as other fried Indian snacks like murukku and assorted fried nuts made using recipes from Tamil Nadu. Business was so brisk that the settlement's unwieldy name was changed to Kampung Kacang Putih – and until today, remains as the heart of a growing kacang putih industry across the country.
You won't find kacang putih sold by the kacang putih man
The kacang putih vendor didn't start by selling different types of murukku, fried nuts and potato chips – they just sold one thing: actual kacang putih, which are steamed lentils (also known as kacang kuda). But selling that alone wasn't enough, especially as demand started to slow down and the burdensome steamer needed to keep the lentils warm made life difficult for cycling vendors.
Eventually, they diversified their offerings to include snacks that were easier to carry around and had a longer shelf life – which is how we ended up with the modern-day kacang putih man selling everything else but the steamed kacang putih. We spoke to Calvin Koh, the founder of Klang-based Kacang Macha, to help us understand the different types of murukku and other snacks sold by the kacang putih man.
Types of snacks sold by the kacang putih vendor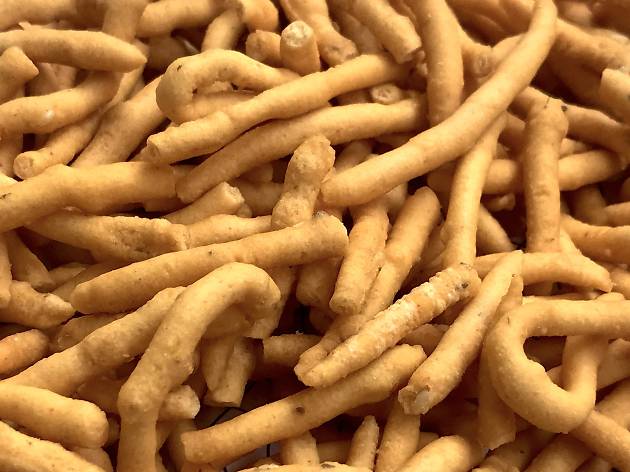 Photo: John Lim
Omapodi is an all-time favourite jar snack in Tamil Nadu, so it's no surprise that it's a staple offering of any kacang putih vendor. It's made from dhal beans that are first ground into powder, mixed with tapioca starch and water before being extruded and fried in hot oil. It's then mixed with spiced chillies, ginger and garlic, as well as two key spices: oomam, often used in Tamil cuisine that's similar to anise and oregano; and cumin, which gives the snack a light citrus taste.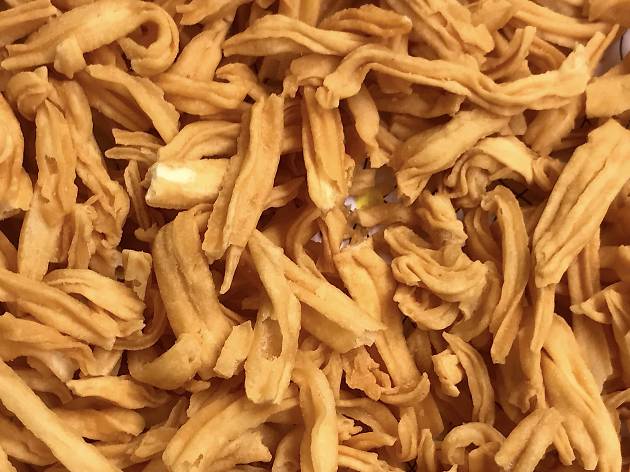 Photo: John Lim
'I would say this is an entry-level murukku that's accessible to everyone because of its less spicy flavours,' said Calvin. This murukku is made from dhal flour that has been mixed with tapioca starch, which results in a smoother and softer texture compared to the pakoda and onion chips.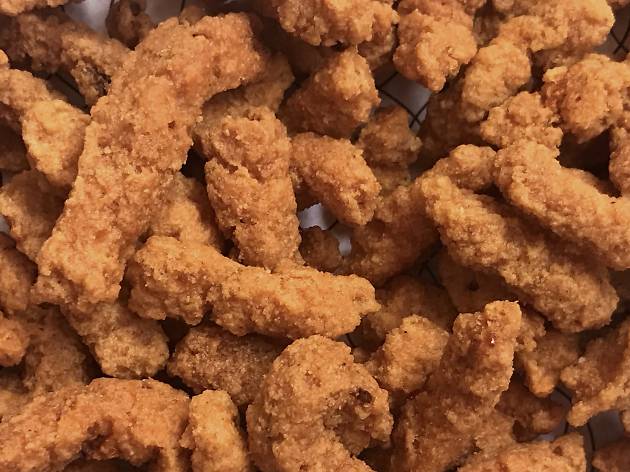 Photo: John Lim
'You can tell just from the looks that it has a rougher and harder texture compared to murukku – that's because pakoda uses soaked dhal beans that are ground and mixed with tapioca before being fried,' said Calvin. Importantly, it's also spiced with fennel, giving the snack a sweet and subtle anise and licorice-like taste.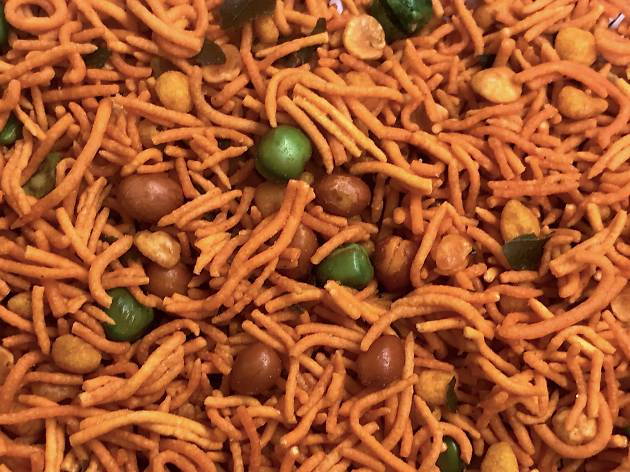 Photo: John Lim
The Bombay Mixture is another type of murukku offering that's mixed with an assortment of fried nuts, green peas and beans, and spiced with chilli, turmeric and cumin. 'The Bombay Mixture is thinner, but is spicier and has more ingredients compared to the Chennai Mixture,' said Calvin.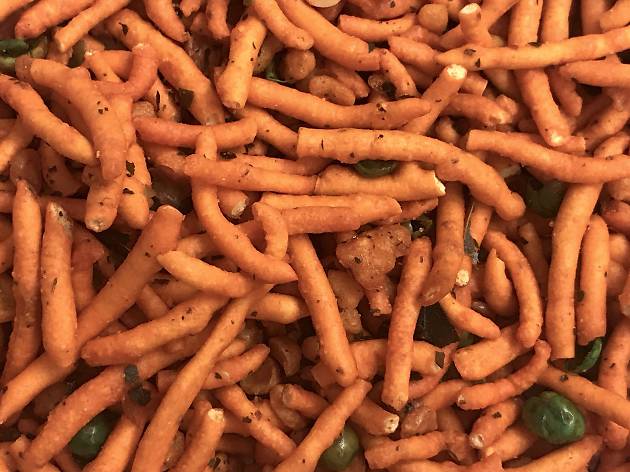 Photo: John Lim
This murukku treat is similar to the Bombay Mixture, but has thicker strands and is less spicy. 'It's the more common snack between the two, because people find the Bombay Mixture's finer strands messy to eat,' said Calvin.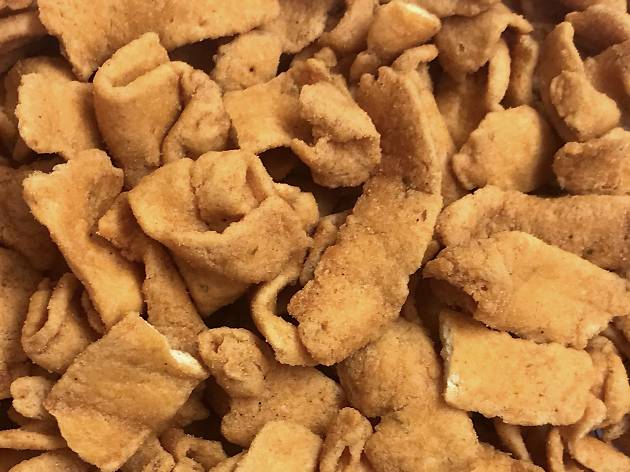 Photo: John Lim
'Onion chips and pakoda are made in similar ways and have similar ingredients, but the chips have an irregular flat shape,' said Calvin, adding that the spice mix includes ginger, chillies and onion, the latter of which gives this snack its unique sweetness.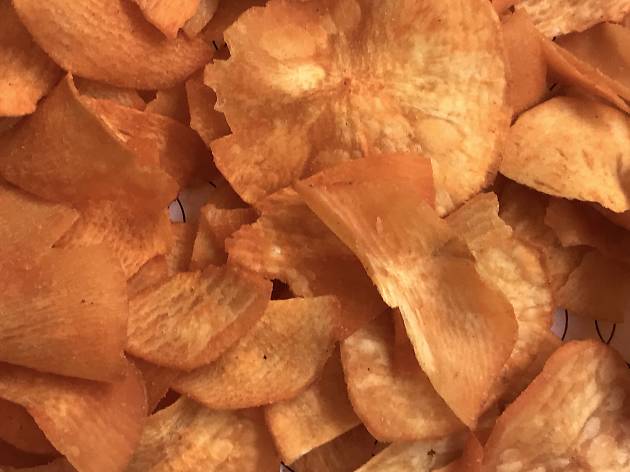 Photo: John Lim
Given that tapioca is a vital part of making murukku, it's no surprise that fried tapioca chips are also sold by the kacang putih vendor. These chips are thinly sliced to create a crunchy texture, and are often seasoned with salt, chilli and curry powder. There's also ubi pedas basah, which is coated in a sticky sweet and spicy sauce.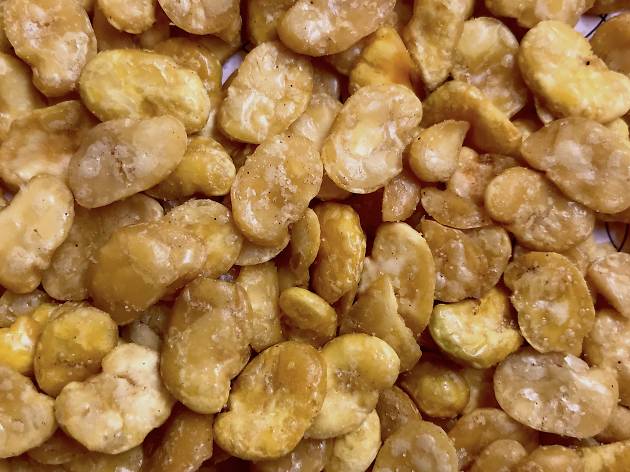 Photo: John Lim
Kacang Sipat (broad beans)
This crunchy snack is made from broad beans that have been fried, causing the skin to split open, and then salted and spiced.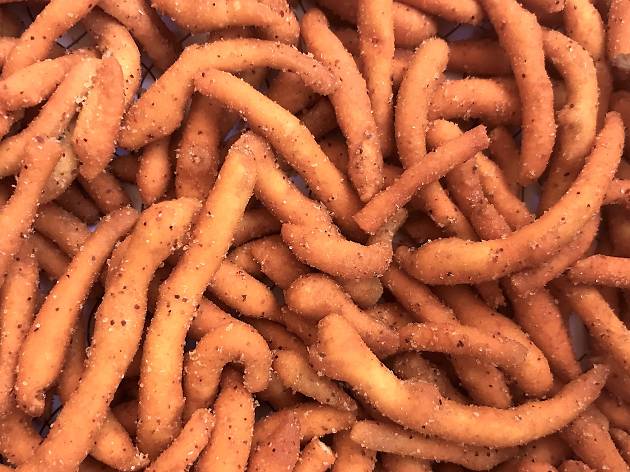 Photo: John Lim
'This murukku is a little spicier and sweeter compared to the traditional murukku offerings,' said Calvin. 'It's what I would call a "transitional murukku" that leads to more modern variants that Kacang Macha is making like the Smoky BBQ, Curry and Cheese-flavoured murukku.'
Hungry for more local treats?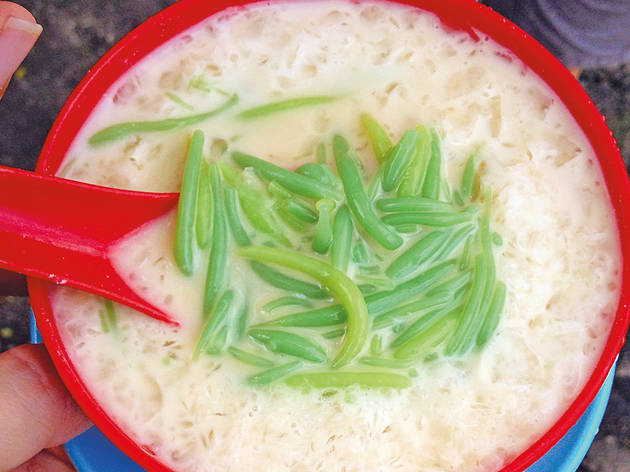 For ice balls soaked in gula Melaka syrup, smooth pandan layer cake, full-bodied durian ice cream, delicate tong sui and more, we show you the best local desserts in KL.