Guide to oysters
Unsure of where to start at the oyster bar? Here's a guide to some of the popular types of oysters found in KL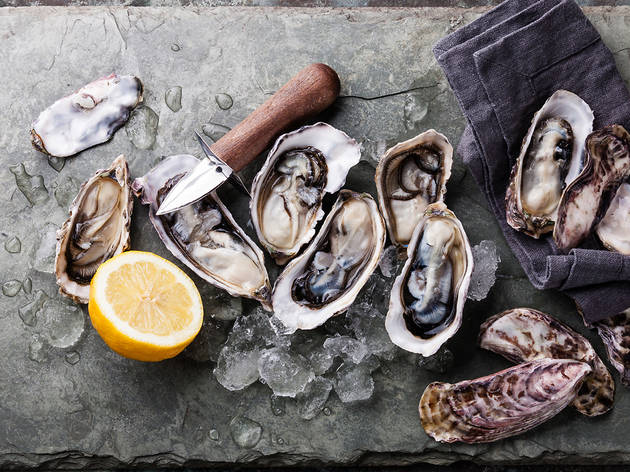 There's more to oysters than its supposed aphrodisiac properties; when eaten fresh, these hard-shelled molluscs are a bite of the ocean, and are brimming with nutrients such as zinc, iron and calcium. The thing about oysters, however, is that there are so many different types to choose from – for those new to the delicacy, it can be intimidating trying to figure out where to even start. To help you decide which to go for – and to show off your knowledge at the next fancy nibbles party – we've compiled a little guide to the various kinds of oysters found in restaurants across the Klang Valley.

Gallagher Speciale oyster. Photo: Irish Premium Oyster
Gallagher Speciales – Ireland
The Irish have been eating oysters even before the ancient Mayans, with discarded oyster shell fossils dating back over 5,000 years being found on Irish beaches. They remain an important part of Irish culture – the Galway Oyster Festival is one of the most anticipated events in the Irish calendar – and it's common to find bars that serve them with a pint of Guinness.
One type of Irish oyster that can be found here in KL is the Gallagher Speciale, named after oysterman Edward Gallagher. These plump oysters are grown in a pristine stream in Donegal, Ireland, and are known for their meaty and sweet flavours that have a mellow and fresh marine taste. Those cultivated in Traghenna Bay even bear a slightly smoky taste thanks to the water that flow through the peats.
West Mersea – England
Grown in the creeks around Mersea Island on the Thames Estuary since ancient Roman times, the West Mersea oysters today are cultivated by seventh generation oyster farmers. Over a million of these plump oysters are exported across the world, which have taken a liking to their silky texture. The oysters have a balanced sweet and salty flavour that finishes with a slight metallic taste.
Loch Ryan – Scotland
These wild native oysters have been growing on one of Scotland's largest oyster beds in Loch Ryan, South West Scotland since 1701. These slow-growing oysters have a thicker shell than most, and carry a sweet nutty taste that's more delicate and earthy compared to the ones from Ireland and England. In 2016, the oysters grown here were named 'Scotland's Best Native Oyster' by the Association of Scottish Shellfish Growers – so you know they're good.
Sydney Rock – Australia
These oysters have been growing for over 100 years on the Australian coast where the Pambula River and the Yowaka River in New South Wales combine with the waters from the Pacific Ocean. The resulting oysters are sweet, and have a distinct mineral taste that's similar to seaweed.

Fine de Claire oyster. Photo: iStockphoto
Fine de Claire – France
These French oysters come from the 15,000-acre Marennes-Oléron area in western France, making it Europe's largest oyster cultivation area. Compared to their English and Australian counterparts, the Fine de Claire oysters are less plump and bear a distinct woody and taste – imagine the taste of mushrooms grown on the ocean seabed. Their distinct flavour comes the knee-deep claire (rectangular salt ponds) where the oysters are grown for at least one month. During this time, they fatten and take on a sweeter, fruitier flavour.