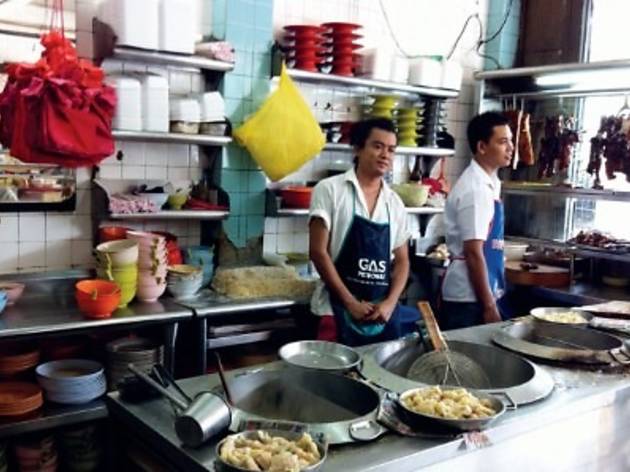 Time Out says
March 2012
In what promises to be a tome of staggering weight and substance – if I ever finish it, that is – my char siew compendium's entry number 65 of Hung Kee will read as follows:
Never ever be caught off guard in your quest to unearth new char siew destinations, because if they turn out to be excellent, and you're in your drainpipe nothing-gives jeans, you'll face a calamity far worse than death by torturously drowning in your own saliva, and that is the inability to indulge your hyperphagic appetite for char siew.
That being said, that was precisely what happened (being caught off guard, not wearing skinny jeans) when I accidentally found myself on Hung Kee's doorstep recently. Let's just say it ended fairly uncomfortably for me, but that's another story. What I did discover however is that mutterings of jatuh standard on the food grapevine are utterly unfounded. No prizes for guessing why Hung Kee, at 52 and almost as old as the 'democracy' that is Malaysia, is still packing in the punters like sardines. The char siew is the prize draw here. Like Meng Kee – erstwhile of Tong Shin fame, now resident in Jalan Alor – the lean meat is extremely lean, while the fatty bits are unapologetically, unctuously fat. Like Meng Kee, the honey caramelisation of the meat is extreme, so if very sweet, sticky char siew isn't your cup of char, then Hung Kee may not your eatery be.
What sets Hung Kee apart from Meng Kee and the other char siew establishments however (apart from the oh-so-welcome air-conditioned dining room) are the superbly mammoth sui kao that they make fresh on the premises hourly. These goodies are stuffed with minced pork, prawns and black fungus and have the slippery consistency of a skilled con artist, but with considerably more charm. The ratio of each key ingredient has been meted out to perfection, so that not a whit of imbalance can be discerned. Sure, they may have had 52 years to perfect it, but it's still an almost religious experience popping one of these sui kao into your mouth.
And that's why you need to ensure your stomach has room not just for the char siew, because leaving without having a sui kao (or four) is criminal, just as attempting to eat aforementioned items without at least two plates of the perfectly al dente wantan noodles and lashings of the homemade chilli is a criminal act of extreme and unforgiveable negligence that must be punished by char siew deprivation for at least two months. And if you are Hung Kee-bound, I only have two words of advice for you: elastic waistband. Fay Khoo
Details
Address:
28-5 and 28-6
Jalan Loke Yew
Pudu
Kuala Lumpur
55200

Contact:
Opening hours:
Open daily, 6.30am-10pm
Users say