Interview: Diego Jacquet
Chef Diego Jacquet explains the intricacies of Argentinean cuisine, his favourite cut of beef, and more.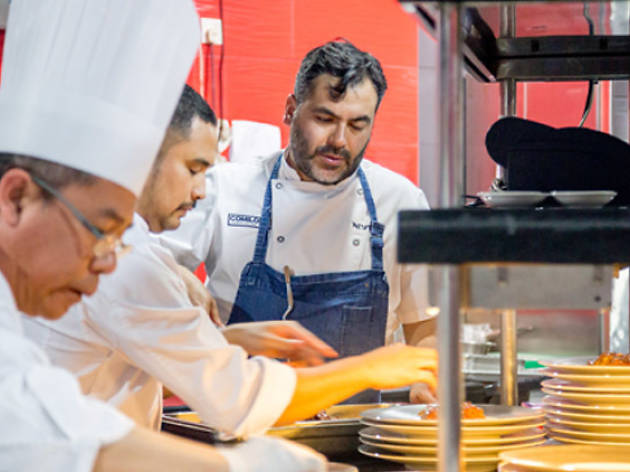 Unfamiliar with Argentinian cuisine? Chef Diego Jacquet is the man who'll tell you all about it. Having started in 1993 as an apprentice under Francis Mallmann, the Buenos Aires-born Diego would go on to work in some of the world's best restaurants like El Bulli and Aquavit before going back to his culinary roots by starting London-based Argentine restaurants Casa Malevo and Zoilo.
Then in 2013, Diego was drawn to Singapore by the CEO of Spa Esprit Group Cynthia Chua, who partnered with him to launch boCHINche, which specialises in traditional Argentinian dishes such as wood- and charcoal-grilled meats like bife angosto (sirloin), ojo de bife (rib-eye) and entrana (skirt).
It wasn't until 2017 that he finally set foot in Kuala Lumpur, when he was asked by the Argentinian embassy in Malaysia to curate the menu for the Argentine Gastro Week at the Ritz-Carlton, which was held in conjunction with the National Day of the Argentine Republic and in celebration of 50 years of diplomatic relations between the two nations. We managed to steal some time from Diego's busy schedule to find out more about Argentinian cuisine, his favourite cut of beef, and the challenges of setting up an Argentinian restaurant this side of Asia.
Given that Argentina is such a large country and draws influences from Spain, Italy and Latin America, how does one even start defining Argentinian cuisine?
The challenge to that, I feel, is that people are drawn by the beef, which I always say is a blessing and a curse. While it's beautiful and is one of our main products, it tends to overshadow other great Argentinian produce, which I try to showcase in what I cook. It's a challenge we take one step at a time.
The food in Buenos Aires carries influences from the immigrants, especially the Italian, Spanish, Jewish, Scandinavian and Germans. The beef part comes from the aborigines; if you compare with the Incas and Mayans – who love to work the land to produce vegetables – Argentines were very lazy. That's why we don't eat much vegetables; the meat was so good that it was all we ate, with some potatoes.
Then you have Patagonia, which on the coastline has fantastic razor clams, sea scallops, prawns, octopus, crab and more. And when you move from the coast you get Scandinavian-like ingredients with plenty of berries, rose hip, fantastic lamb, and river fish like sea trout – in the Patagonian highlands, you have one of the best places for fly fishing in the world. There's also the northeast, where you have all the tropical flavours with watermelon, mango, citrus; it's all kind of intoxicating, the variety of food we have. You can't cook everything at the same time, and every restaurant in that region needs to be true to the region's produce; it makes no sense for restaurants in the northeast to cook snow crabs, for instance.
But don't forget that historically and politically Argentina is a very centralised nation, in that everything runs from Buenos Aires. People are still getting to know what kind of produce we have outside of it, and that's what I think is so exciting about Argentinian food: there's plenty to share, know and discover.
What was your thinking process in creating the menu for the Argentine Gastro Week?
It was difficult to put out a menu in such a short span of time, but we tried to showcase as much of Argentinian produce as possible. I come from Buenos Aires but moved to Patagonia when I was eight years old, so I'm closer to the produce there and the balance of flavours brought about by pickled vegetables and berries found in Scandinavian cuisine. If you ask me, the exciting future of Argentinian food can be found in Patagonia.
What's your favourite part of the cow?
Flank, because you can do anything you want with it: roast, grill, pan fry, and it's always going to be juicy and flavourful. In London, we do a dish where we marinate and sous vide the flank for ten hours with herbs, and then we cook it on the grill with very high heat to get the crust and the flavour, while inside it's still medium rare. Now that… that's gold.
What excites you about South East Asia as a dining destination?
It's so different from our food – the complexity of ingredients and how different it is from one country to another. I'm lucky enough to be in Singapore where you can taste everything, even if it's difficult for me because I don't eat spicy food, which is sad because you lose a little bit of the soul. What I like personally are the freshness of Thai food that uses fresh ingredients like salads, papayas and coriander.
We're constantly learning about local ingredients through our relationships we build in Singapore; everybody there shares a bit of their grandmother's recipes. The major challenge of opening an Argentinian restaurant in Singapore was to find a new balance in the diet; back in Argentina we eat a lot of dairy and less vegetables, but when we opened in Singapore, we had to incorporate a lot of vegetables and reduce the amount of dairy. It's an odd thing, to find my fridge having no cheese!