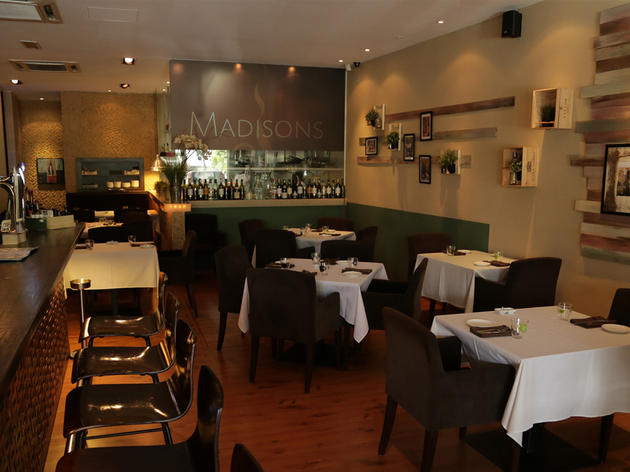 Note: Madisons is now closed.

It's nigh-on impossible to be a half-decent Bangsar dining establishment and not be subjected to intense, oftentimes unnecessary hype. Over the years, Jalan Telawi alone has seen its fair share of overrated restaurants crash and burn under the weight of misplaced expectation. It's therefore refreshing when an under-the- radar restaurant, helmed by an experienced chef with a proven pedigree, trades buzz for dexterity and pretension for consistency.

Sheltered from the glare of the glitzier Jalan Telawi strip, Madisons takes its place on an unassuming Jalan Kasah-esque row of dining outlets in the quiet residential area of Jalan Bangkung. Headed by chef-owner Kelly Delaney of Adelaide's Auge Ristorante fame, the modern European eatery debuted in mid-2012 and has steadily won plaudits for being the neighbourhood's most prized hidden gem ever since.

As we took our seats in the dimly lit, cosy space on a lazy Sunday evening, Madisons was largely deserted, with only one other table occupied when we left an hour later. The lack of a dinnertime crowd was initially perturbing, but as our superlative meal wore on, it became apparent that the relative calm was a boon – it's infinitely easier to appreciate the carefully curated menu and romantic setting when you have the affable waiting staff's undivided attention.

For an entree, you can't go wrong with the modest-looking arancini – breaded pork knuckle balls with a light, golden skin and a delectable porcine filling that ticks all the right boxes. This clever iteration of the Sicilian favourite, complemented by a deposit of sweet-sour apricot and apple chutney, was easily one of the most satisfying starters we've had in recent times. The subsequent gnocchi – pillowy, velvety and paired niftily with chorizo, basil black olives and cherry tomatoes – was comfort food at its finest.

Our adoration for the Italian potato dumpling pasta was matched only by the melt-in-your-mouth lusciousness of the beef cheeks. Slow-cooked and served over potato purée, roasted cherry tomatoes and horseradish cream, the expertly assembled dish was a fine example of Delaney's penchant for playing intricate flavours against contrasting textures. On the rare occasion the Australian chef's minutiae did fall short, as in the case of the pan-seared seabass, our gripe largely centred on the overpowering sharpness of the parsnip purée; otherwise, the fish was immaculately cooked.

Judging from the exceptional mains that came before it, our lemon meringue dessert was bound to please – and please it did. The delicately airy meringues, coupled with the crunch of sprinkled crumbs and citrusy punch of the lemon curd, combined for a marvellous dessert that further underlined Madisons's ascending eminence in Bangsar's culinary ecosystem: Jalan Bangkung's little restaurant that could is primed to give Jalan Telawi's more illustrious names a run for their money.
Venue name:
Madisons [CLOSED]
Contact:
Address:
65 Jalan Bangkung
Kuala Lumpur
59100

Opening hours:
Daily, 11am -1am
You may be interested in: