Mid-Autumn Treasures by Yue Chinese Restaurant
Celebrate this Mid-Autumn Festival with Sheraton PJ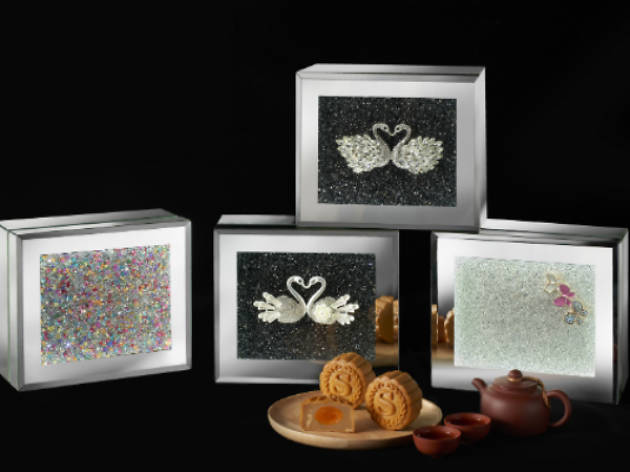 The annual mid-autumn celebration falls on September 13 this year and is a time of celebration for the ethnic Chinese folks. Traditionally meant to celebrate the harvest on the 15th day of the 8th month in the Chinese Lunar calendar, mooncakes are meant to complement the full moon during this season. Other than that, the Chinese believe mooncakes also symbolise prosperity and reunion.
This year, Sheraton Petaling Jaya will be presenting 4 traditionally baked mooncakes comprising of Pandan Lotus With Single Yolk, Red Bean With Melon Seed, Tiramisu Paste With Walnut and White Lotus With Single Yolk. These flavours are nostalgic and bound to evoke happy memories of past mid-autumn celebrations.
The mooncakes come in intricately designed gift boxes adorned with elegant patterns of Swan Crystal, Swan Pearl, Butterfly or Rainbow Stones. Priced at RM 168 nett, each box can be doubled as a pretty decoration or as a jewellery box.
To indulge in a hearty Chinese meal, Chef Ben Lim's 8-course menu at Yue Chinese Restaurant is something to try. The restaurant offers panoramic city views and an elegant ambience for diners to enjoy.
On the menu, there will be dishes like Boiled Beef Ribs and Flat Noodles, Double-boiled Pear with Black Chicken, Steamed Egg Pancake with Water Chestnut and Parsley Dumpling, Baked Prawn with Truffles, Braised Garoupa, and a whole host of other choices to look forward to.
Lorong Utara C, PJS 52, Petaling Jaya (03-7622 8888/https://www.facebook.com/sheratonpetalingjaya/). Sheraton Petaling Jaya's are available from now till Sep 13 and are priced at RM 26/piece and RM 168 nett/box.