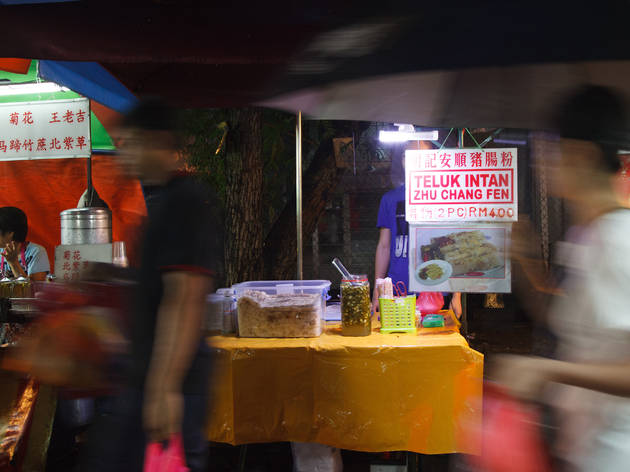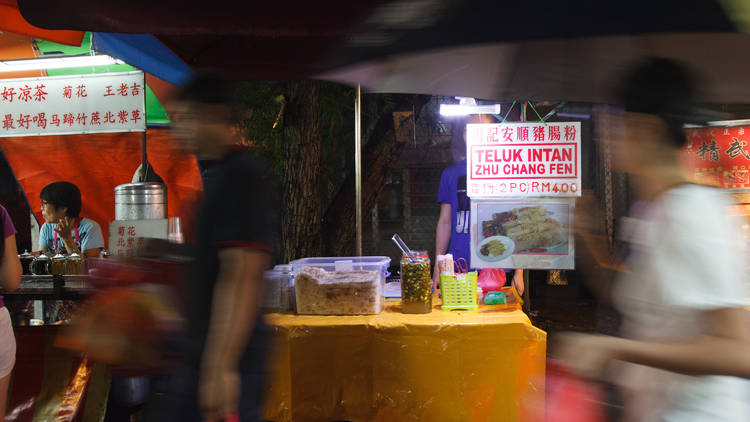 Commonly known as Anson (Teluk Intan was also known as Teluk Anson) chee cheong fun, this particular variety has a brownish mottled appearance due to the pickled sweet turnip and dried shrimp in it. Don't be fooled by its appearance though. This humble chee cheong fun is soft and slightly chewier than its counterparts, all thanks to the choi pou and shrimp, which add flavour and texture. According to Alvin, who mans the Ming Kee Teluk Intan Zhu Chang Fen stall at the Sri Petaling night market, the pickled sweet turnips and chee cheong fun here are all homemade. Rice flour batter is steamed twice: First for it to set slightly, and then again after choi pou and dried shrimp are generously distributed on to it, before being rolled into plump chee cheong fun rolls. The original version in Teluk Intan is usually served with light soy sauce and pickled green chillies, but this version at the Sri Petaling night market is served with homemade sambal belacan and sesame seeds.
Venue name:
Ming Kee Teluk Intan Zhu Chang Fen stall
Address:
Jalan Radin Anum 4
Kuala Lumpur
57000

You may be interested in:
Rating Breakdown
5 star:

0

4 star:

0

3 star:

0

2 star:

0

1 star:

1
I am from Teluk Intan and I must say thi iis far off from the REAL Teluk Intan Chee Cheong Fun. Not the same at all. The real TI chee cheong fun do not use pickled turnip. Its chopped turnips fried with dried shrimp and some minced pork then added to the batter t steam before being rolled into tubes. Also, there are no choi po in our chee cheong fun. Please go eat the real ones first before start promoting or even review the food. Go to the source.