1/8
Photo: Hizwan Hamid
2/8
Photo: Hizwan Hamid
3/8
Photo: Hizwan Hamid
4/8
Photo: Hizwan Hamid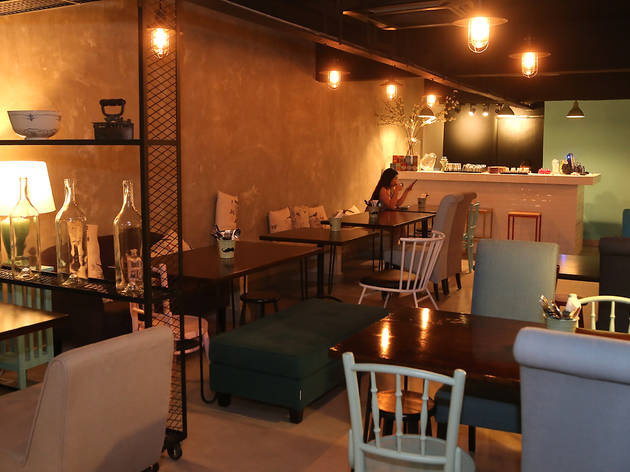 5/8
Photo: Hizwan Hamid
6/8
Photo: Hizwan Hamid
7/8
Photo: Hizwan Hamid
8/8
Photo: Hizwan Hamid
Time Out says
Note: POKC is now closed.
POKC, which stands for People of Kheng Chew (a term to describe Hainanese, or those from the Kheng Chew or Hainan province in China), was launched early last month in the busy square of Damansara Uptown. Rather than playing it safe and joining the coffee outlets, dessert chains, restaurants and boutique shops that line the inside rows, instead it's set up on a quieter, less frequented street facing the LDP. It's just down the lane from A Pie Thing and Epicuro – if you still have trouble finding it, look for Village Park Restaurant in the block behind. Sure, the café garners a smaller and slower crowd in this neck of the woods, but customers will appreciate the ample parking lots and the bubble of peace it provides.

It's tastefully furnished with a mismatched bunch of chairs and stools in various styles. The highlight is the huge, scarred wooden table downstairs, which seats up to ten people – perfect for a big family meal, or, as encouraged by the staff, for random strangers to sit together and make new friends, in keeping with the Hainanese kopitiam vibe they're going for.

The menu pays homage to classic Hainanese recipes, served with a modern twist. A popular appetiser is the buffalo shots (RM20) – fried pieces of chicken wings capping a shot glass of barbecue-Tabasco sauce. The narrow glasses don't make for satisfying dunking but the presentation is definitely Instagram-worthy.

Mains have a more traditional look to them, such as the simple lamb stew (RM25) with generous chunks of tender meat, carrots and potatoes in a bowl of thick, creamy gravy, which you can opt to pair with rice or soft Hainanese bread. Another signature dish is their version of roti babi (RM16) – juicy minced pork stuffed in pieces of fried bread. It's a bit on the oily side, but the clue is in its name.

End your meal with a dessert and drink featuring a coconut theme. Have a slice of Malibu Dream mille crepe (RM15), which has Malibu rum, coconut, salted caramel and coconut flakes on top (courtesy of Oneatezero). For drinks, order an affogato with Inside Scoop coconut ice cream (RM15). You can also have your espresso with teh tarik ice cream, turning it into a contemporary 'cham' (RM15).

It's all about fusing the charm of a classic Hainanese kopitiam with a modern-day café setting, and despite the relatively isolated location, this cosy eatery stands to be quite a crowd pleaser.
Details