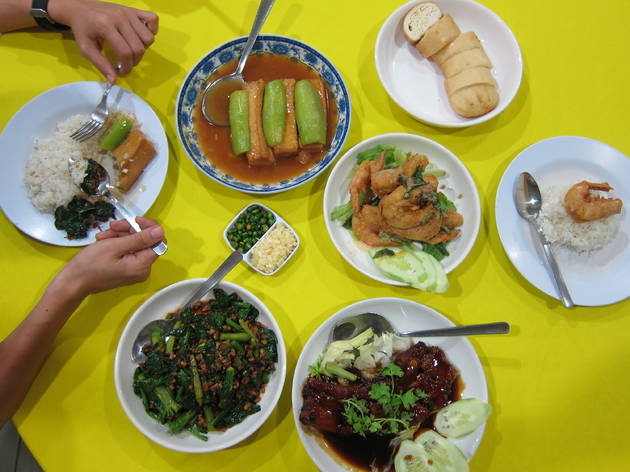 1/3
Photo: Kong Wai Yeng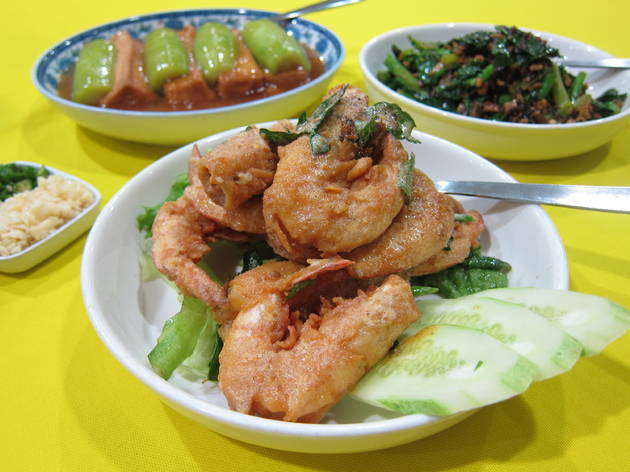 2/3
Photo: Kong Wai Yeng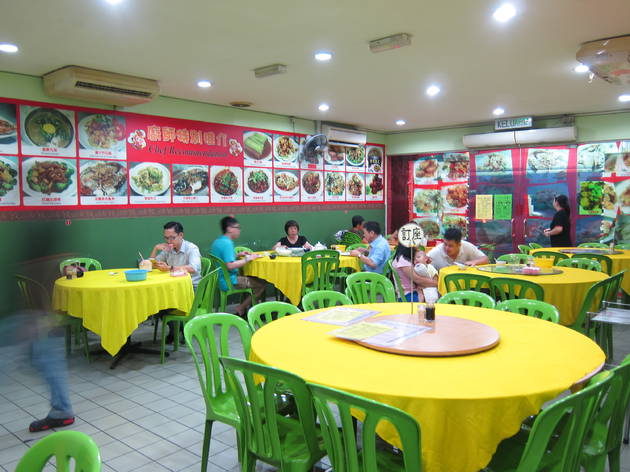 3/3
Photo: Kong Wai Yeng
The revelation that there are still eating places which exist serenely above the clamour of foodie fashion is deeply comforting. The food at Good Taste is irreproachably dai chow-classic, although the dimly-lit restaurant could use a pump of Febreze. The photos of dishes plastered across the walls, which are in fact their menu in entirety, are reliable predictors of what will actually arrive at the table.
It's interesting how the chef has maintained a disciplined vision of his cooking while leaving plenty of room for you to enjoy something your sceptical Cantonese grandmother would probably frown on. Like the intriguing Mongolian-style chicken strips, deep-fried frogs, or the braised pig trotter cooked with salted fish and dried shredded squid. But you'll never go wrong with their signature 'yat zi guat' (RM24): This huge slab of pork rib is on par with the archetype that's been served at upscale Chinese restaurants. The sticky-sweet glaze pushes flavours into a pleasant, intense realm of smokiness – mop up the sauce with the fried mantao and try not to smile.
A plate of stir-fried kalian (RM15) isn't going to start a conversation but upping it with a smattering of salty muy choy (preserved mustard greens), minced pork and cili padi will. With every dish that exits the kitchen, what becomes clear is that Good Taste is still gunning for that pared-down Cantonese approach while ruffling expectations once in a while to deliver an element of surprise. The chef can whip up a traditional showstopper too, like the braised sin gwa (ridge gourd) with beancurd (RM12) – a humble enough dish to induce a sigh in memory of warm, homecooked meals. It's hard to decide if your love for the dishes here is driven more by nostalgia or the tastebuds on your tongue.
Then again, I'm not implying that every dish here is Kate Middleton-perfect. The familiar salted egg prawns (RM28), which should have been honed by rote now, were disappointing that even the ineffable magic of rich duck yolk and curry leaves proved futile. The prawns were fried to a satisfying crunch but the meat within was inadequately seasoned – they could've been the kind of beer bite for which you would gladly incur a hangover.
Good Taste's repertoire doesn't roam far and wide, but the tiny recalibrations of beloved staples – like the fried beancurd in pumpkin gravy instead of the requisite oyster sauce – had me paying attention. The informality of the cooking is probably what makes dai chows so well-loved and enjoyable. My advice is, get to know Cheras, and know it well – there are so many restaurants that radiate the promise of a good time.
Venue name:
Restoran Good Taste
Contact:
Address:
26 Jalan Waras 1
Taman Connaught
Kuala Lumpur
56000

Opening hours:
Daily, 10.30am-3pm; 5.30pm-10.30pm