Save The Date Fleur and Amore Espresso Bar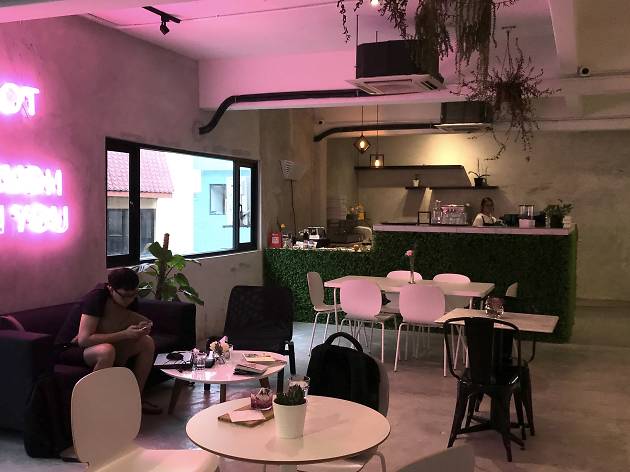 1/3
Photo: John Lim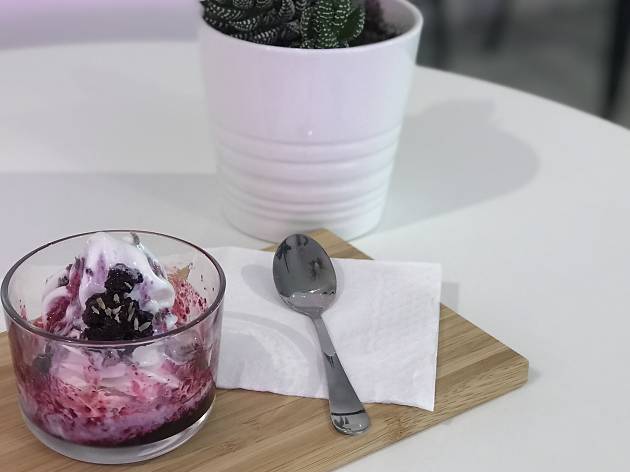 2/3
Photo: John Lim
Lavender Berry soft serve ice cream
3/3
Photo: John Lim
Time Out says
Flowers and coffee come together in TTDI's Save the Date Fleur and Amore Espresso Bar, a shared space by two friends seeking to pursue their individual passions. The woman behind Save the Date Fleur is Vickie Chau, a Korean translator who fell in love with the Korean culture while was stationed there by a local bank. After taking a few courses in Korean flower arrangement, she came back to Malaysia and started her own online flower delivery service, Save The Date Fleur, which grew from a small, home-based business to one that now needs its own office space.
This led Vickie to a first-floor shoplot in TTDI in September 2017. Much of the lot was left unused, however, which is why she roped in a friend, Angel Lim to open a café three months later, complementing her business and creating a conducive environment where she could carry on with her work and hold floral arranging classes. The result is a space – designed by Vickie – that combines Scandinavian sparseness and functionality; where IKEA furniture, grey industrial walls and flooring are punctuated by Korean-inspired flower bouquets, greenery and a pink neon sign oddly declaring 'I Got A Crush on You'.
The simplicity and quirkiness extend to Amore Espresso Bar's menu, which features the usual range of coffee drinks – lattes, espresso, Americanos and the like – that are made using beans sourced from Toothless Coffee Roaster. For food, the café has a small selection of tasty rice bowls, sandwiches and cakes. The Japanese katsu curry bowl (RM16) is one of the more popular dishes here, where chicken katsu curry is combined with seaweed, spring onions and soft-boiled egg. On the weekends, go for their Nasi Lemak Croissant (RM14) – chicken rendang, egg slices, cucumber and mildly spiced sambal stuffed into a croissant.
Of all the items on the menu, however, it's the house-made soft serve ice cream (RM8) that intrigues us the most. Flavours like Rose Oolong Tea and Lavender Berry link the café to Save The Date Fleur's floral offerings and provide a reason for soft serve fans to drop by. While the Rose Oolong Tea flavour is an all-round pleaser, the Lavender Berry proves to be a little more complex and divisive – the gentle fragrance that complements the vanilla-based ice cream will appeal to some, but others might not fancy the bitter aftertaste.
Aside from working on her floral arrangements, Vickie also uses the space to conduct weekend flower arranging classes for hobbyists and advanced-level students. The classes typically take up an entire day, starting from 11am to 6pm, with lessons that range from basic hand bouquet arrangements to ornate wedding bridal bouquets. During these classes, she runs through the basics of Korean-style floral arrangements (known as kkochkkoji), which differs from conventional, Western-style arrangements by employing less greens and featuring cleaner and more well-defined lines with branches, stalks and flowers. Classes cost from RM300 to RM600, depending on the complexity and flowers required, and are limited to eight people per class.
Details