Sneak peek: Aziamendi 88
We pick four standout dishes to look out for at the luxe pop-up restaurant
For the first time in KL's dining scene, KLites are given a chance to sample the offerings from a three Michelin-starred chef without leaving KL. Chef Eneko Atxa of Azurmendi in Bilbao, Spain and Aziamendi in Iniala Phuket is in town for a pop-up restaurant in Mandarin Oriental's Mandarin Grill. For 88 days, to be exact.

Known for his cutting edge yet informed Basque culinary skills and revolutionary molecular gastronomy techniques, Chef Eneko Atxa was awarded his third Michelin star when he was 35 years old (the youngest in Spain so far).

The Aziamendi 88 experience begins with a 'picnic' in the VIP room, transformed into a garden complete with trimmed bushes, wooden benches and softly flickering candles. After having bite-size anchovy cream mille-feuille, mojito bon bons and caviar on corn toast from a wicker basket, you will be led to a table where a bonsai tree sits in the middle. The bonsai acts as a prop on which appetisers such as cherry tomatoes were suspended and pieces of edible 'tree bark' (fried sunchoke skin with sea salt) were placed. The picnic and bonsai tree theatrics are part of the experience from Azurmendi (Chef Atxa's restaurant in Bilbao), where guests are invited to explore the eco-friendly greenhouse garden before the meal.

Following Iniala's philosophy of combining art, gastronomy, design and philanthropy, Lim Wei Ling of Wei-Ling Gallery has curated the collection of works on display at Aziamendi 88, available for purchase during the dinner. Here are four standout dishes to look out for.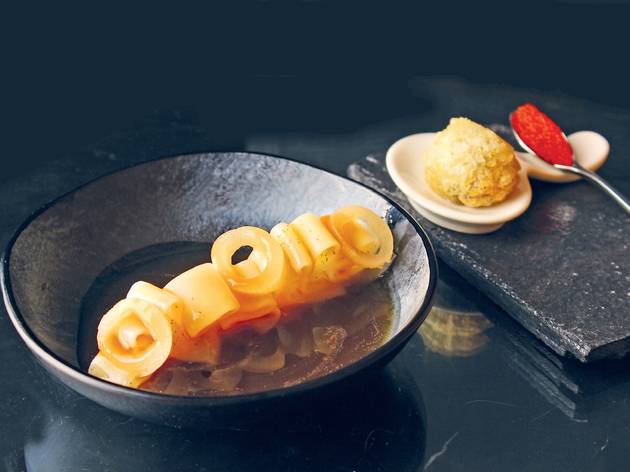 Squid Noodles with its own Crunchy Juice
Made of squid finely cut into noodle-like strips, it is served with a minimal amount of pickled onions and extravagantly rich squid consommé. On the side, there's a teaspoonful of sweet ruby red roe and, as a pleasant surprise, squid juice contained within a thin shell (the crunchy juice). This particular dish is beautifully paired with a crisp and sweet Yamagata Masamune saké junmai, bringing out the flavours of the sea.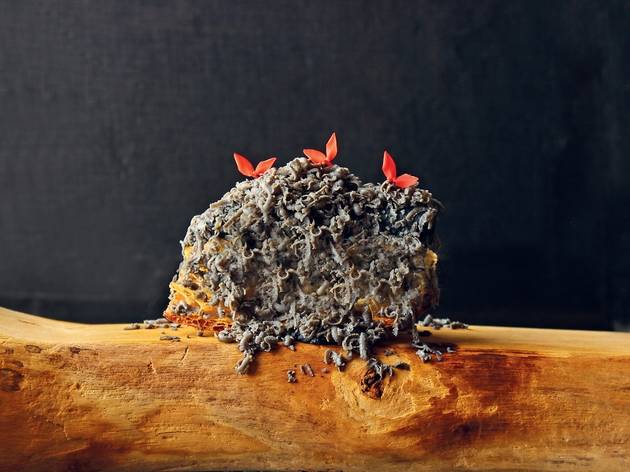 Foie Gras Ashes from the Grill
An ingenious dish with foie gras mousse piled atop a slice of airy toast, studded with tiny ixora blooms, and served on a thick piece of wood. Towels are laid on the table before the dish is presented as this is a rather messy dish to eat (tip: lean forward and eat with your hands instead of bringing the foie gras on toast to you – this will prevent the precious mousse from falling off). Messy, yes, but the creamy smoky sweetness of the foie gras in this particular texture scores a point for molecular gastronomy.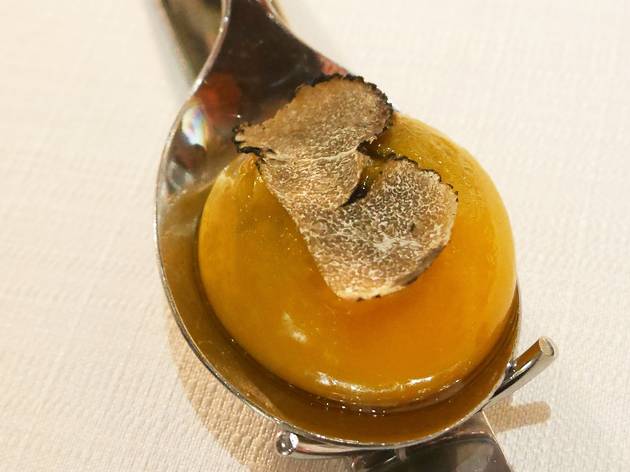 Truffled Egg
Azurmendi's signature Truffled Egg, an easy favourite where part of the egg yolk is drained and hot truffle broth carefully injected into the yolk, cooking the raw yolk inside out. A shot of pure truffle-infused pleasure, if you will.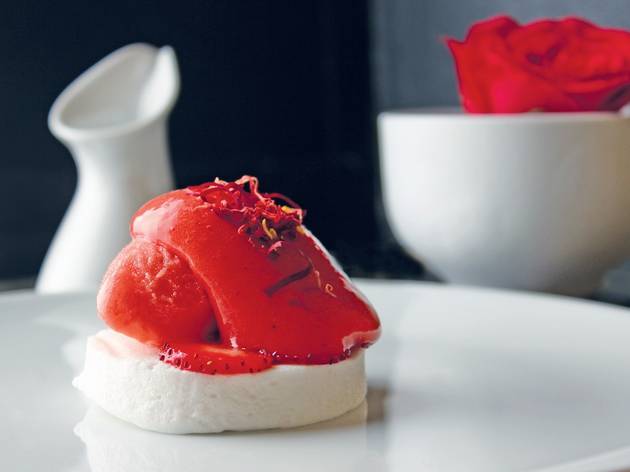 Strawberries and Roses
For dessert, there's Strawberries and Roses, a quenelle of strawberry sorbet sandwiched between a thin layer of rose marshmallow and strawberry foam. The delicate foam elevates the dish brilliantly, bringing a light and almost effervescent texture to the dessert.