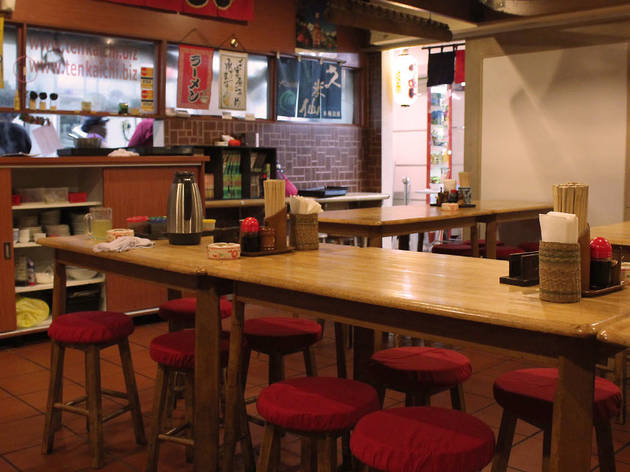 1/6
Photo: Joyce Koh
2/6
Photo: Joyce Koh
Pork katsu (RM15)
3/6
Photo: Joyce Koh
Taco rice (RM15) and pohpoh (RM12)
4/6
Photo: Joyce Koh
Okinawa soba (RM23)
5/6
Photo: Joyce Koh
Peanut bean curd (RM18)
6/6
Photo: Joyce Koh
It's not often you come across a Japanese restaurant nestled among zhap fan shops and mamaks, least of all in Wisma Central (the somewhat seedy building on Jalan Ampang sandwiched between Nasi Kandar Pelita and KLCC, popular with the office lunch crowd). The only clue to this hole-in-the-wall izakaya's existence is the glowing red lanterns along the grimy, narrow hallway.

Past the creaky sliding doors, the dimly-lit interior is a cosy clutter of bamboo screens, low ceilings and tatami mats. Lunch sets comprise of decent pork katsu and ramen, and we initially dismissed Tenka as another casual Japanese restaurant. But on a second visit for dinner, it's a different story altogether.

You wouldn't expect it, but the dinner menu at Tenka features Okinawa fare, a rarity in KL. The subtropical south-western islands in Japan differ from Tokyo in climate, history and landscape and the resulting cuisine is a departure from the Japanese fare we're accustomed to. From the unfamiliar menu, we detected the odd hint of American influences (like their taco rice, but more on that later) and lots of seaweed. Case in point – mozuku, a type of brown seaweed from Okinawa marinated in vinegar. Bursting with flavour, the mildly crunchy and savoury seaweed strands make a surprisingly addictive appetiser.

Following advice from the chef, a local who has worked in Okinawan restaurants and is now married to an Okinawan, we went for the homemade peanut bean curd, an intensely creamy and dense dish that's texturally reminiscent of cheese. It's unlike anything we've tried before, and the common sentiment is that this dish is best shared in a group. A crowd-pleaser was the Okinawa-style meat crêpe pohpoh, a simple umami-packed dish where miso-marinated pork is sandwiched between thin naan-like crêpe and then pan fried to crispy perfection.

Tenka's taco rice was unexpectedly huge (more than enough for a group of four). Instead of taco shells, taco filling (diced tomatoes, beef, cheese and shredded cabbage) is heaped on to rice. Mix the whole thing up and dig right in. It's an exciting dish if you're a fan of tacos, but we preferred Tenka's homemade Okinawa soba with its peppery pork soup instead. One disappointment: the pork katsu, decent during lunch, was tough and over-fried when we had it for dinner.

Inconsistency aside, we liked the informal vibe at Tenka Daiichi with Japanese pop songs (Ayumi Hamasaki!) on the radio and a constant stream of conversations from the tables of Japanese expats. Tenka may not offer your usual precision-cut sashimi, but the interesting dishes more than make up for it.
Venue name:
Tenka Daiichi
Contact:
Address:
Ground floor
Wisma Central
Jalan Ampang
Kuala Lumpur
50450

Opening hours:
Mon-Fri, 11.30am-3.30pm, 6-10pm; Sat, 6-10pm. Closed on public holidays
You may be interested in: