The dish: Nasi Bakar with ayam bakar at Restoran Sunan Drajat
There's more to Indonesian food than just ayam penyet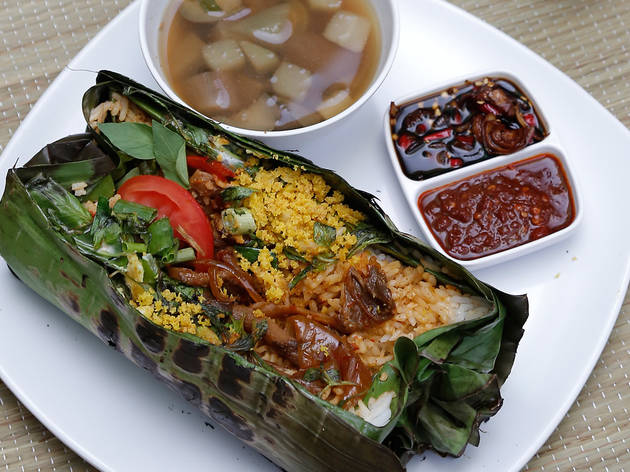 What it is
Originating in West Java, Sundanese cuisine is characterised by its tangy spiciness tinged with sweetness, thanks to the liberal use of ingredients such as ginger, lemongrass, pepper, chilli and honey. Owner of Restoran Sunan Drajat Muhammad explains that while East Javanese food such as ayam penyet (smashed fried chicken) is getting increasingly common in KL, he wanted to showcase Sundanese food in his restaurant. And Sundanese speciality Nasi Bakar (grilled rice in banana leaf) with ayam bakar (grilled chicken) is the dish to do the job. A variation on the classic nasi timbel where freshly steamed rice is wrapped in banana leaves, the nasi bakar is upgraded with seasonal ingredients wrapped in banana leaves before being grilled.

Preparation




First, squares of banana leaf are lightly smoked to release their fragrance. According to Chef Budi Setiawan of Restoran Sunan Drajat, smoking is important as it softens the plant fibres for easier wrapping.




Next, steamed white rice is poured on to the banana leaves and layered with tomatoes, half a boiled egg, a tablespoon of coconut milk, lemon basil, lots of oyster mushrooms in spicy sambal and helpings of golden crunchy deep-fried batter.




The banana leaves are then rolled and grilled for a few minutes. The nasi bakar is served with grilled honey-ginger chicken, lalapan (a salad-like selection of raw vegetables), sup assam (spicy-sour soup with tamarind), tofu and some of the best deep-fried tempeh we've had.

Taste
The cylinder of banana leaf rice is neatly sliced lengthwise, releasing a light fragrance of rice and sweetly caramelised onions from the sambal. Mix it all up and make sure to get a bit of everything on your spoon. There's plenty going on, and every bite is different – heat from the mushroom sambal, subtly creamy coconut milk in the rice, sourness from the squeeze of calamansi over juicy ayam bakar – but addictively so.
Eat it at
Serving Indonesian fare, Restoran Sunan Drajat is known for its nasi bakar available with a variety of sides. The ayam bakar comes highly recommended.
Read more