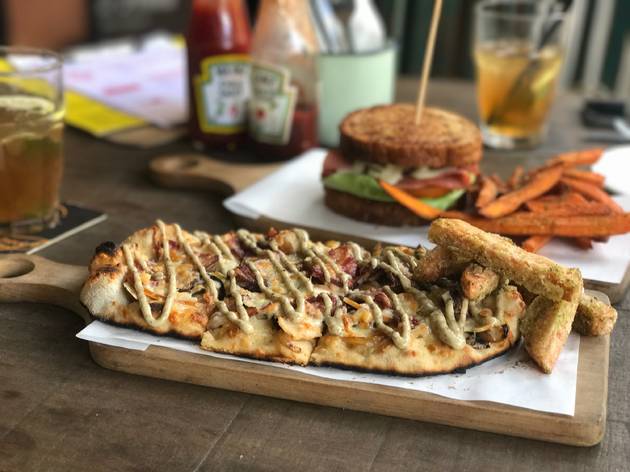 Taking over the kitchen of The Bee in Publika is The World is Flat, a Singaporean-born pizza bar concept that first started in 2016 in Timbre+. It's the brainchild of food entrepreneur Howard Lo and Chef Wing Lam, who both grew up and worked in the States before venturing into Singapore.
The World is Flat bears similarities to Howard's other successful food ventures Standing Sushi Bar and Tanuki Raw (the latter of which breaks the confines of traditional cuisine by offering dishes that come out of left field: think foie gras scallop and unagi donburi, crab maki rolls with crispy mozzarella, and an onion and mushroom miso soup). By teaming with Chef Wing – who brings his experience from working with Gordon Ramsay at The London Hotel in West Hollywood, as well as launching modern Japanese restaurant Kinki – The World is Flat brings us a playful and inventive menu that combines Asian favourites with American pizza culture.
The pizzas here are sacrilegious by Italian standards: they come out of the non-wood-fired oven oblong shaped, and are topped with ingredients like pulled duck confit, mayo, pineapples and salted duck egg. There are two sizes: six-inch (personal) and 12-inch pizzas. The personal-sized pizzas are more than sufficient for lunch, especially when ordered in a set (RM25) that comes with a side order of chicken spam fries and a drink.
Traditionalists may be horrified, but they'll also miss out on some of the best pizzas in town. First-timers can't go wrong with the Butcher's Love pizza (RM24/56), which is decked out with roast beef, chicken ham, burnt onions and three types of cheeses – mozzarella, jack and cheddar – alongside lashings of truffle mayo. Those hungry enough to turn a deaf ear to the waiter's warning might want to try the Fat Samurai (RM42/70), a Chicago-style deep-dish pizza that measures two inches deep, and is loaded with pulled duck confit, sliced beef, prawns, burnt onions, konbu mayo, cheese and okonomiyaki sauce. Other notable options on the menu include the Malaysian-exclusive Black Gold (salted duck egg, seasoned fried prawns, burnt onions, cheese and Portobello mushrooms atop a charcoal-bread pizza crust; RM30/60) and the Garden State (a vegetarian pizza made with roasted beetroot, pumpkin, baby spinach, garlic glaze, cheese and Portobello mushroom; RM19/35).
The sandwiches are no mere sidekick either. The Roast Beef, Pastrami Melt and Deli Melt (RM30 per sandwich) wouldn't look out of place in a New York deli; we particularly liked the Deli Melt, a sandwich with duck rillette, roast beef, chicken ham, tomato, mozzarella, truffle mayo and butterhead lettuce. It may sound like a mouthful, but the toasted house-baked bread, fresh lettuce and tomatoes work together to balance out the meaty sandwich. Even the beer snacks deserve a mention, particularly the spam fries (RM18), which is made from fried chicken luncheon meat and coated with a crispy and salty seasoning that goes perfectly well with beer and smoked ketchup.
These are still the early days for Howard's maiden food venture outside Singapore, but it's a promising start. Expect the menu to have a few tweaks in the coming months as he gathers more customer feedback –'People here really want brunch food, and nachos!' he said – but for now, we're glad to welcome this unconventional pizza joint to KL, pineapples be damned.
Venue name:
The World is Flat @ The Bee
Contact:
Address:
Level G2
Publika
1 Jalan Dutamas 1
Kuala Lumpur
50480

Opening hours:
Daily, 11am-11pm
You may be interested in: