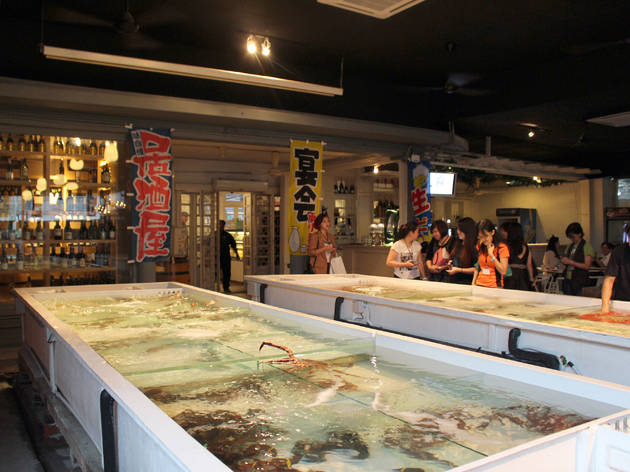 Tanks teeming with Alaskan king crabs, lobsters, sea urchins, oysters and fish fated to become dinner line the space of Yamaguchi Fish Market. By the folks behind Black Market and C.A.F.F.E.I.N.E.E.S, Yamaguchi Fish Market is inspired by the famous seafood markets of Japan (think Tsukiji and Karato) and aims to recreate that Japanese fish market experience here. Customers can select their seafood to be cooked on the spot, or purchase the seafood at wholesale prices.
Venue name:
Yamaguchi Fish Market
Contact:
Address:
16 Jalan Kampung Pandan
Kuala Lumpur
55000

Opening hours:
Daily, 12noon-3.30pm; 6pm-10.30pm
You may be interested in:
Rating Breakdown
5 star:

0

4 star:

0

3 star:

0

2 star:

0

1 star:

1
I feel bad saying this, because the staff is kind and courteous. But then I remember the food and I don't feel bad at all. Absolutely terrible, disgusting and inedible. The whole concept on which the restaurant is based on is a total lie "Tanks teeming with Alaskan king crabs, lobsters, sea urchins, oysters and fish" is actually 4 sickly looking French crabs, a few Geoducks and a couple of fish on their last legs struggling to make their way across the tiny tanks. When asked where the Alaskan King Crabs were, we were told that they were frozen, as were the Sea Urchins. Upon ordering, we were discouraged from looking at the tanks and told to immediately sit down and order from the menu, which made sense, as I wouldn't want to brandish such a pathetic display of "seafood" either. We ordered a Sashimi plate, and a Sushi plate, then a Soft Shell Crab roll, an Unagi rice and a crab soup. The Sashimi and Sushi was sliced thin as paper, one U5 Scallop was sliced 4 times and served as a whole order of Scallop Sashimi. Worse even, the Sashimi and Sushi tasted close to rotten, as if it were sitting at the bottom of a freezer for a month then quickly defrosted on top of a steam tray, and I'm sure is the cause of the bowel movements later in the night. Soft Shell Crab roll was stuffed with filler to make it seem more sizable, there was fake crab meat along the Soft Shell Crab, and the Soft Shell Crab itself was chewy and cold. Crab soup was more reminiscent of Chinese Hot and Sour Soup, decent but not even close to Japanese cuisine, crab still had shells on them and tasted frozen. The worst part of the meal was the Unagi Rice, it did NOT taste like eel, instead it tasted like some sort of mud fish, instead of a bright white fatty silky meat that was carefully caramelized with Unagi sauce, we got a scorched black crusty piece of brownish fish (not eel) that was burnt (not caramelized) with plain soy sauce (not Unagi sauce), completely inedible, and somehow made much worse with the strange addition of scrambled eggs under the brownish fish, whatever it was. It's a shame that in a city with such a gorgeous variety of fresh seafood, this place is content with their pitiful inventory. This is clearly a case of a local owner, who went to Japan a couple of times and thinks they can replicate the same thing locally, and utterly fails. Stay far far away, avoid like the black plague has returned from 14th century.