Best wines for you to try this August
Be it red, white or bubbly, these are four wines to get.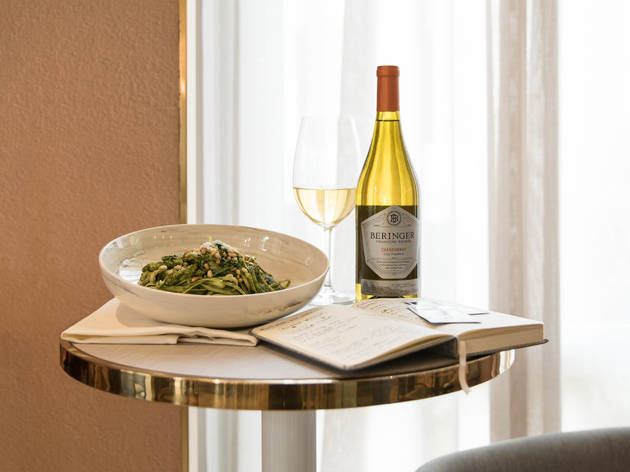 You can pretty much do no wrong with a good bottle of wine. Whether you're planning to throw a fancy party, a casual dinner at home or looking for a gift, there'll always be a good wine that will go perfectly with the occasion.
For the whole of August, Boozeat and local retailers (Jaya Grocer, Aeon, Max Value, Urban Fresh, Hero, Tesco) will be offering 20% off on selected incredible wines from all over the world as part of the Amazing August Wine Sale. So grab the corkscrew, these are the best bottles to get:
Wolf Blass Gold Label
Good for: a Chinese themed dinner
Get Wolf Blass Gold Label for RM 109.99 (usual price RM 159.90) at Boozeat.
We do love a good Chinese feast and there's no doubt the cuisine involves indulging and rich flavours. South Australia's Wolf Blass produces some of the most flavourful wines in the country and they go well with Chinese flavours. Try Wolf Blass Gold Label Barossa Shiraz the next time you're having roast and barbequed red meats. The rich red wine brings hints of fragrant spice, plush tannins and blood-plum aromas and will further elevate the tastes of the roasts on your plate. Or go with Wolf Blass' Gold Label Chardonnay from Adelaide Hills when having seafood. This elegant white wine has a balanced palate with a fine acid line that complements rich fish and prawns, enhancing the flavours of the sea.
Beringer Founders' Estate
Good for: planning your next getaway with good friends
Get Beringer Founders' Estate for RM 74 (usual price RM 112) at Boozeat.
As California's oldest continually operating winery, Beringer has been operating for over 141 years and was one of the first wineries in Napa Valley. For a night of long conversations with good friends, planning your next getaway, try the Beringer Founders' Estate Cabernet Sauvignon. This full-bodied bottle finds hints of black cherry, raspberry and vanilla, with a supple tannin and a long lingering finish. We suggest stocking up a few bottles as a long night may mean more than just one bottle.
Maison de Grand Esprit La Mystèriale Châteauneuf-du-Pape
Good for: an alumni reunion party
Get Maison de Grand Esprit La Mystèriale Châteauneuf-du-Pape for RM 169.90 (usual price RM 252.20) at Boozeat.
French wine is usually seen as the peak of quality, and Maison de Grand Esprit is no exception. Combining Old World credibility with New World techniques, Maison de Grand Esprit is a new take on French winemaking. La Mystèriale Châteauneuf-du-Pape is a bottle to impress your friends with. A Rhône blend, this classic wine brings structure, length and a rich depth of fruit, reminiscent of a warm, sunny summer. With hints of liquorice, star anise and cayenne pepper on the nose; rich warm spice and blackberry on the palate. This is a steal looking at the price for its quality given.
Beaulieu Vineyard California Range
Good for: an anniversary or birthday celebration
Get Beaulieu Vineyard California Range for RM 69 (usual price RM 118) at Boozeat.
Beaulieu Vineyard's strong history began in 1904, where Georges de Latour purchased a vineyard in Rutherford and propelled the wine growing region in California onto the world stage. Now, Beaulieu Vineyard is the largest producer of Cabernet Sauvignon in Napa Valley. For a taste of Californian history, try Beaulieu Vineyard California Cabernet Sauvignon. The deep flavours of dark fruits are enriched by layers of oak, while hints of cocoa and spice lead to a smooth and velvety finish. Beaulieu Vineyard wines are known to have been served at prominent White House functions, with President Ronald Reagan particularly favouring the Beaulieu Vineyard's Private Reserve Cabernet Sauvignon. So if it's a celebration that you are planning, pick up a Beaulieu Vineyard wine for that touch of royalty.
You'll be able to purchase these wines at 20% off throughout August here:
West Malaysia: Jaya Grocer, Aeon, Max Value, Urban Fresh, Hero, Tesco, and Boozeat.
East Malaysia: CKS, Choice Premier, Tong Hing, Merdeka Supermarket, Pick & Pay, City Grocer, City Gourmet, Sunny Supermarket.