Designer spotlight: Kittie Yiyi
Get to know the super quirky local designer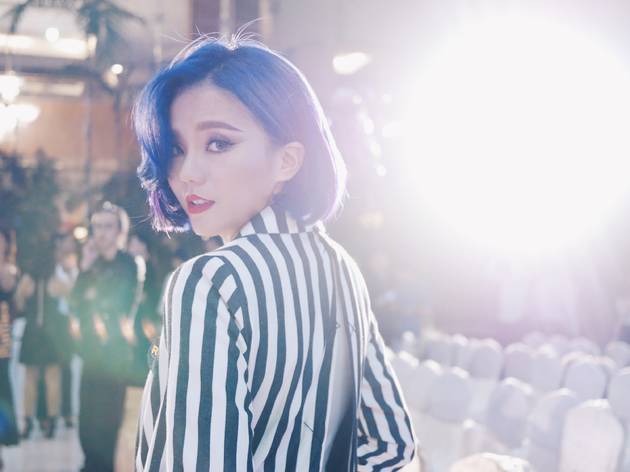 Who she is
Kittie Yiyi has kittenish airs: a fearless, playful spirit prancing up and down the catwalks of the city. You might recognise her name; she's been a blogger-slash-social media influencer since 2011 ('Maybe I shouldn't call myself a "blogger" anymore; I've hardly written a post in recent days,' she says), sharing her #ootds and street style snaps. A graduate of Raffles College of Higher Education, she debuted her first collection as a fashion designer at KLFW in 2014.

About the line
Patterns, prints and pops of colours are all in evidence. In many ways, her designs have always reflected her personal philosophy – an attempt at realising the lighter side of life. Kittie Yiyi is a painter of positivity. Look to her pre-fall '14 line that leads with bee prints, loud polka-dots and red checkered waisted jackets (and matching voluminous red checkered wrap skirts!); her spring/summer '15 collection that was an explosion of hot pink; and for spring/summer '16 – titled 'Somewhere over the skittles' – Kittie Yiyi was 'inspired by the ever-beautiful rainbow' (re: colours, which run the gamut of the rainbow and then some), and features cloud cut-outs on peplum jackets, sweaters trimmed with ostrich feathers, and unicorn motifs on dresses with drop skirts.

Of greater importance and interest – and sure, timeliness – is Kittie Yiyi's fall/winter '16 collection, which marks her venture into menswear. That's not to say there aren't plenty of pieces female fans will like and want to buy – in fact, now they'll buy matching outfits for their male friends and partners. She didn't set out to create a collection that would be challenging; these clothes are to be lived in, to be played in, to be happy in. Kittie Yiyi took cues from student life at schools, with a side of escapism; being a 'big adult' comes with life #struggles, and she had begun to miss her school life.




To that end, her fall/winter '16 collection is an almost direct, literal tribute to her years in school as a student: there are alphabet embellishments at the back of the blazers, the colours are a touch more subdued this time around – greens and navy blues – and the silhouettes are semi-loose and slightly oversized. That's probably a play on the feeling of being a tween and/or teenager: you never feel like you fit in your skin.

Sneak a peek at her upcoming spring/summer '17 showcase on her social media (of course); it's shaping up to be quite romantic. In her own words, it's 'girly' and 'flowy', with lots of 'pastel colours' – a significant change from her signature daring, quirkiness and relentless whimsy. It appears she might surprise us after all – and that's saying something.

Where to find it
Buy Kittie Yiyi at www.kittieyiyi.com and www.fashionvalet.com.
See Kittie Yiyi's fall/winter '16 collection