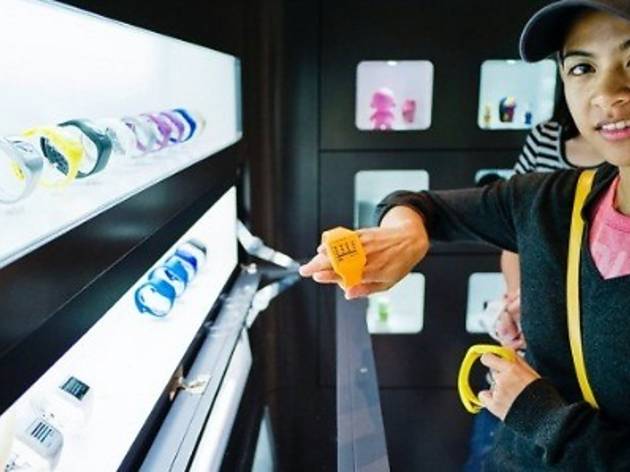 At H5, the minimalist stark white interior looks designer chic. But when you browse through the cult watches that are encased within the lit glass inserts along the wall, you realize that this space feels like a modern museum of design, which is exactly what the owner Tong Chee Wei is aiming for; he has created the store as a homage to pop art and culture.

Save for Philippe Starck, all the brands of watches that you find here are only available to H5. Each of these brands has garnered a cult following internationally and they look more like pieces of wearable design art. Nooka, which comes from the States, is of course the pride of H5. According to Tong, Nooka (RM559-RM1400) is a fusion of urban New York and anime Japan. It is very current and modern at the same time, a style which Tong labels as 'techy fashion forward'. There are several crossover editions in stores right now such as SpongeBob SquarePants and Kidrobot.

Using block colours, Noon Copenhagen (RM559-RM719) has a clean design, which speaks a lot about its Danish roots. The highlight of this watch is its patented design where the clock face changes colour according to the time. LIP from France (RM700-RM1800) on the other hand is charmingly retro. Its classic design is now regarded as pop art. Even so it still looks classic and professional, something you can wear to work or party. It even has a series of LED watches. They may look digital but they are not-it's so fascinatingly old school.
You might also find Fei Yue, a fashionable sneaker brand from China that was once a staple among Shaolin Kung Fu masters. Tong plans to bring in another cult brand, Nixon, which is very street, very colourful and has been a hit among skateboarders. Although there are already some in store (Kathie Olivas' The Scavengers), Tong plans to bring in more urban designer vinyl toys such as those from Michael Lau. Oh, if you are really into toys, ask the store for the 'secret stash'. Due to the space constraint, some of the goodies are not on display but they are certainly for sale.
Venue name:
H5
Contact:
Address:
GF-27, Ground Floor, Village II, 2 Jalan Telawi Satu
Kuala Lumpur


You may be interested in: