How to clean out your closet
It's not fun, but it must be done – our highly scientific guide is here to help you detox your wardrobe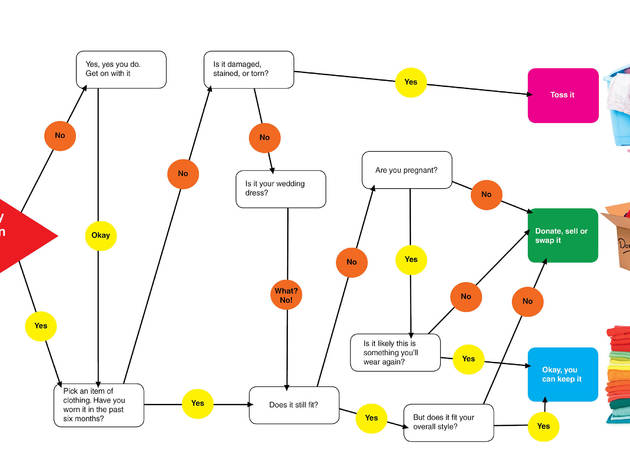 Toss it
1. If you live in KL, the waste separation rule applies. Put all your unwanted clothes in a bag and leave it outside the general waste bin for collectors to pick up.
2. Drop off your worn and torn clothes at H&M. For every bag of clothes you bring in, you'll receive a discount voucher for your next purchase (www.hm.com/my).

Donate, sell or swap it
1. Donate your clothes at a Pertubuhan Amal Seri Sinar (PASS) orange bin near you (www.recyclecharity.org).

2. Do Something Good. No, we mean it – volunteer with Do Something Good, get a group of friends together, and see if you can start a clothes charity drive for the less fortunate (www.dosomething.gd).

3. Kechara Soup Kitchen seeks used or unused clothes in clean, good condition. That's where you come in (www.kechara.com/soup-kitchen).

4. Bring your clothes to Pasar Percuma and give it away for free; there's one held every few months or so (www.facebook.com/groups/pasarpercumamalaysia).

5. Old is gold! Join the Swap Party at Markets at Jaya One which takes place every quarter; bring pre-loved items and trade for charity (www.markets.my).

6. 'Sell in a snap, buy with a chat'. Why, Carousell, we couldn't have said it better ourselves (www.carousell.co).

7. Download the Duriana app, sell in seconds (www.duriana.com).
Keep it
Not so fast, fashionista. Now that you have a clean closet, keep it organised with these three tips:
1. Organise your clothes according to colour. Visually, it looks great and it'll help you find what you're looking for as you get dressed.

2. Avoid double-hanging your clothes. Sure, it seems like a good idea when you're running low on closet space, but remember: If you can't see your clothes, you can't wear them either.

3. Turn all your hangers backwards. After you wear an item, place the hanger back normally. In six months to a year, get rid of anything still hanging on a backwards hanger. Trust us on this.

Apps to help you along
Cloth
Categorise your clothes so you can save and share your favourite outfits. It's your personal outfit diary-and-virtual wardrobe.
Free (iOS)

Pose
The Instagram of fashion lets you share and save photos of your favourite outfits and shopping finds.
Free (Android, iOS)

Stylebook
A wardrobe-organising app for the careful curator of closets. Also check out: Closet+
Free (iOS)