Heads up! We're working hard to be accurate – but these are unusual times, so please always check before heading out.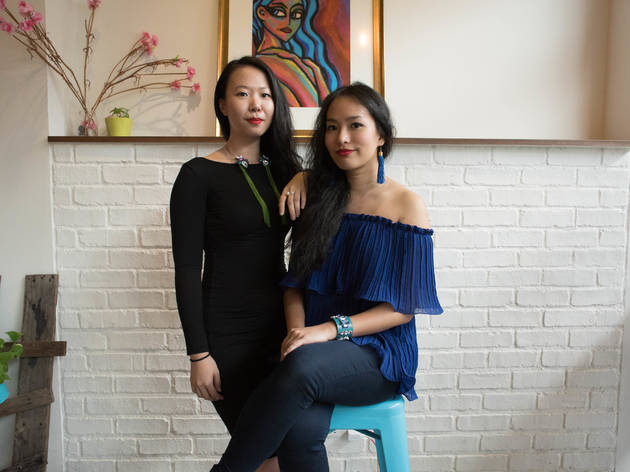 Make your own jewellery with DIYKL
We speak to the duo of DIYKL, who have DIY in their DNA
The maker movement is something of a subculture here in the city. More and more people today are turning to tools to make their own things: there are events and markets dedicated to artisans and their handmade, organic jams and soaps; there are studios and spaces out for rent along with electronic kits and clamps, saws and the like; and then there's DIYKL.

DIYKL is Agnes Leong, 27 and Saran Mutang Tagal, 26; the telecommunications engineer and protection associate duo consider their collective to be in line with the maker movement, but with a twist.

'Think IKEA for fashion accessories,' says Saran. Instead of creating and selling jewellery, they design fashion-forward, statement-making DIY jewellery kits, with items, supplies and sparkly things sourced from far and near. If you spot a design for, say, a pair of double pearl earrings on their website, you can buy the kit, not the earrings – and make them at home.

'We sat down once over lunch, complaining that it was so hard to get DIY supplies in Malaysia, and we were like, "You know what, this is an untapped market." We both love DIY, and we do understand what the other DIYers are going through – they can't find jump rings, they can't find lobster clasps,' explains Agnes.

'DIYKL is all about being creative, being crafty. For those who don't really know what to make, we have tutorials on our website. We design necklaces, rings, bracelets, we prepare all the supplies and tools in the kit and we pack it all up for you,' says Saran.

'In Malaysia, we have a tendency to buy and dispose. Fast fashion, you know, they're made so cheap they last up to a couple of washes, and then you throw them away. When you make something with your own hands, there's effort, there's love,' Agnes adds.

The DIYKL aesthetic is a recurrence of rhinestones, tassels and pearls; the founders source their items locally as well as from their travels – Cambodian fair trade beads, for example, Thai leather and Sarawakian native beads.

'With fair trade, it's a win-win for the customers, for us, for our suppliers,' says Agnes. 'We try to get limited stuff – with fair trade, you can't get a lot anyway, you can maybe get 100 or 200 beads a time – because we're starting to move forward to limited DIY kits, a little more luxurious, more upscale. We'll see where it goes. It's all a nice big surprise for everybody,' Saran smiles.

DIYKL will be at Markets from Sep 26-27.
SERAPHINA rhinestone leather cuff bracelet tutorial by DIYKL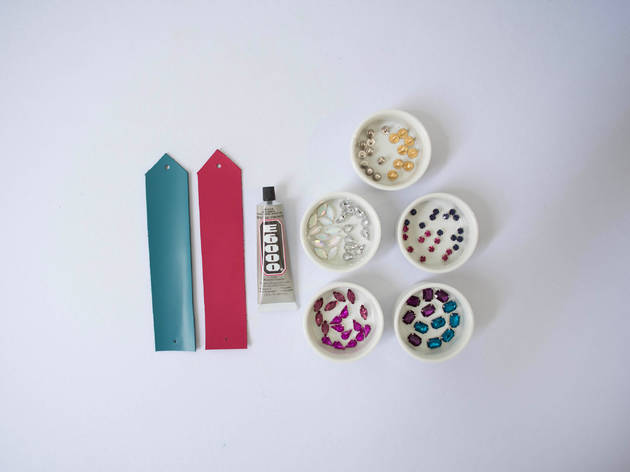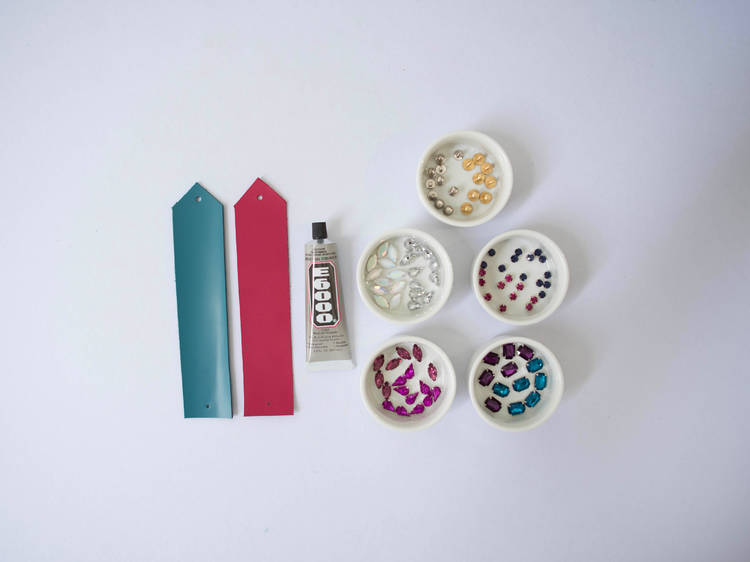 Photo: Light Show Photography
The kit includes: 2 pre-cut leather bracelet cuffs in a turquoise or fuchsia colour, E6000 glue, a variety of rhinestones, and button screw-on studs (comes in two parts).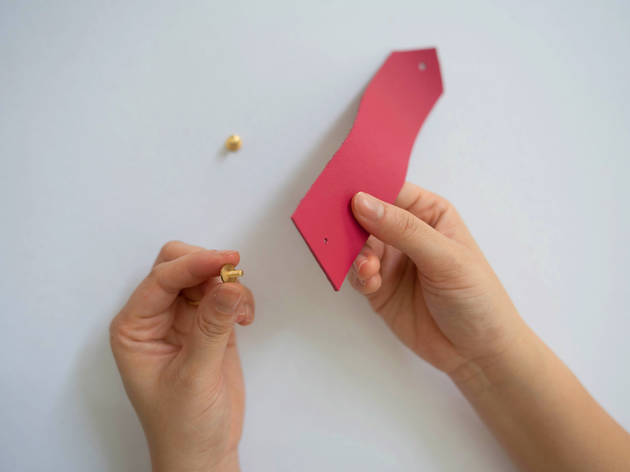 Photo: Light Show Photography
Begin with inserting the screw into the hole of the pre-cut leather piece. This should be the square end of the cuff, not the triangle end.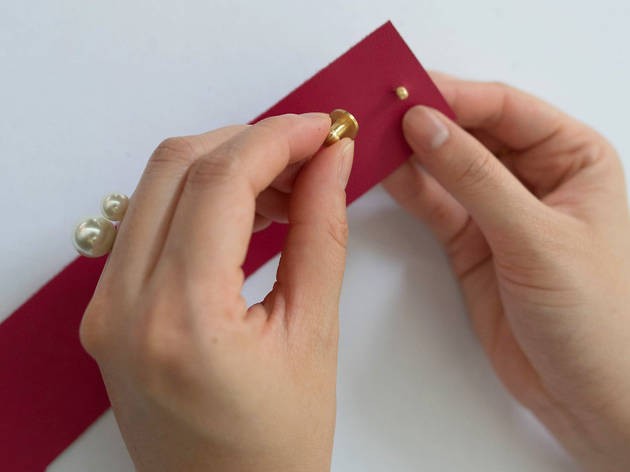 Photo: Light Show Photography
Next, take the button stud and screw it on tightly.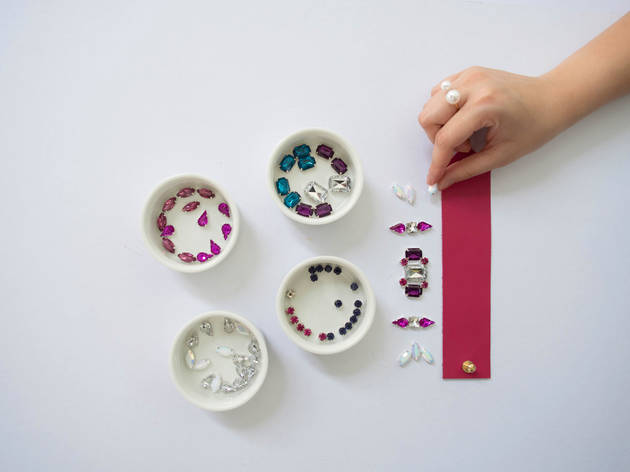 Photo: Light Show Photography
You can now plan out your design – go ahead and freestyle! Take a photo of the design before you begin.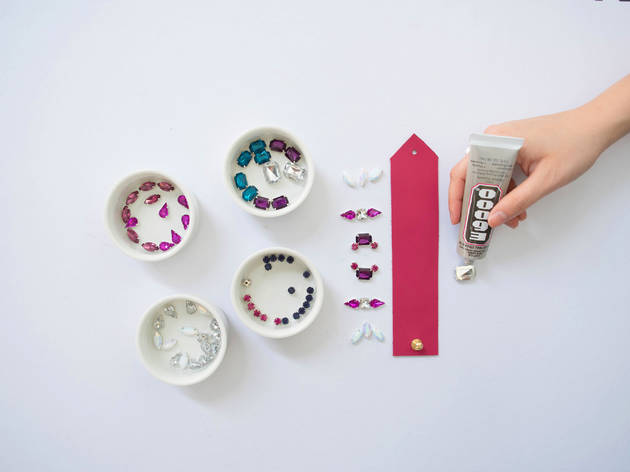 Photo: Light Show Photography
Now that you're happy with your design, start glueing from the centre. Make sure you are in a well-ventilated area when you begin glueing! Apply a dab of E6000 glue to the back of the rhinestone at the centre and stick it to the bracelet. Tip: Always start glueing from the middle to maintain symmetry.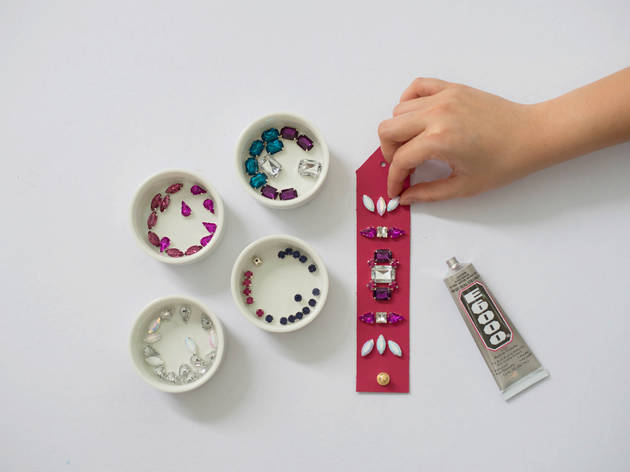 Photo: Light Show Photography
Continue until the design is complete. Let the glue set for at least 24 hours before wearing for the glue to bond completely to the surface it has been glued on.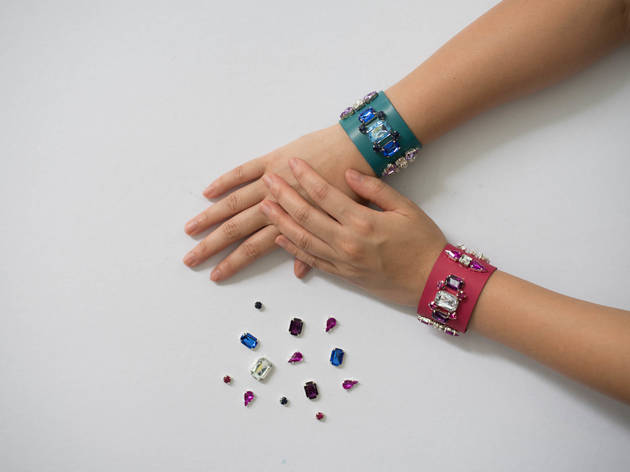 Photo: Light Show Photography
Voila! Your SERAPHINA rhinestone leather cuff bracelet is now ready to be worn. Have an awesome #armparty!

DIYKL kits are available online at diykl.com. Kits from RM12; rhinestone packs of 20 from RM7; supplies and tools from RM5. The SERAPHINA rhinestone leather cuff bracelet kit, launched exclusively for the September issue of Time Out KL, is now available on diykl.com.