Treadmill Workouts for Every Type of Runner
Get yourself in the best shape for the new year.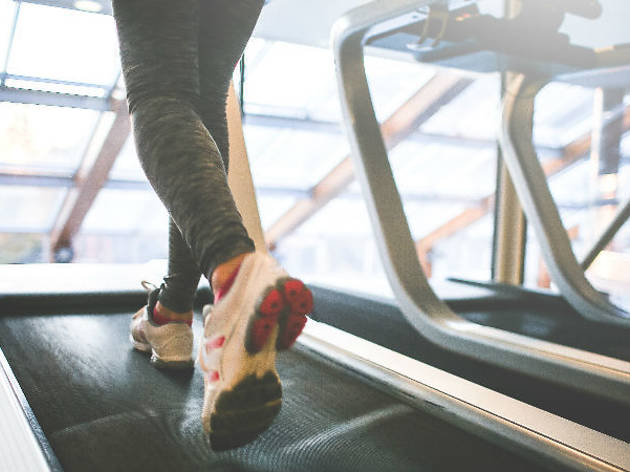 It may seem common for people to say that running on a treadmill is boring, but if you're following a set of workouts to achieve a certain goal, and using the functions instead of just running at the same speed the whole time, it might not be so bad after all. Plus, the treadmill gives you a trouble-free run; rain or shine, it's got your back.
Here are three different types of workout that can help you create a habit while making sure your time spent on the running belt is worth it.
1. All about speed
In a controlled environment, the treadmill is a great place to work on speed. Begin with a five to 10-minute warmup, then 30 seconds of push and 30 seconds of rest. Implementing intervals during your workout burn more calories and its afterburn effect. You'll get breathless and your heart rate will shoot up, but rest when it's time to rest – catch your breath. Increase your incline by 1% after each set but choose your pace according to your ability. Repeat the sets for a complete workout of 15 minutes.
2. Be a trail runner
Trail runners are tough! If you're wanting to up your game while staying indoors, try his run and hike exercise. Begin with a 1% or 2% incline level (depending on your ability), and over 30 to 45 minutes, one step at a time, add on the incline levels slowly up to 6% while lowering the speed gradually. For this exercise, take a longer period to cool down.
3. A fartlek interval
Go fartlek-style interval ("fartlek" is Swedish for "speed play"). This is a 'random' exercise where you could go on a jog, a sprint, then a walk, up the hill, then maybe a sprint and a walk again. It's a mix of everything. This will keep you on your toes and get your working on your maximum and lower capacities. Most treadmills will have a fartlek button so just hit that button and begin. Or here's an example of a fartlek exercise: Run hard uphill, and go easy downhill on rolling terrain, or according to your playlist, at the chorus of a song, sprint for 15 to 20 seconds then jog at a recovery pace for 10 to 15 seconds and back to a normal pace until the next chorus of the song.
---
Find out more about BH Fitness and their products here:
With more than 100 years of experience in building bikes, the Beistegui Hermanos S.A., or more commonly known as BH, is the largest and number one company offering a full range of home use and commercial use fitness equipment in Europe. Dedicated to the weapons industry initially, BH Fitness was established in 1969 and launched its first static exercise bicycles years later. BH is now a worldwide brand with an excellent track record as a sponsor to champions of international marathons, cycling and triathlon as well as the first fitness brand officially licensed by NBA.

'Verano Pro Treadmill (BT7050)' Photo: BH Fitness
Until today, BH Fitness carries a wide range of equipment catered to strength training and cardio. Treadmills, indoor cycles, ellipticals, exercise bikes and other fitness accessories are the products offered. One of the bestsellers is Auto Incline Treadmill (T200) with the Semi Plug & Run technology. That means no assembling is required where you just need 90 seconds to unfold, lock and start running. The Verano Pro Treadmill (BT7050) has a unique dual mesh and adjustable cushioning system that will absorb the shock from your knees and ankles while running. Just adjust the hardness of the cushion comfort level according to your personal preference. This model, a European Super Car Design also holds a Semi Plug & Run technology. With an extra-large 50cm running area, you'll be able to stretch out your stride with safety. This treadmill also supports 130KG maximum user weight and 15 levels of incline.

'Indoor Bike (H915P)' Photo: BH Fitness
If you're looking to cycle without going outdoors, or fighting for a spot at the crowded gym, this indoor bike is it. The BH Fitness H915P uses a chain drive system where it allows for a smooth ride that is just like an outdoor bike. With its 14kg casting iron flywheel, you'll find that the centre is well balanced which grants an excellent equilibrium and momentum when cycling. The treated casting also aids in the prevention of corrosion. The dual-sided SPD compatible pedal fits both cycling shoes for heavy-duty training and sneakers for normal training. You'll also find that the H915P indoor bike's high-density padded seat is made for a comfortable cycling experience. Just adjust the seat and handlebar as you see fit, and you're ready to go.
The Elliptical (G863T) equipment helps with movement to exercise the joints, spinal cord, arms, abdominal, thighs and hips — suitable for all ages and fitness levels. It has the magnetic brake and flywheel system that offers a quiet and smooth pedalling movement. Perfect even for a nighttime workout. The exercise bikes, Recumbent Bike (H610U) and i-Artic Dual Upright Bike (H674U) provide a full-body workout designed to be adjustable, silent and comfortable.

'Recumbent Bike (H610U)' Photo: BH Fitness
With the Swing Riding Indoor Cycle (BS1299), increase the intensity of your workout by incorporating your core and upper body while pedalling. This indoor cycle allows side-to-side leaning motion to about 10 degrees for cardio training and muscle toning. Practice your high-speed intensive training with DURA Indoor Cycle (H918A-1 SB2) that boast of the same level as the professional spin bikes in gyms. The Duke Indoor Cycle (H920C) uses the full-commercial 20kg flywheel offering greater momentum with controlled movement as you power through the workout. Offering the most similar riding feeling to a road bike is the AIRMAG Pro Indoor Bike (H9122i). It is designed with 8 intensity regulation where you can select your preferred resistance for the best workout.
For more information on pricing and full specifications, visit bhfitness.com.my.