Guide to Deepavali
Celebrating the victory of good over evil takes some serious hard work. To make your preparation easier, here's the lowdown on where to get what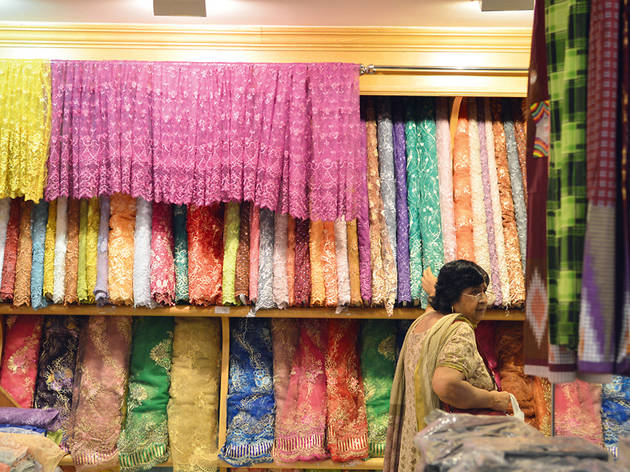 Blinged-out finery
New duds should be the first item to tick off the Diwali to-do list. Shopping hubs for Indian garments are basically Masjid India in KL and Little India in Klang. Opposite Semua House, Madras Store in Masjid India has been around for 30 years. Their affordable saris, textiles and bangles are imported from India. Shivom is recommended for its textiles and vibrant Punjabi suits. Haniffa's collection is smaller but definitely of superior quality. Prices range from RM25 for cotton and chiffon saris to the thousands for pure Kanchipuram silk saris. The salesgirl gave us a maintenance tip: rinse the sari in cold water for the first few washes so the sari doesn't lose its luster. Lucky Noble won the popularity vote when three out of five interviewees told us they shopped there. Prices begin from RM120, and the reason is evident from the detailed beading and weaving.

Fifty minutes on the KTM brings you to right to the doorsteps of Little India in Klang. Known as Jalan Tengku Kelana, the place is a veritable treasure trove for everything you need. Gayathiri Silk Sarees Palace has gorgeous designs imported from India, and they give steep discounts. Next to the Indian Mosque, Ajuntha gets their sarees and textiles straight from factories on the outskirts of India, which explains their cheap-but-high quality items. One can lose all sense of time in Chennai Silks, located a few steps away from the train station. Their huge range of textiles and ready-made items is probably enough to fulfill your mission. Most importantly, we love the fact that bargaining is allowed.

If you really don't have the time to get to the shops, Johor-based online shopping site Shobi G (www.facebook.com/sarees.shobig) offers free shipping within Malaysia plus reasonable refund and exchange policies. Also recommended is Indifashion (indifashion.my), where one can shop for the family at this Delhi-based online store. Even with shipping, items are still affordable.

Ajuntha Textiles 20 Jalan Tengku Kelana, Klang (03 3371 7571).
Chennai Silks 1 Jalan Istana, Klang (03 3372 7272).
Gowre Silk Saarees Palace 74 Jalan Tengku Kelana, Klang (03 3373 6505).
Haniffa 149 Jalan Masjid India, KL (03 2693 8620).
Lucky Noble 1-16, first & second floor, Plaza City One, Jalan Munshi Abdullah, KL (03 2692 6855/www.seherish.com.my).
Madras Store 100 Jalan Masjid India, KL (03 2693 0072).
Mangala Theebam 245 Jalan Tun Sambanthan, Brickfields (03 2274 0360/www.mangalatheebam.com).
Shivom Traders 14 Jalan Bunus Enam, Jalan Munshi Abdullah, KL (03 2693 1234).
Décor
Shops specialising in Indian/Deepavali décor items are concentrated in Klang and Brickfields. Gayathri Silver Brass Cash & Carry is located in a small alley off Little India in Klang. The store houses a slew of prayer items, tiny clay lamps and incense powders; everything you need for prayers. Business was brisk on the random weekday afternoon we dropped by.
Thought to bring prosperity and keep bad luck out, the Rangoli Kolam in courtyards and prayer rooms are important but also painstakingly time consuming to create. Plus, overenthusiastic kids can put your masterpiece in jeopardy – try easy sticker Kolams instead, RM20 each at Sarojani. Alternatively, call in the specialists from Dass Kolam; prices start from RM800.

Another good place to stock up on décor and prayer items is the Deepavali Carnival. Previously held at Brickfields, it has now relocated to the more spacious Bukit Jalil. There will be more than 300 vendors from India, Malaysia and Pakistan hawking their wares and services. Visit on the last three days (Nov 8–10) for better discounts, but be prepared for crowds.
Dass Kolam (016 494 7674).
Deepavali Carnival Car Park A, National Sports Complex, Bukit Jalil, KL (03 2278 5555). Oct 30– Nov 9, 12noon–10pm
Gayathri Cash & Carry1 Jalan Pulasan, off Jalan Tengku Kelana, Klang (03 3373 8181).
Sarojani 52 Jalan Tengku Kelana, Klang (03 3371 9762).
Mithai (Indian sweets)
Equivalent to Thanksgiving turkeys, the mindboggling variety of Diwali sweets provides further proof that food is always at the heart of festivities. 'Sesame Street' even paid tribute with a Rakhi Road episode which shows Elmo chomping away at laddu. At Brickfields, Jesal specialises in the fudge-like barfi, rasgulla and gulab jamun, while Sangheetha Café in Masjid Jamek touts their kaju katli, laddu and murukku as bestsellers. If you're pressed for time, just call their delivery service three days in advance. Little India's confectionery store Richman's Candy has prettily wrapped modern sweetmeats that made our teeth ache. Ask for tasters before you buy.

Jesal Sweet House 84 Jalan Sambanthan, Brickfields (03 2274 6801/www.jesalsweethouse.com).
Richman's Candy 25 Jalan Tengku Kelana, Klang (012 209 9473).
Sangheeta Vegetarian Restaurant 40 Palace Hotel Plaza, Jalan Masjid India, KL (03 2694 4233).
Inai
With outlets in Brickfields, Masjid India, Little India and even Bangsar, upscale beauty salon Vaani's provides a wide range of beauty services. Sit back and get your mani-pedi, hair, threading and detailed henna tattoos done before Diwali. For a cheaper option, the henna girls outside the Mydin store at Masjid India do a roaring business – tourists seem satisfied, but mixed reviews from the locals.

Vaani's 233A, first floor, Jalan Tun Sambanthan, Brickfields (03 2274 4644/www.vaanis.com).

Deepavali falls on Tue, Nov 10.