Heads up! We're working hard to be accurate – but these are unusual times, so please always check before heading out.
Inside District 21 indoor theme park
Buckle up! We rank the attractions at District 21 – the latest indoor theme park to grace our city – according to their extreme factor. Are you game?
Indoor theme parks in KL have often languished in the shadows of giant amusement parks but not anymore – the newest attraction in IOI City Mall, District 21, offers white-knuckle rides, slides, trampolines and aerial obstacle courses all within the confines of a 70,000 sq ft space. Forget boring carnival rides; think of the theme park as a bootcamp for amateurs except you'll want to visit the attractions again and again. Here's a look at the attractions on offer.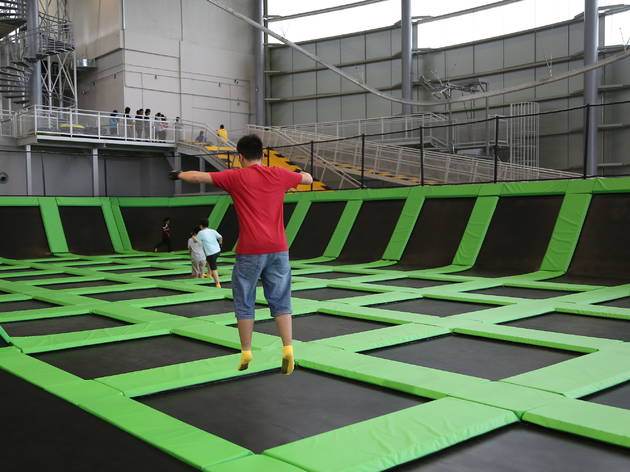 Photo: Hizwan Hamid
Easy: Launch pad
You're a scaredy-cat, we get it. Go slow on these trampolines equipped with top-notch cushioning technology.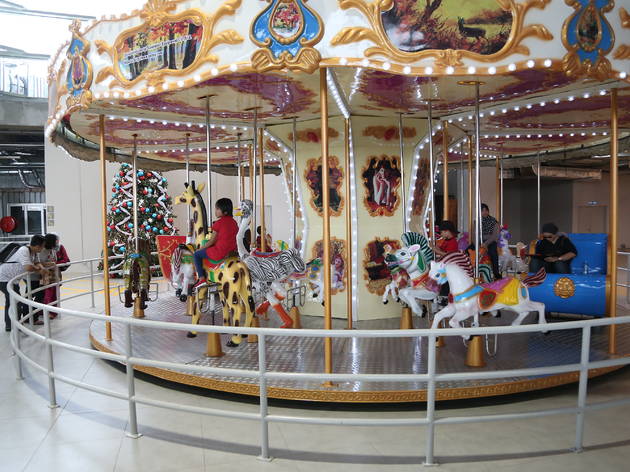 Photo: Hizwan Hamid
Easy: Carousel
Kitschy ponies never fail to deliver but the theme park has thrown in a painted ostrich, lion and giraffe for good measure. You can go for a spin at just RM5 per ride without paying the RM75 admission fee.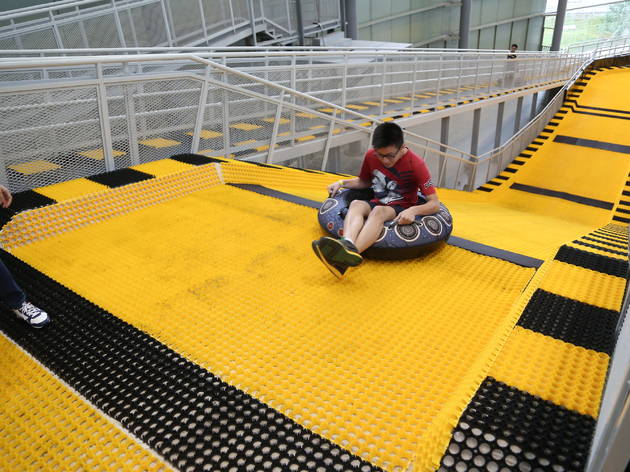 Photo: Hizwan Hamid
Easy: Tubby ride
If the kids can do it, there's no way you can't slide down the slope in a tube. Unless, you're too embarrassed to scream in front of the kids.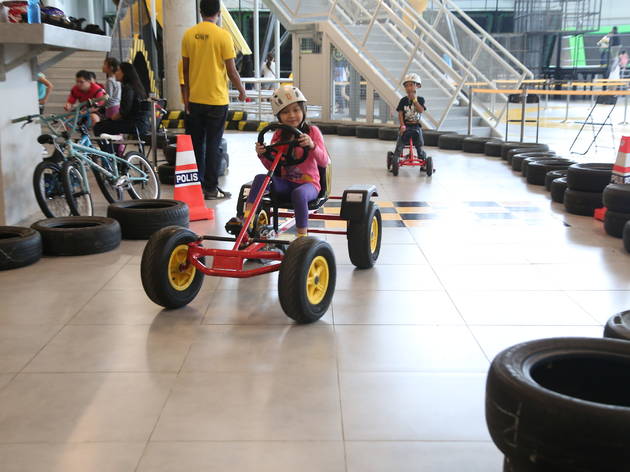 Photo: Hizwan Hamid
Medium: Gopedal
Before your kids dream of piloting a far more powerful machine, get them behind the wheel of a pedal go-kart, in which they can zip around a 100m track. No speeding; just good old-fashioned fun.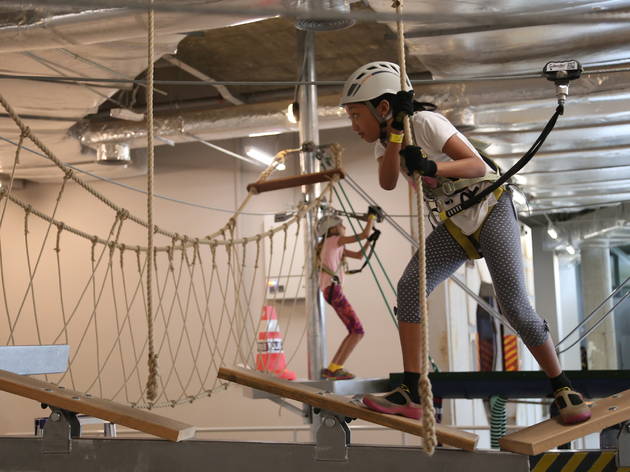 Photo: Hizwan Hamid
Medium: Low ropes
Little ones walk a tightrope, literally, between fun and fear in this obstacle course that attempts to boost their confidence level. Kids are securely strapped with a harness but parents can guide them along the way.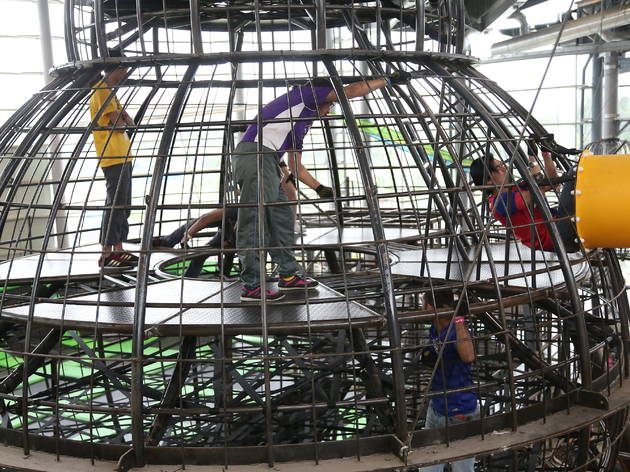 Photo: Hizwan Hamid
Medium: Maze
Like any maze game, nothing is quite what it seems. Suspended 10m above ground, the Maze consists of a labyrinth of tunnels, cages and mindbending puzzles that stretch the mind (or fray your nerves). There's nothing for the faint of heart on this course but it's hard to imagine a more nerve-racking situation than getting trapped in a mess of giant balls.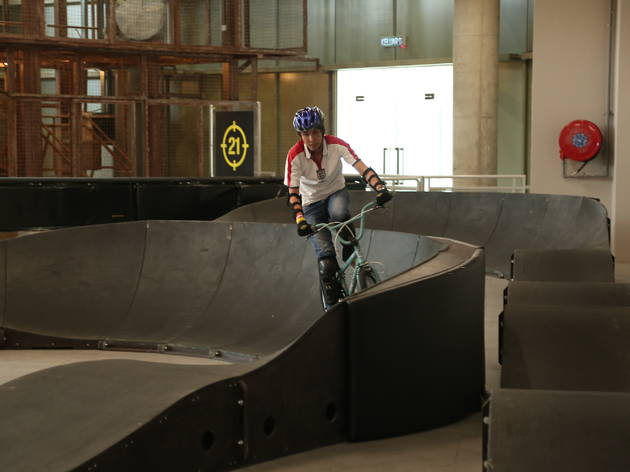 Photo: Hizwan Hamid
Medium: Pump track
Feeling all pumped up? Great, because 'pumping' is all you do on these tracks. Choose either a bike, scooter or skateboard to ride through a series of bumps, jumps and berms. All you need is a helmet, knee and elbow pads, as well as some well-developed muscles.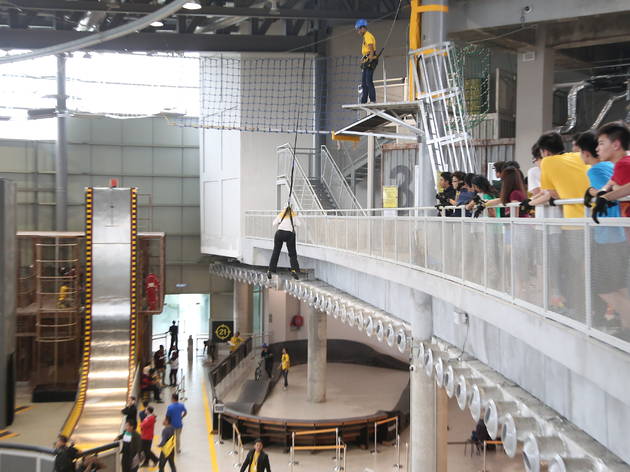 Photo: Hizwan Hamid
Medium: Free fall
This all-time favourite at District 21, which simulates the experience of jumping off a plane, will give you a taste of how free falling (with a cord) feels like. The leap-off point is only two storeys high so this is not exactly a #YOLO moment, really.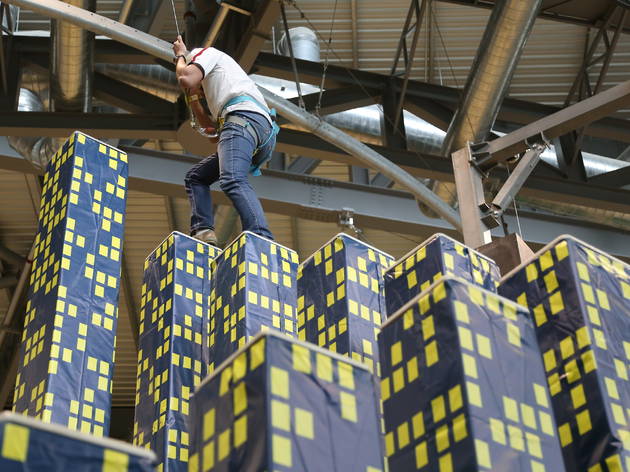 Photo: Hizwan Hamid
Medium: Power station
How hard can wall climbing get? Hard enough, if you're bad at maths. The walls here are not run-of-the-mill; some require you to answer math puzzles correctly before you can climb upward, while some are just pure balancing acts. If you're game, 'The Slide' – boasting a near vertical slope – will send you careening down a heart-stopping drop.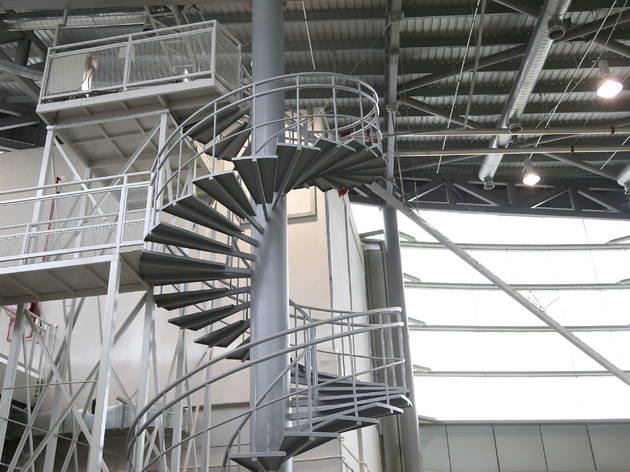 Photo: Hizwan Hamid
Hard: Roller glider
Instead of gliding along a cable like you would on a traditional zip line, the Roller Glider incorporates the thrill of a roller coaster where you'll zing down the course with sharp turns and curves at a speed of 30km per hour. We don't know about you, but we're doing this 'Superman' style.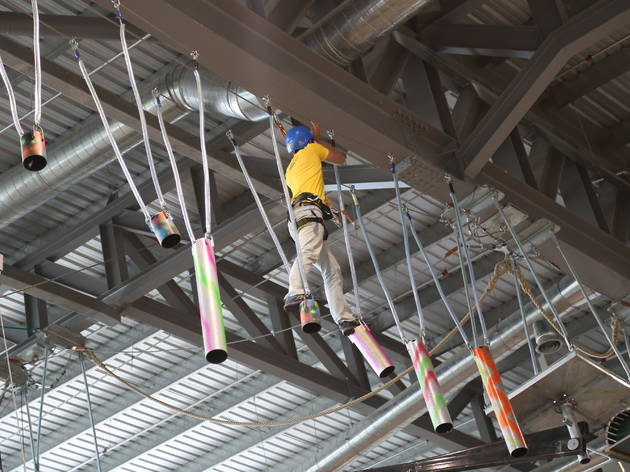 Photo: Hizwan Hamid
Hard: Sky trail
Here's the ultimate challenge that will put your stamina and balancing skills to the test. This vertiginous rope course dares you – while clipped to a harness – to traverse a wobbly rope bridge, balance on narrow planks and navigate through a line of hulking oil drums. Tackle all 23 high-altitude obstacles with varying levels of difficulty and the bragging rights are yours.
Go now