Heads up! We're working hard to be accurate – but these are unusual times, so please always check before heading out.
Inside Jump Street Trampoline Park KL
Jump away at PJ's trampoline park
Opening to more fanfare than Channing and Jonah's raunchy 'Jump Street' franchise is the new warehouse-like Jump Street Trampoline Park in PJ's Section 13. We bounce off the walls, literally, to check out the various features of the park.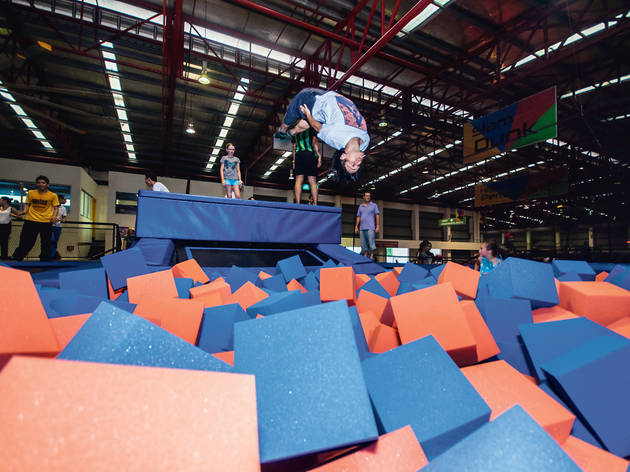 Flip and fly into a cushy bed of foam. The soft landing surface enables you to test out new jumping tricks without injuring yourself. A word of caution: Once you're in, it's hard to get out.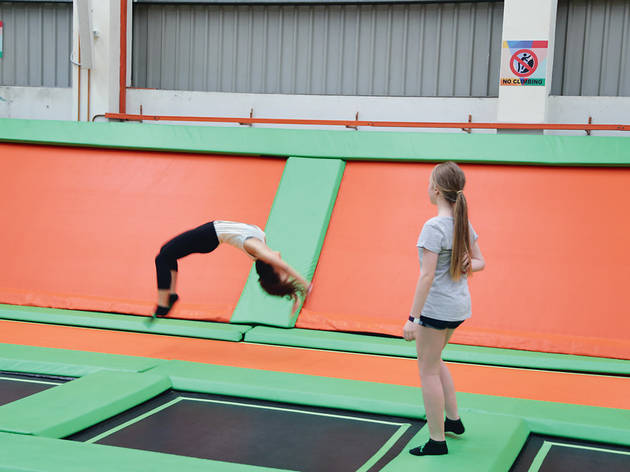 Photo: Hizwan Hamid
An evolutionary departure from backyard trampolines, indoor trampoline parks are equipped with rectangular mats sized for a single jumper only. You learn the basics here: Leap, point your legs out, keep them straight, and only bend your knees when you have to stop. The Cage is perfect for beginners and kids, as jump referees – most of whom are former national gymnasts – will guide you every step of the way.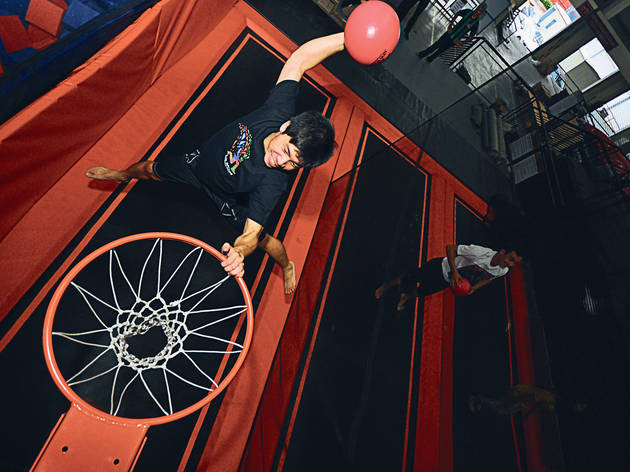 A hot favourite among Michael Jordan wannabes, the Slam Dunk pit consists of three hoops fixed at different heights. But if you're still scarred by the memory of your appalling basketball skills during high school, there's always the kid's height to start with.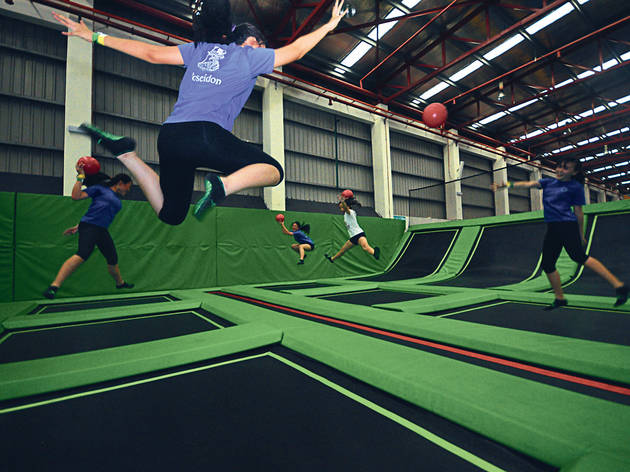 It's airborne dodge ball with twice the speed and three times the intensity. A good workout to keep your reflexes, stamina and balancing skills in check, trampoline dodge ball is about how good you can aim in the air. Dodge ball night takes place every Wednesday from 7pm to 9pm with eight players on each team (RM37 per game).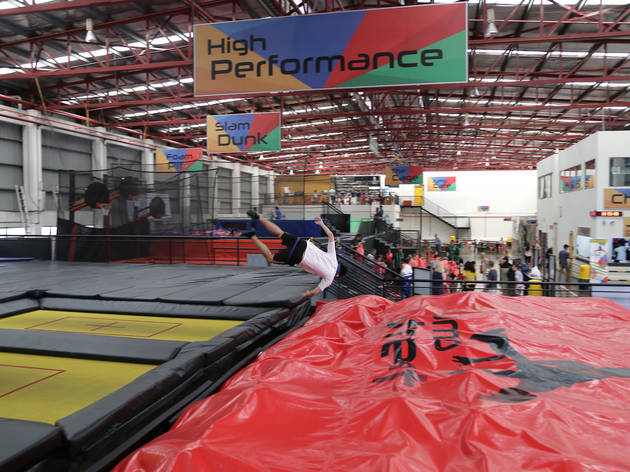 Photo: Hizwan Hamid
This is the place every newbie wants to be but can't. Athletes and seasoned trampolinists (yes, that is a word) break into stunts that sound like human names (Cody, Rudolph, Jonah and Barani) and soar to a height between 8m and 10m before landing on a giant air bag – the trampolines are that bouncy because they're designed according to Olympic standards.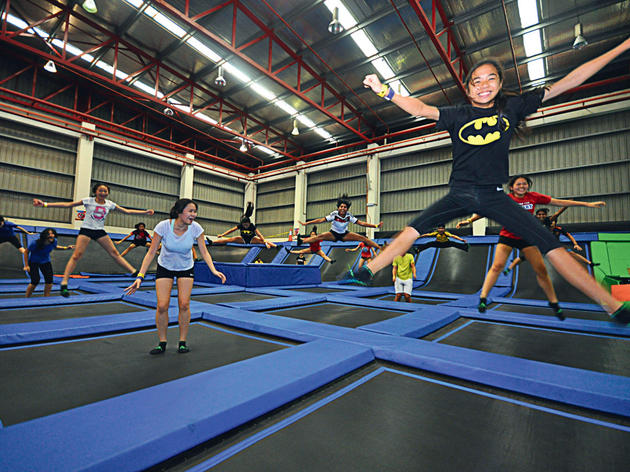 This 9,000 sq ft jumping arena is comprised of 48 interconnected mini trampoline mats with safety pads scattered about so you can either leap from mat to mat or parkour your way around. If hitting the gym is your idea of torture, Jump Street offers fun trampoline aerobics instead – every Tuesday and Thursday, from 1pm and 6pm for RM25 per hour.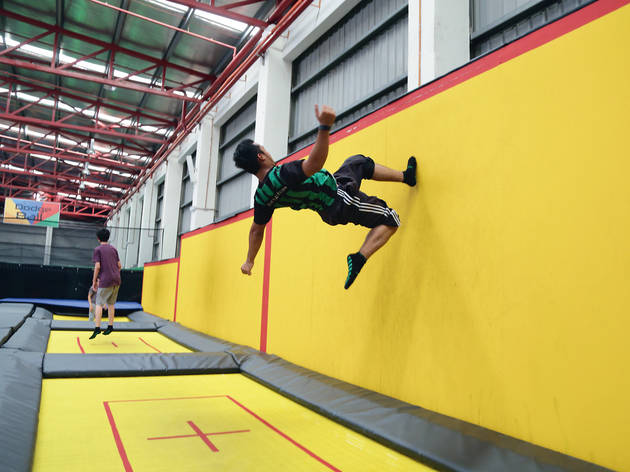 Push outside your comfort zone with wall trampolining – a slick, vertigo-inducing move that looks like you're walking up a wall. The force of the big trampoline propels you further upwards so you can perform more flips and twists in one go.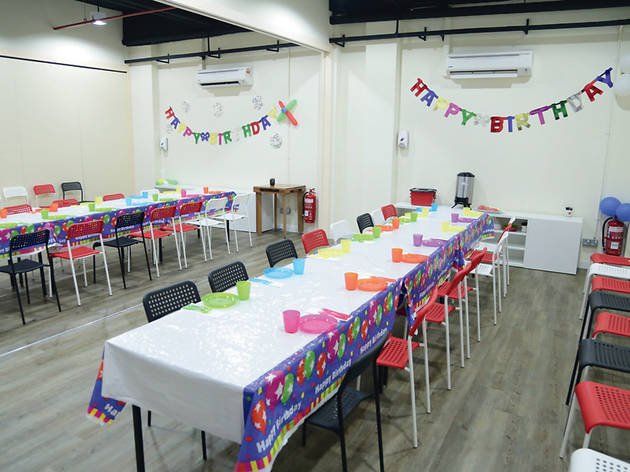 How about a birthday celebration in a trampoline park? You can organise a 90-minute, fully catered party for ten guests from as low as RM510. Here's your chance to be the cool kid (or adult) you've always wanted to be.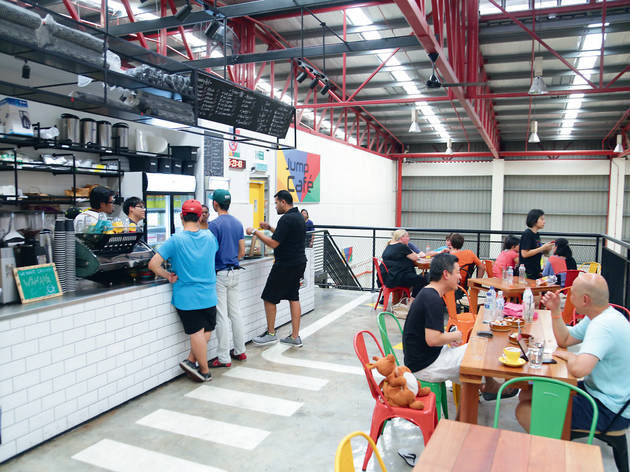 Photo: Hizwan Hamid
Singaporean sandwich and coffee specialist Sarnies has leapt at the opportunity to open Jump Café, which cranks out excellent breakfast sets, sandwiches, falafels, salads, vitamin-packed smoothies and single-origin coffee. Sandwiches get a gourmet upgrade with a smooth avocado spread, while superfood ingredients like flax add crunch to the fruity smoothies. Order your post-trampoline work out like this: a mixed berry smoothie, a roast beef sandwich oozing melting cheese, a Big Jump bacon-and-egg fry-up for the boyfriend, and some truffle fries to share.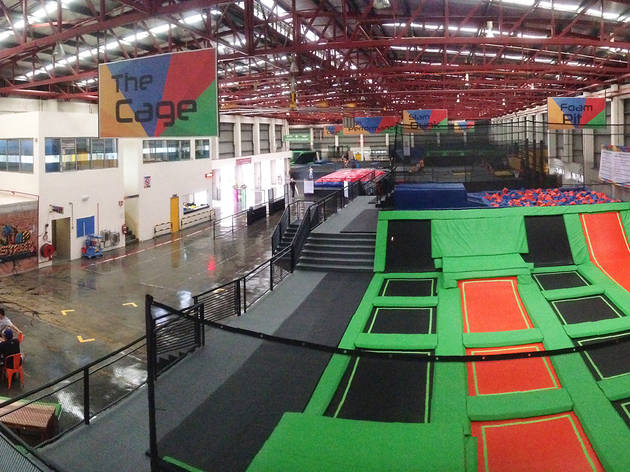 Located in a warehouse behind Jaya One, this indoor trampoline park is made for people of all ages. The park is divided into several sections: a main court featuring over 9,000 square feet of interconnected trampolines, two dodge ball courts, a foam pit, basketball and kids' courts, a high performance area with six Olympic-spec trampolines and vertical running walls of different heights. Want to practice your aerial moves? The Big Bag – a massive seven- by ten-metre airbag – provides the ultimate soft landing.