Interview: Hardesh Singh of The Cooler Lumpur Festival
Cooler Lumpur's Executive Creative Director Hardesh Singh tells us about this year's theme, as well as his notes on the festival's future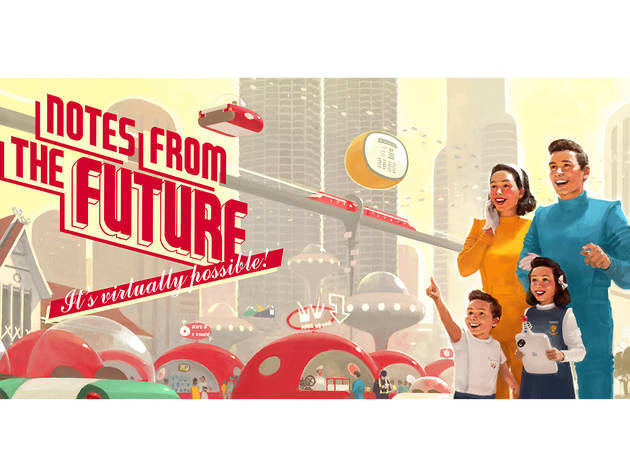 'Notes from the Future' is the theme of the fifth instalment of The Cooler Lumpur Festival, which challenges urban KLites to reflect or contemplate how our current social, political, technological and cultural ideas tell the story of our collective futures, who we are, and most importantly, where we're going. Festival-goers will be treated to a well-edited selection of lectures, panel discussions, screenings, workshops as well as the highly anticipated Journalism Campus.
We spoke to Hardesh Singh, the Executive Creative Director of The Cooler Lumpur Festival to find out how far the festival has come since its debut in 2013, as well as his plans on getting festival-goers to apply the ideas from the many talks to their daily lives.


How would you sum up this year's 'Notes from the Future' theme, and how does it differ from last year's 'RE: Independence'?
'RE: Independence' was a generic term by design, because we wanted the flexibility to programme a variety of discourse. 'Notes from the Future' is a bit more specific in terms of curation – for example: we have futurists coming down from various countries, and a fair bit of the programming is looking at new ideas that will shape our world to come, rather than discussing present day concerns.
The Cooler Lumpur Festival debuted in 2013 and this year marks the fifth instalment. How far has the festival come in the last five years?
The festival has evolved, and will continue to evolve. It began as a literary festival, and in the third year, it assumed a new positioning as an Ideas Festival. This has allowed us to cover a wider spectrum in terms of our programming.
We constantly grow in terms of our audience, as well as our commercial and media value every year, and we introduce new elements within the festival to address the areas we feel that are worth championing. Last year we launched a Creative track, and this year we're launching a new track within the festival specific to visual content, which is a growing economic sector but with little thought leadership now. This is also how we create partnerships – we have improved in finding partners; Astro is our partner this year for a new content track called Episodes.
How's it like running The Cooler Lumpur Festival?
Very few people believe that the festival is put together by just four people. But because we have been doing it for four years now, heading into the fifth, we have a foolproof system to setting up and running the festival. Except for overseas guests and partners who need to be booked months in advance, the bulk of the festival is planned in just ten weeks. There isn't a dedicated festival team, so in short, the PopDigital machine takes on the festival for ten weeks a year on top of running everything else that we do.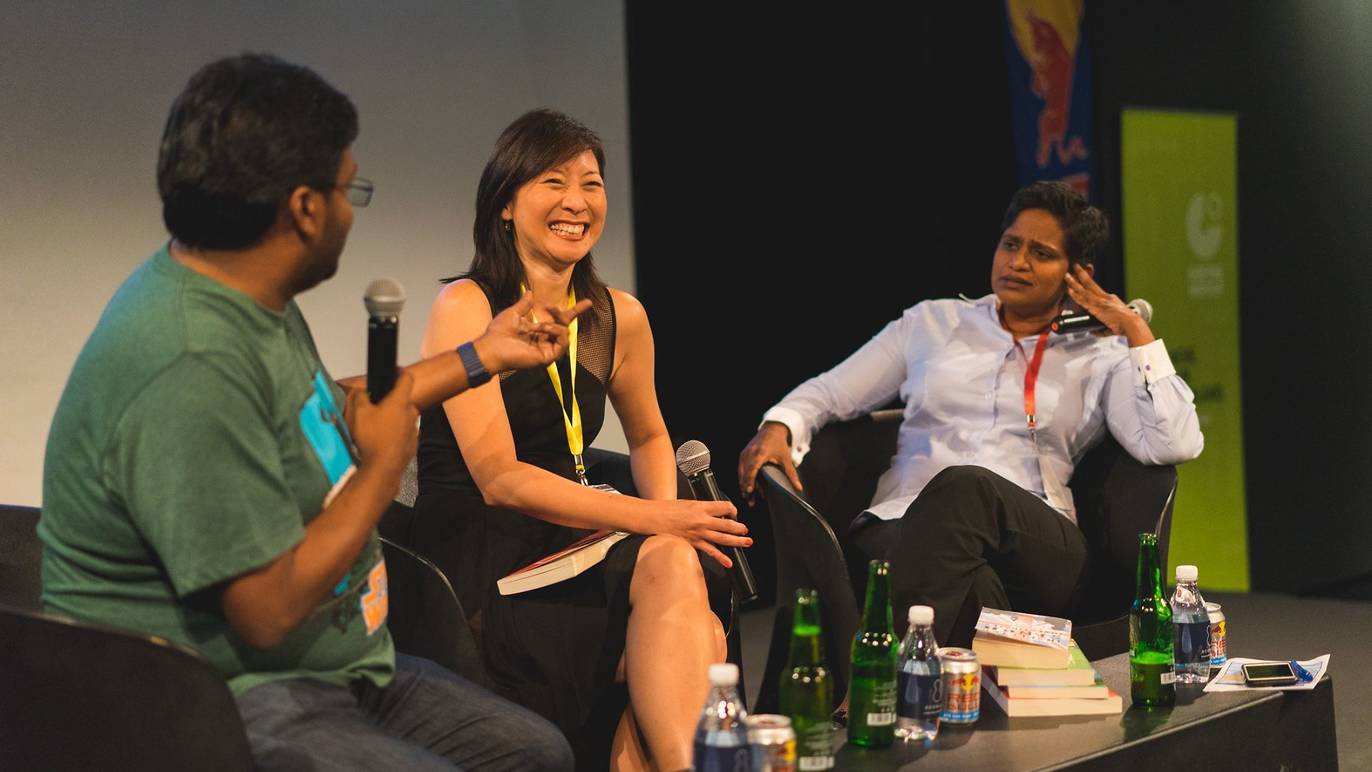 Moderator Umapagan Ampikaipakan in 2016's 'RE: Chic Lit. or Why Women Should Rule the World' panel with Cheryl Tan and Shamini Flint.
What are your plans for this year's instalment?
This year's festival programme is probably the biggest we've put together, with several new elements. We're also including Art for Grabs and the KL Alternative Bookfest this year, and we have an art exhibition specially curated for the festival by Sharmin Parameswaran, inspired by a cyberpunk fiction by Zedeck Siew. Festival attendees can expect to walk away with new ideas and experiences. We even have our very own kids section that will feature virtual reality (VR) storytelling – we see fit that our role is to introduce new ideas for people to try.
How do you decide on the year's theme?
Mostly it's just what piques our interest. 'Notes from the Future' was something we wanted to do for the past couple of years, but we saved it for this year to mark the fifth edition.
Once the theme has been set, how's the selection process like for the festival's many events and the panel of speakers?
It all starts with the theme and the blurb to go with it. Everything else follows – from the visual treatment (we're particularly proud of the key art this year!) and types of speakers to the invite and related events that take place during the festival. Our partners – we have worked with most of them over the years – help by recommending speakers from their countries based on our brief.



Audience members at 2016's 'RE: Malaysian Cinema Redux' panel with Kamil Othman and moderator Umapagan Ampikaipakan.
How do you get Malaysians (or The Cooler Lumpur festival-goers) to take the ideas expounded during the festival, and apply it to their daily lives?
This is something you'll see more of this year and years to come: experiential programming. While the talks are a great way to share ideas, we've been developing more engagement-based activities as well. Food is something we have taken a special interest in this year, so alongside the screening of 'Food Evolution', we're also working with a team of guerrilla gardeners to create a pop-up garden during the festival which will serve to introduce ideas on the future of food to our audience.
In line with this year's theme, what do you think The Cooler Lumpur Festival's future will be like?
We've managed to show the value we provide to our audience and our partners over the past four years, so the plan for the next five years is to move out into different cities and to create new tracks within the festival as new trends emerge.
Who would you like to see on board for future instalments?
I'd like for the festival to be able to commission works, be it writers working on fiction related to the theme, or artists and producers building specific interactions. I'd also like to invite selected people to curate elements within the festival.
Each year's instalment packs a punch with its theme-specific events and speakers. What's your most memorable The Cooler Lumpur Festival theme?
Probably 'Dangerous Ideas' in 2015 – I chose the theme with a view of using it to start expanding the festival into an ideas festival and it allowed us space to try out a lot of things, some of which we have continued to build on.
For the full programme, visit www.coolerlumpur.com