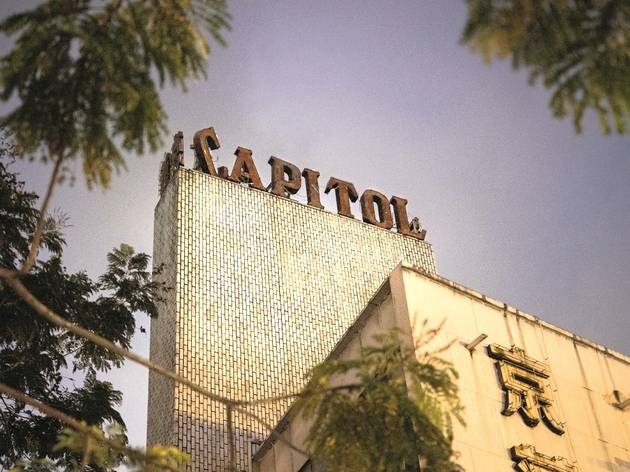 KL's old cinemas: A long goodbye
Mahen Bala takes us back to the cinemas of yesteryear KL, long before the complete takeover of plush cineplexes and their digital motion pictures
Cinema is the biggest fraud in human history. At twenty-four lies per second, every film is an elaborate scheme of make-believe by a cabal of fabulists: producers, directors, actors, scriptwriters, etc. Like a fake necklace sold in an intricate jewel box, films had their own boxes. Once upon a time in Kuala Lumpur, those boxes were the standalone cinemas, an elaborate set up of colours, lights and sound to entice the impressionable.

Today, only a handful of these cinemas remain. Unlike the stories within it, the biography of cinema in Malaysia has neither a beginning nor an end, only a perpetual narrative through the ages; from the penglipur lara (storytellers) who regaled his audience with a mask and a violin, to the mak yong, wayang kulit, bangsawan theatre, and currently, film.

An advertisement for the first film screening in Kuala Lumpur read:

'Edison's Projectoscope, at the Selangor Club, To-night 27th November 1897, Lifelike representations of scenes from actual life, including the Jubilee Procession, Corbett prize fight etc. etc. With lime light effect.'

A few days later, a screening was held in a theatre on Petaling Street, an area largely populated by the working class, most of whom never had the luxury of such elitist entertainment.

'The people were so amazed that they ran to have a look behind the screen. But all they saw was a big Russian man cranking a mysterious machine,' says Hassan Abd Muthalib, who has been working with films for the past 50 years. His book, 'Malaysian Cinema in a Bottle', serves as a study into the history of the once illustrious life of Malaysian cinema.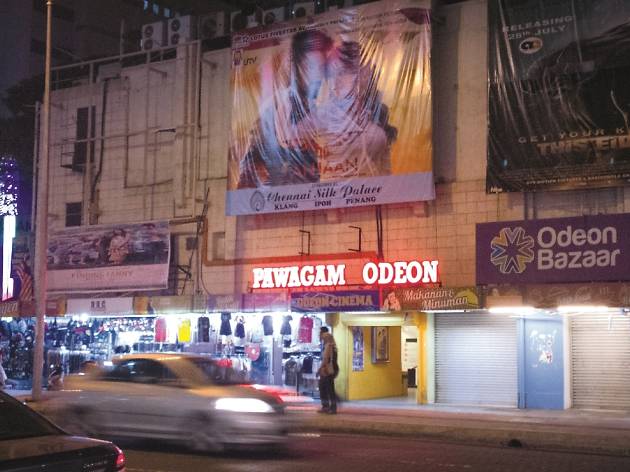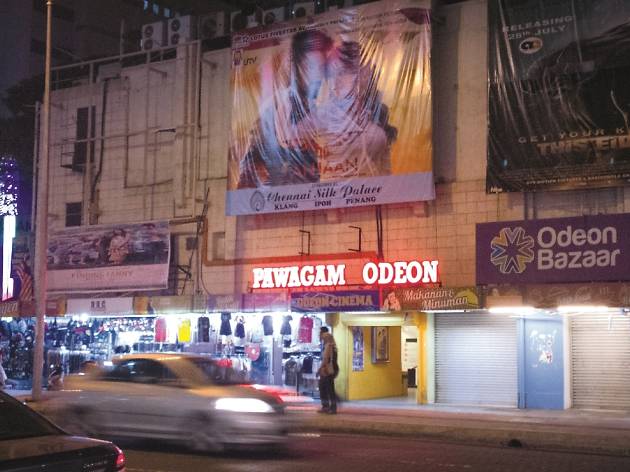 There are many variations to the history of cinemas in KL, but the most common version is this: In 1930, two of the Shaw brothers, Run Run Shaw and Runme Shaw, started the South Seas Film studio which later became Shaw Studio. In July 1935, Cathay Organisation was incorporated as Associated Theatres Ltd by Mrs Loke Yew, and headed by Khoo Teik Ee. In 1953, Loke Wan Tho, by now the head of Cathay, teamed up with Ho Ah Loke, an engineer who owned Keris Films, to form Cathay-Keris Studios. The 1960s saw an intense rivalry between Cathay-Keris and Shaw in the production and distribution of films in Malaya, with the latter gaining the upper hand. The Shaw chain alone operated 200 cinemas across Southeast Asia by the 1970s, alongside independent operators, before declining in the following decades.

Cathay, Rex, Federal, Pavilion, Lido, Empire, President, Mido, Alhambra, Majestic, Coliseum, Odeon, Madras, Central, Metropole, Shaw, Golden City, Capitol, Sun, Hoover, Tai Wa, Ria, Goodwood all read like a zoetrope of exotic places in a fantasy novel, of which only a handful is remembered and even fewer still exist. Each built to trump the other, they linger on as fragments in the memory of older KL, replaced by more profitable ventures or simply torn down. Cathay and Pavilion on Jalan Bukit Bintang became parking lots and today, a planned MRT station. Lido in Brickfields was demolished for redevelopment, along with Majestic on Jalan Pudu. Coliseum and Odeon on Jalan Tuanku Abdul Rahman are the last chariots in the camp, the former with refurbished interiors and a heritage status, the latter relegated to a tiny corridor lined with posters. Federal Cinema on Jalan Raja Laut slipped through the fingers of many owners, each with a renewed promise to rejuvenate the building. The building looks new, with a fresh coat of paint, new ticket and snack counters, but with no plans to open.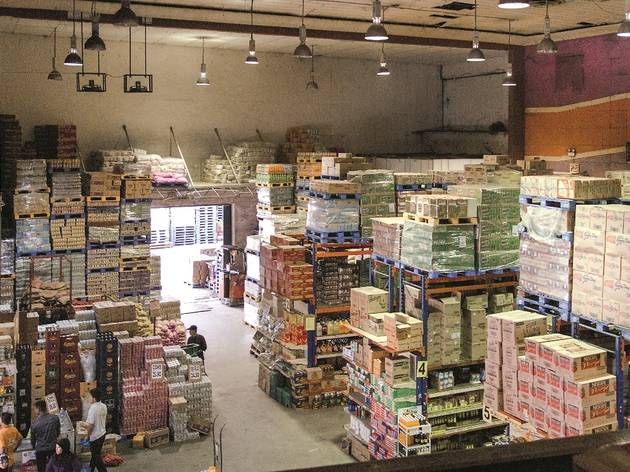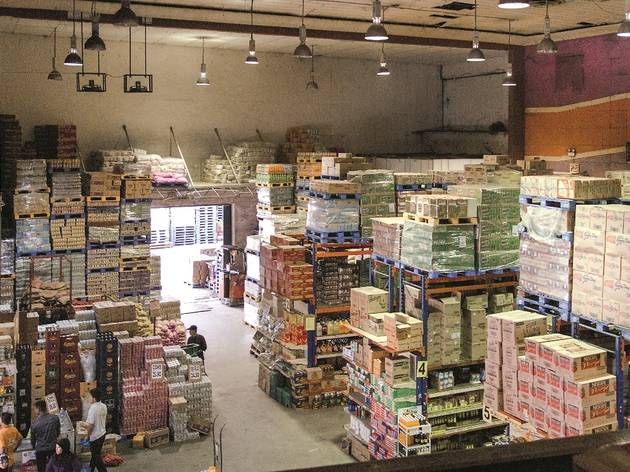 Photo: Mahen Bala
Standing in front of Federal Cinema, I turn around to face a congested wholesale warehouse. Faded jadegreen tiles against the smooth concrete of its neighbours speak of a different era. A dilapidated neon sign crowns the building: 'CAPITOL' with a broken C, and the Chinese characters right below, 京 華, translate as 'flowery capital'. I walk through the back lane, looking for a broken window, a door left ajar, anything that will afford me a glimpse into its past. The opaque windows reveal nothing.

Through the front entrance, stacks of canned products, dry food and household items reach for the ceiling. The space looked strangely familiar. On the right is a mezzanine floor stacked with even more boxes. I walk around looking for clues. The hexagonal tiles on the floor are too complex for a warehouse.

There. Behind a door is a sign that says 'Kaunter tiket (Ticket Counter)'. The steps on the right spiral upwards to the Reserved Class while the metal grill on the left opens into the First Class. I stand still for a moment. Just 14 years ago, this was the lobby of the Capitol Cinema. Those with reserved tickets sat on the mezzanine floor, gazing at the massive screen before them, exactly where a forklift is today.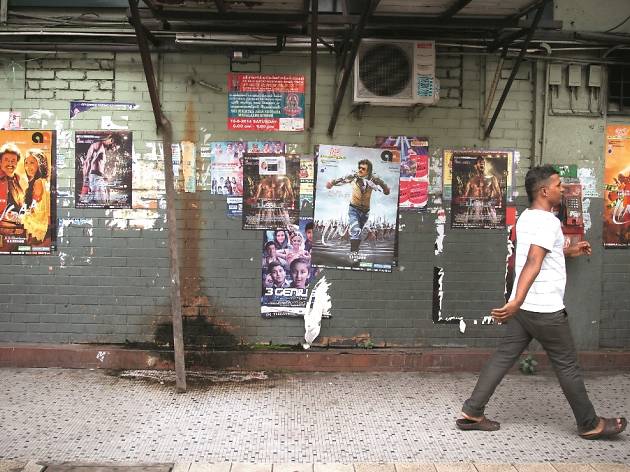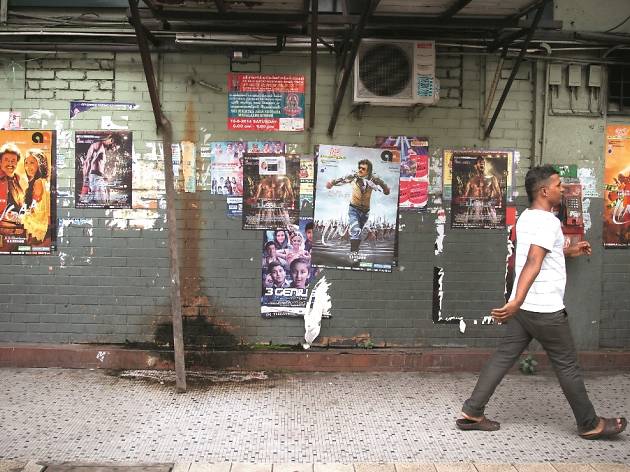 Reminiscences of the past
Only a few decades ago, cinemas operated very differently. Posters were colourful hand-painted murals. 'Coming Soon' was a promise and 'Now Showing' was a thrill. Show times were listed in the last few pages of the newspaper and tickets were purchased through a small window at the entrance. A thick, heavy curtain opened into a hall with floors sticky from spilled drinks mixed with kuaci shells and spit. An attendant with a flashlight showed you where to sit. This I remember.

'Federal used to show English films and Capitol had Chinese films,' said the man in the kopitiam. 'Cinema was the only entertainment at the time,' said another. 'We used to have kacang putih and small packets of fruits.' 'Cliff Richard films la at the time… also kung fu films'. 'You know Rex Cinema was haunted? One seat covered with red cloth was permanently occupied by a spirit, so no one could ever sit there.' 'Last time movie only 50 cents you know!' 'I remember watching the Sound of Music. Some cinemas screened porn as well.' This I do not remember.

Watching a film in a cinema is both a personal and communal experience. We purchase a ticket to sit in a cold, dark chamber with complete strangers, laughing and crying together at a giant screen, with actors playing pretend in front of a camera. An absurd yet universal ritual that fits comfortably into a timeline of shared experiences that define our identity. From the days of the wayang pacak (makeshift screens) to modern screens that are literally larger than life, the cinema was and always will be cherished beyond geographical, political and cultural boundaries by the young and old alike.

'If it's a big film, aiyo the cinema will be packed. They don't care what happens to their car or motorcycle. The film is more important!' exclaims Mr Moorthy, 58, who has projected films for over 30 years, first with Shaw Brothers, then Golden Screen Cinemas and finally Lotus Five Star Cinemas, where he is currently based at the chain's Sentul Cinema.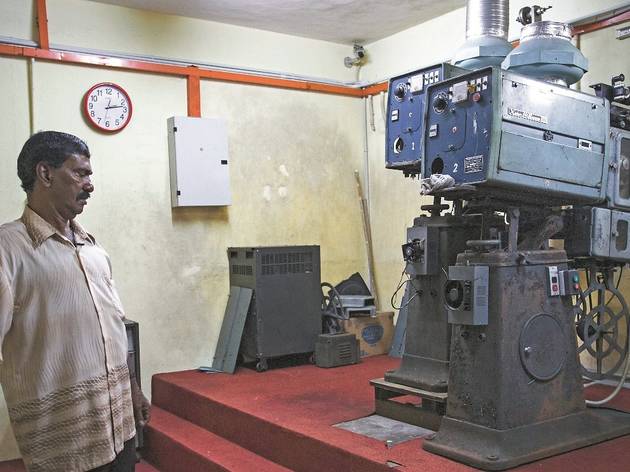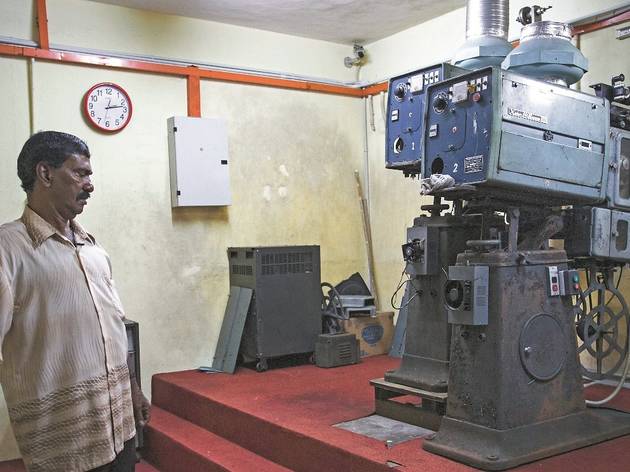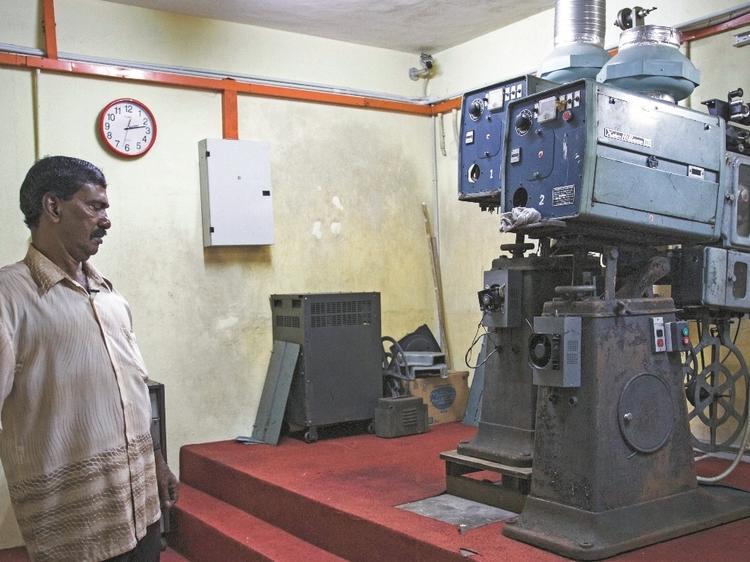 Photo: Mahen Bala
Before digital cinema, films were projected on relatively expensive 35mm film negatives called prints, which had to be duplicated for each cinema. Enterprising local operators found a way to work around it. As soon as the first part of the film was over, the print was split and rushed over to a separate cinema where the same title was just about to start. This way, a single print of the film could be screened multiple times in different cinemas. The scheme worked well, but for one small problem; all the splicing and taping sometimes made the reels shorter.

'In an action scene, the clip of someone getting shot is cut, leaving just the clip of someone already dead. So the audience would ask "Hey! How did he die?" You know what we would tell them? Government censorship!' Mr Moorthy's laughter filled the void of the projector room we were in.

Gone are the days of changing over reels of film to keep the show going. Newer automated machines only require him to start the reel and make sure nothing ends up in flames. The latest Digital Cinema Projection (DCP) works even better. Plug in a hard disk, choose the film, press OK and you're all set.

'Now it's all digital. I think this is the last place where you can find this machine. All the others have been sold for scrap metal. If you can sit at home and watch movies, what's the point of visiting the cinemas? You can sleep, wake up and continue watching films. No need for tickets!'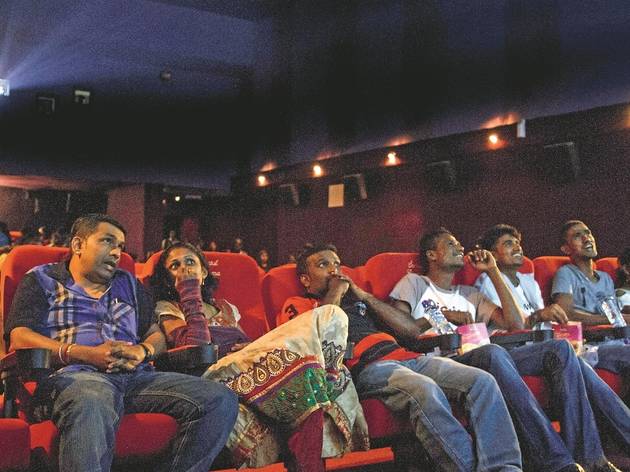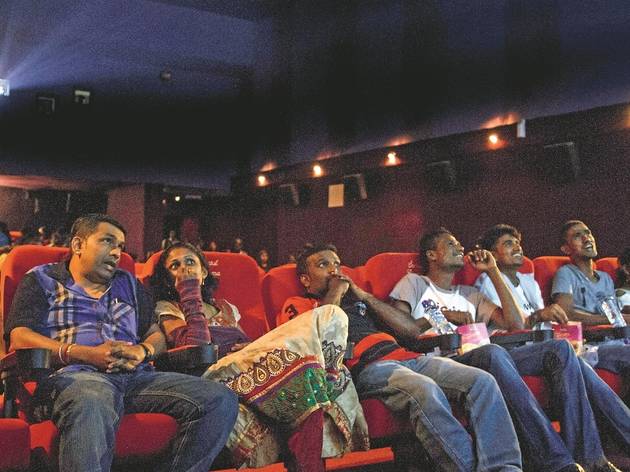 Photo: Mahen Bala
Just a few years away from retirement, joy comes in the company of friends and a glass of teh tarik at the stall just across the road. His son wants him to relax at home, but for Mr Moorthy, this is home just fine. There is a bag of rice for the chirping birds just outside the projector room; they are to be fed three times a day. Hindu gods of wealth and wisdom, Lakshmi and Ganesha respectively, overlook the exhausted machines from the small altars on the wall. I am invited for the premiere of Indian superstar Rajinikanth's latest film, 'Lingaa', over the weekend.

I return on a Friday night and Mr Moorthy is working double shift, running three packed halls. Full house. A sea of bobbing heads form a silhouette against the pearl white screen. 'Lingaa' opens with a loud cheer and whistles. The air is electric. Just outside, the lobby is silent. The lanes around the cinema are packed with empty cars and motorcycles. In between shows, the invisible man from behind the projector sits alone outside the building with the company of an adopted stray dog he calls 'Puppy'. His time is up and he knows it. There won't be a replacement when he retires. The old cinema is dead. All hail the new cinema.

Cineplexes in shopping malls are still screening films to a packed hall. Film enthusiasts at the Kelab Filem Bangsar gather around a small projector, watching and discussing films late into the night. Families have their own home theatre systems and LRT commuters are glued to their smartphones and tablets. If the old cinema was a necklace in a jewel box, then the new cinema is an assortment of jewellery in many different boxes. The promise is still the same and the lie remains, but it doesn't matter one bit. We want to be lied to; the more elaborate the fraud, the better. The world would be a very dull place without the fables of wandering minds.

Every movie ticket is a promise, a journey of discovery into unfamiliar places beyond the imagination and, stranger still, the perplexing hearts of men. From 1902 when George Melies took us to the moon, to 2014 when Christopher Nolan took us through an interstellar blackhole, and everything in between, nothing has changed in the span of more than 110 years of cinema. It was, and will always be, a celebration of humanity's appreciation for life, ambition and ultimately, existence. There will be a story to be told and an audience to be entertained. Entertaining, inspiring and indomitable, the cinema is the little child inside all of us that wants to stand on the shoulders of giants and reach further than we can grasp.

In the near future, through the eyes of those who never knew a world without a big glowing screen, nostalgic tales of the old cinema will sound either naively primitive or hopelessly romantic.
Lotus Five Star Cinemas Sentul Lot 48, Jalan Perhentian Sentul, Jalan Ipoh, KL (03 4042 2525) 11am-11pm.
Watch the video