Matter for the masses: Science Café KL
Science Café KL rekindles our love for science by making it a whole lot more accessible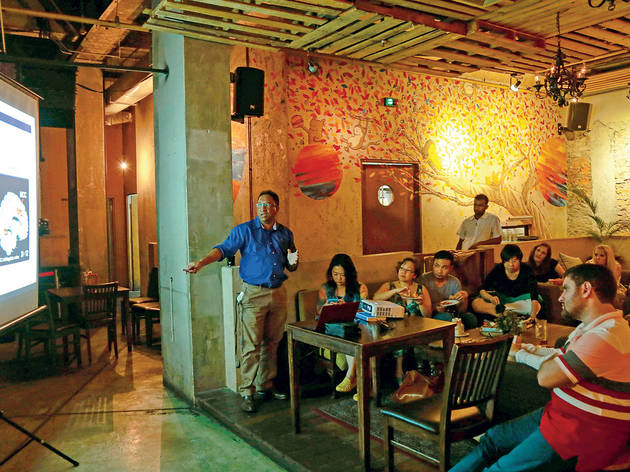 Science isn't always humerus (geddit?). To suggest that science is a constant whirlwind of fun, coupled with bubbling experiments and pyrotechnic effects, is to end up with some major disappointment. There are also other offences: Scientific blogs with their roundabout sentences, and TV shows that are persistently trying to make terms like cummingtonite sexy (calm down, cummingtonite is a mineral comprising mostly iron and magnesium).
Science Café KL – established in March earlier this year – is nothing like those; it combines the spirit of a lecture and the casual vibe of an intimate gathering. Founder Liuyi Yeoh, who also has a full-time job in the infrastructure sector, discovered a science café at Pigeonhole Café (now closed) in Tanjong Pagar, Singapore, and was inspired to start one in KL after meeting with the organiser.

'The Science Café in Singapore was such a treat – you're able to discover new, curious and interesting things in the world of science you wouldn't come across usually. I remember one of the sessions I attended: "The thin line between the living and the dead" – it was a discussion led by Duke-NUS PhD student Gayathri Manokaran on what viruses are, as well as how they evolve and spread throughout the world.'
'It combines the spirit of a lecture and the casual vibe of an intimate gathering'
Said virus isn't exactly an analysis of a zombie outbreak, which has been mythologised and elevated into cultish status, no thanks to 'The Walking Dead'. Instead, Science Café KL probes deeper into the world around us, rousing public interest by applying science in real-time, contemporary issues like 'Do men and women age differently?' or how scientists have derived paleoclimate data from tree rings, sediments and ice cores to measure the earth's changing climate. 'The talk usually contains a higher dose of technical content than your average TV documentary and is yet palatable to the science-untrained audience,' says Liuyi. 'I usually Google "scientist in Malaysia", "neuroscientist in Malaysia", etc, and search through well established organisations like Scientific Malaysian to reach out to potential speakers.'



Science Café KL founder Liuyi Yeoh
Photo: Daniel Chan

Science is, patently, a rarefied and exclusive world – the topics featured at Science Café KL can be foreign and intimidating, but you should be able to walk away knowing a bit more than you did before you walked in. 'The presenters have been great so far, and they take questions so that the audience can stay onboard. When Fabien Bouhier [a quantum physics enthusiast] explained quantum physics, we made sure the audience knew it was okay to just stop him and ask questions throughout the presentation. If you're lost within the first ten minutes, I imagine the remaining 80 minutes wouldn't be very much fun.'

Science clubs have long been derided as a furtive, elitist society made up of bespectacled, nervous Peter Parkers. But the truth is, you can be a chef and still be a science geek, you can be Andy Warhol and still be intellectually stimulated by the brilliance of technology (he made a series of digital artworks on a personal computer named Amiga 1000, which were stashed away on dozens of recently-discovered floppy disks). Science Café KL seeks to renew interest and foster deeper thinking, helping the masses gain fluency in subjects they never dared partake in. Science, after all, is simply common sense at its best.

Science Café KL happens Every second Wednesday of the month, 7.30pm. More info on www.facebook.com/sciencecafekl.