Best weekend getaways: One-day trips
Looking for a short break? Here are four day trips that pack in everything from nature and adventure to food, shopping and a bit of resort stays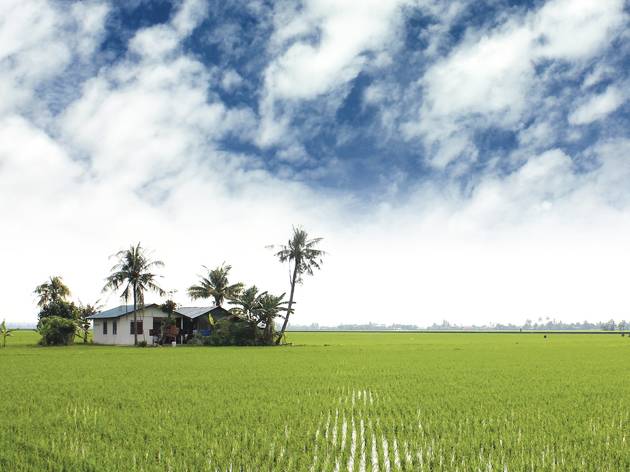 Instagram away at Sekinchan fishing village (Selangor)
Just 90 minutes north of KL, this fishing village in the outer reaches of Selangor is as far removed from the city as you can get in a day trip. Nothing but lush green paddy fields as far as the eye can see, and with a smartphone and a data connection, you'll be the envy of all Instagram. There are even rice processing factories that you can visit, if that's your kind of thing.

When you and your photographer mates (we've all got one) get tired of that, Sekinchan is also known for its excellent mangoes and seafood. Buy mangoes from the roadside and partake of excellent seafood dishes at one of the village's many restaurants – Jiann Chyi and Bagan Sekinchan come highly recommended. One of the area's specialities is shark meat soup, where chunks of the fish are simmered in a spicy tom yam broth or a savoury preserved vegetable stock. Follow up with a plate of chilli prawns – tiny, fresh prawns flash-fried with chilli and onions. Have a long, late, lazy lunch and then wander out to Redang Beach (not that Redang), a quiet, private stretch of sand to witness the sunset before driving back to the city.

Restoran Jiann Chyi156 Jalan Bagan (03 3241 4690).
Restoran Bagan Sekinchan 168-C Lorong 5, Sekinchan.
Take a hike in the city
If you're after a gentle day of hiking, in which you'll still be able to chat with your companions, try Bukit Putih (also hilariously known as Bukit Apek) in Cheras. It is situated smack bang in the middle of a housing development. An accessible trail will take you two hours to the summit, where you'll find a small waterfall.

For more advanced climbers, wake up early and drive out to Kuala Kubu Bahru to tackle Bukit Kutu. It's a popular, well signposted trail that can take anywhere from three hours to five – and a good head for heights – to reach the summit. There are nine checkpoints to cross, and each one bears a reward for the dedicated climber: huge boulders, small waterfalls, surprisingly colourful flowers and foliage. In colonial times, Bukit Kutu used to be a popular hill station; near the top, you'll find the bombed ruins of a British colonial retreat. Scramble a little further up some rocks to reach the absolute summit and take in an amazing, unparalleled view. Then descend for a well-deserved dip in the waterfall at the base of the hill and a picnic.
Discover that Seremban cuisine is not all about siew bao
Less than an hour's drive from KL, Seremban is perhaps most renowned for its siew bao, but the flaky pastries aren't the only treats the capital of Negeri Sembilan has to offer. Begin your day early at Soong Kee, a nondescript stall located within a dingy old food court that serves some of the silkiest dry char siew kuey teow noodles in town. This cult hawker's neighbouring stall – selling delectable fish and frog leg porridge – comes highly recommended as well, but beware, the crowd builds up after 8am, especially on weekends.

Pasar Besar Seremban should be your next port of call. The oft-crowded wet market's first floor is home to a variety of famous local Chinese hawker stalls. We recommend Hiong Kee (stall 753) for its tantalising mee hoon sotong and Tow Kee (stall 810) for its signature Hakka noodles. While Sin Yee Kee (stall 748) is pretty popular around these parts, Quinn's Restaurant offers similar thick brown gravy-drenched beef noodles in a more comfortable, air-conditioned setting. (Note: Certain businesses within the wet market have been affected by a fire that occured on September 9, 2017)
Next, head to Restoran Mei Sik for its wide selection of seafood and dai chow dishes. Aside from the speciality Seremban-style deep-fried crabs, this neighbourhood restaurant's scrumptious sweet-sour sauce crabs and oatmeal butter prawns are also highlights.

Soong Kee Jalan Tuanku Munawir, Seremban. Daily, 7am–1pm.
Pasar Besar SerembanJalan Pasar, Seremban.
Quinn's Restaurant 108 Jalan Toman 6, Kemayan Square, Seremban (012 269 9836). Wed–Mon, 10.30am–6pm.
Restoran Mei Sik Jalan RJ 6/4, Taman Rasah Jaya, Seremban.
Eat your way through Bidor and Kampar (Perak)
A less frenetic version of Ipoh, former tin mining town Kampar serves its distinctive brand of claypot chicken rice and chee cheong fun. But before you make a beeline for this foodie heartland, stop by Bidor for brunch. A two-hour drive up the North-South Expressway from KL will lead you to Pun Chun's duck thigh noodles – a bowl of egg noodles crowned with a succulent herbal duck drumstick. Always have the soup version; it's a headier take on the normal yok choy (herb) soup. Outside this 70-year-old restaurant are fruit stalls selling local produce such as seedless guava, soursop and petai. The stink beans are harvested by the orang asli from the Titiwangsa range near Tapah.

Another 30 minutes from Bidor is Kampar's Kam Ling curry chicken bread (oven-baked curry chicken wrapped in dough). Once cooked, tear off the golden-brown bread and dip into the thick curry that Kam Ling's chefs have perfected over 40 years. For dinner, a few doors down Kam Ling is Heng Kee's charcoal-fired claypot chicken rice. The owners cook the fluffy grains with lap cheong and tender chicken, and the heat produces a crisp rice crust bottom. If you're still feeling peckish, chee cheong fun stall Sui Kee springs into action after dark. A favourite supper haunt among UTAR students, the stall is manned by an old couple who have cracked the secret of silky steamed rice noodles. They're soft enough to wind easily around your chopsticks and you eat it with side dishes like yong tau foo and Taiwanese sausage. We usually just get chopped char siew bits in our KL chee cheong fun but Sui Kee tops the dish with chunky caramelised pork.

Pun Chun 38 & 40 Jalan Besar, Bidor (05 434 1554/www.punchun.com.my). Daily, 5am-9.30pm; H-G-21, Block H, Jalan PJU 1A/3, Taipan 2 Damansara, Ara Damansara, PJ (017 770 1121).
Kam Ling 105 & 107 Jalan Idris, Kampar (05 466 1174).
Heng Kee (inside Wing Loke Yuen Coffee Shop) 123 Jalan Idris, Kampar (016 564 2386).
Sui KeeKampar market, Jalan Masjid, Kampar (016 561 3383). Call ahead to check availability. Daily, 7.30pm–1am.