Ipoh Old Town graffiti by Ernest Zacharevic
Iced coffee in hand, we take a look at Ernest Zacharevic's latest street art in Ipoh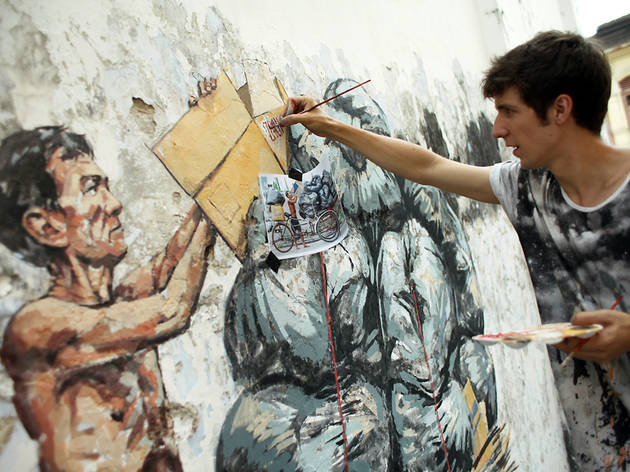 1/8
A town built on tin mining, Ipoh flourished until the lustre of tin as a commodity wore off in the 1970s. Somehow Ipoh has stayed the same, still sporting its charming colonial-era buildings and low-slung architecture, especially in its town centre, called Old Town by the locals.

There's an unassuming beauty about Ipoh, in its faded walls, old-fashioned grate doorways and traditional bakeries churning out trays of heong peah from charcoal ovens. The town that has always been well known for its superior sar hor fun and limestone scenery can now add something else to its résumé of attractions: street art.

Homegrown kopitiam chain Old Town White Coffee has collaborated with Lithuanian street artist Ernest Zacharevic in a project dubbed #TheArtofOLDTOWN. During his first visit to Ipoh, Ernest was already interested in the architecture and cosy intimacy of the town. 'I've wanted to come back to Ipoh, take my time, soak in its rich culture and perhaps leave my mark here.' And he did. For this street art collaboration, Ernest took a month to complete the seven murals at Old Town.

To see the Art of Old Town by Ernest Zacharevic, park at the Jalan Panglima parking lot and check out the mural map at the Old Town White Coffee Padang outlet (1 Jalan Tun Sambanthan). Take a walking tour around Market Street, Jalan Bijeh Timah, Concubine Lane 3, Jalan Tun Sambanthan and Jalan Padang; the walk takes roughly 30 minutes.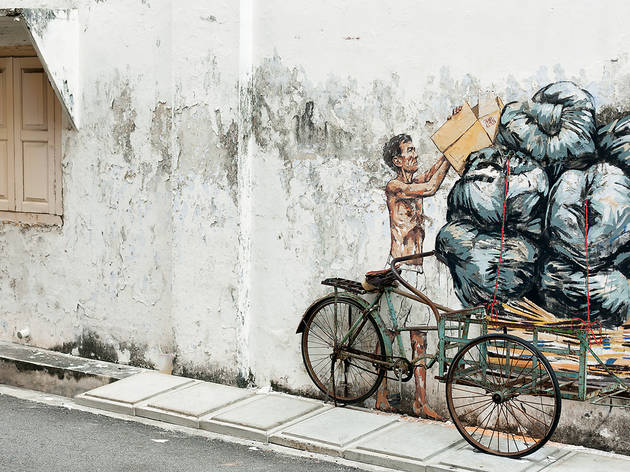 2/8
Trishaw
Also called 'street art is rubbish', this installation is located in the tiny Concubine Lane (where Ipoh tycoons used to house their mistresses). It depicts an old man hard at work piling garbage bags onto an actual trishaw that's been cut in half and mounted on the wall. Add to the old man's burden by pretending to sit on the trishaw.
Concubine Lane 3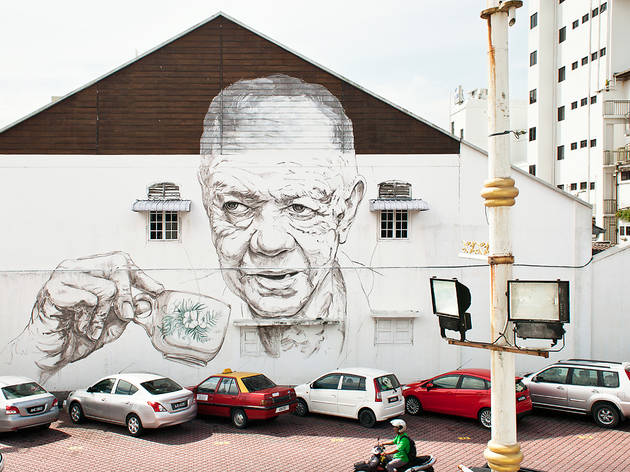 3/8
Old uncle with white coffee
Located opposite the Perak Tourist Information Centre, this immediately brings to mind the coffee shops of yesteryear. The mural features an uncle drinking coffee from a classic kopitiam cup.
1 Jalan Tun Sambanthan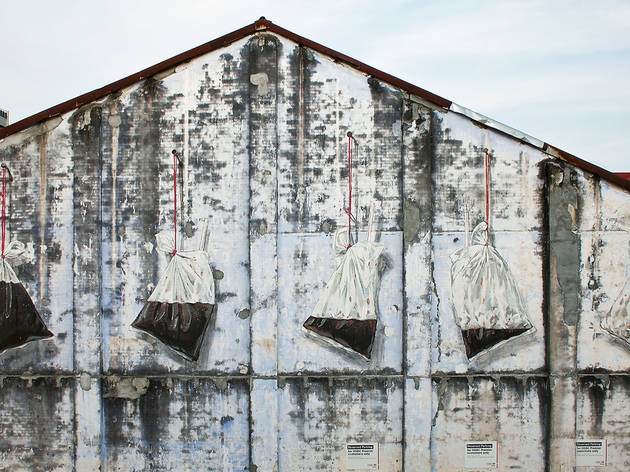 4/8
Kopi-O
Self-proclaimed coffee addict Ernest captioned this mural 'Nothing lasts forever' on Instagram. Disappearing sip by sip, his love for iced coffees in plastic bags is now immortalised on the wall of an open car park on Jalan Tun Sambanthan.
Jalan Tun Sambanthan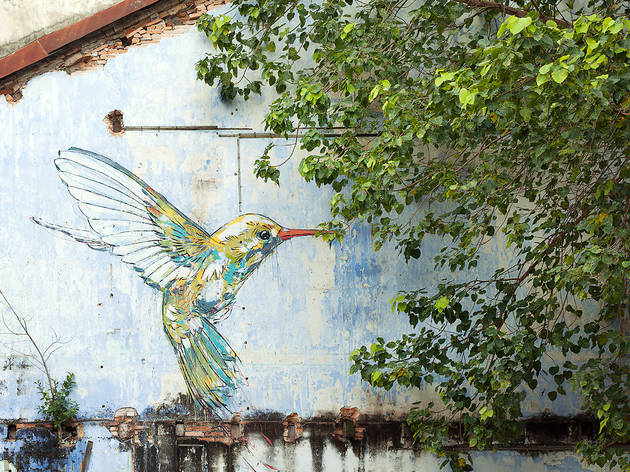 5/8
Hummingbird
A vibrant five-foot hummingbird painted strategically next to an existing tree at the Jalan Panglima parking lot pays tribute to Ipoh's natural surroundings.
Jalan Panglima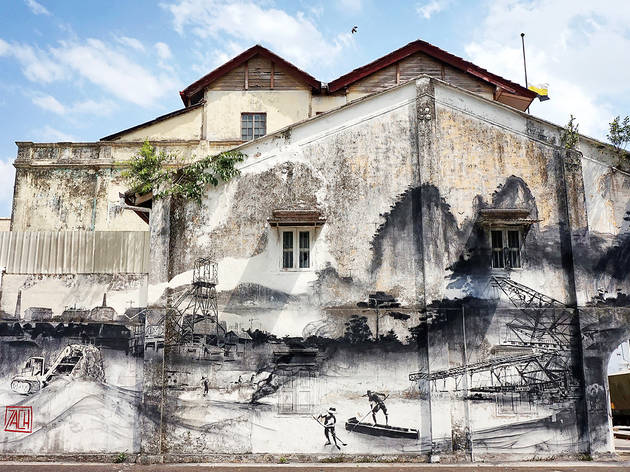 6/8
Evolution
Ernest explores the style of Chinese ink paintings through Evolution, a huge piece depicting Ipoh's tin mining history in shadowy silhouettes.
Jalan Bijeh Timah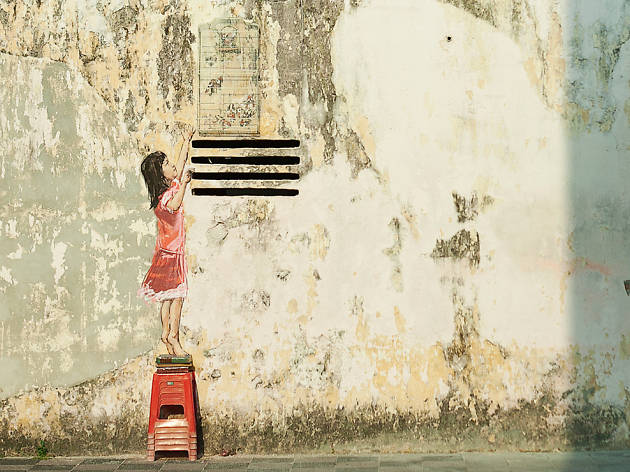 7/8
Girl with stool and bird cage
In this installation piece, Ernest cleverly incorporates a bird cage, a stack of books and plastic stools together with his painting. Colourful plump birds flutter about in their cage, while a little girl reaches up to free them.
Jalan Bijeh Timah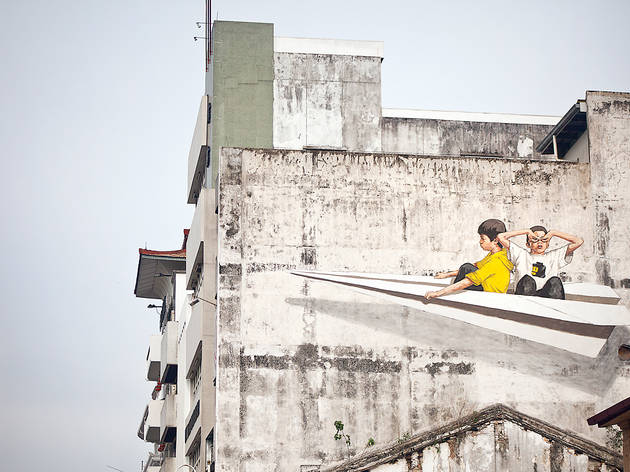 8/8
Paper plane
Set high up on a four-storey building, Paper Plane shows two little boys in a paper plane, flying off towards adventure. Best viewed when the Ipoh sky is blindingly blue.
Jalan Tun Sambanthan