The best cherry blossom viewing spots in Tokyo
With the cherry blossom season comes a vibrant change in Tokyo's urban landscape as pockets of wooded oases explode with colour and tourists. Nick Narigon tracks the top viewing spots in the city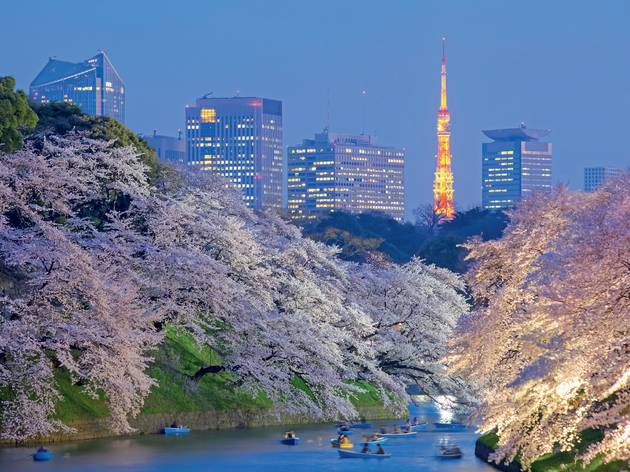 The sakura, or cherry blossom, is revered in Japan not only for its elegance but also for its impermanence. As spring arrives, Tokyo is awash with the delicate pink and white blossoms for little more than a week before the ground is littered with the fallen petals. This fleeting existence is considered a metaphor for life, which should be cherished before it's gone. Tens of thousands of visitors are expected to swarm to Tokyo for the hanami ('flower viewing' in Japanese) season sometime towards the end of March or early April. Hunting down the perfect location to enjoy a peaceful, or wildly rambunctious, hanami experience can be overwhelming, which is why we've done it for you.

For the romantics: Kiyosumi Garden
This little-known spot is on the east side of the Sumida River. An artificial pond, hill and river were built during the Meiji period to entertain employees and guests of the Mitsubishi Corporation. Today, couples and small groups enjoy this tranquil park, which provides numerous benches beneath the cherry trees.
3-3-9 Kiyosumi, Koto-ku, Tokyo. Kiyosumi-shirakawa Station (Oedo, Hanzomon lines).

For twilight lovers: Rikugien Gardens
North of Tokyo in the Komagome area, Rikugien Gardens is a pleasant traditional Japanese garden that stays open until 9pm. The weeping cherry blossoms are illuminated with floodlights so visitors can enjoy yozakura (night sakura). The blossoms here bloom a few days earlier than most parks, so it's worth stopping by before the crowds arrive.
6-16-3 Honkomagome, Bunkyo-ku, Tokyo. Komagome Station (Yamanote, Namboku lines).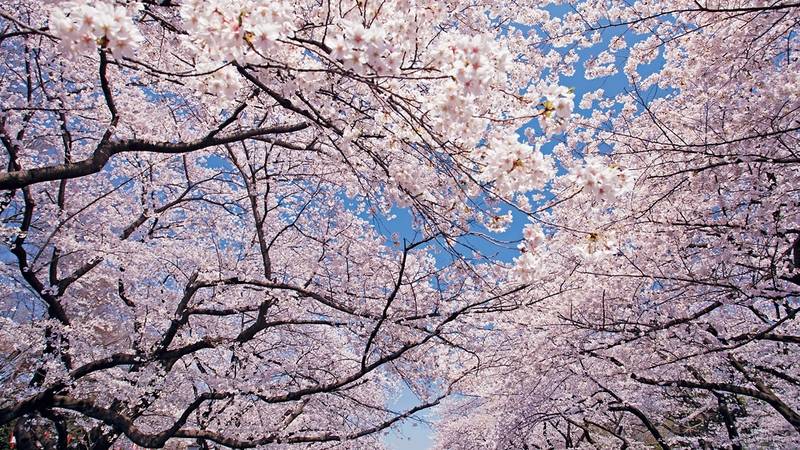 Photo: Y-Studio/iStock

For the partiers: Ueno Park and Yoyogi Park
With more than 1,000 cherry trees lining its walkways, Ueno Park is the Bourbon Street of hanami season. Expect the park to be packed elbow-to-elbow with inebriated revellers. These young ruffians aren't necessarily there to see the cherry blossoms, but to hang out and be seen. Bring your blue tarp early if you want to 'book' a spot to sit. Alternatively, join the cool kids at Yoyogi Park.
Ueno ParkTaito-ku, Tokyo. Ueno Station (Yamanote, Keihin-Tohoku, Joban, Hibiya, Ginza lines), park exit.
Yoyogi Park2-1 Yoyogi Kamizounocho, Shibuya-ku, Tokyo. Harajuku Station (Yamanote line), Meiji-Jingumae Station (Chiyoda, Fukutoshin lines), Yoyogi-Koen Station (Chiyoda line).

For the glamorous: Roppongi Hills
Roppongi Hills is where the rich spend their free time, and hanami season is no different. The garden behind Roppongi Hills Mori Tower claims 75 cherry blossoms, and Keyakizaka Street (just behind the tower) is lined with sakura, which are illuminated at night.
6-10-1 Roppongi, Minato-ku, Tokyo. Roppongi Station (Hibiya, Oedo lines), exit 1.



Photo: Sean Pavone/iStock

For chilling out: Shinjuku Gyoen
Here things are a bit more subdued. Alcohol is not allowed, security guards check bags at the gate, and there is a fee to keep out the riff-raff. This does mean that you'll probably be strolling alongside most of Tokyo's senior citizen population (and be elbowed aside by one of them fighting for the perfect photo), but with 1,500 cherry trees, it's well worth the trip.
11 Naito-cho, Shinjuku-ku, Tokyo. Shinjuku-Gyoenmae Station (Marunouchi line); short walk from Shinjuku Station (Yamanote, Shonan-Shinjuku, Chuo, Marunouchi, Odakyu, Keio, Oedo, Shinjuku lines).

For the adventurers: Yomiuri Land
Not everybody gets to experience hanami from a roller coaster. Located next to Tokyo Dome, Yomiuri Land has no less than 1,000 cherry trees. Relatively few people attend the amusement park for the sakura despite the fact the Bandit roller coaster set the record for the fastest hanami experience.
4015-1 Yanokuchi, Inagi, Tokyo. Keio Yomiuri Land Station (Keio line).



Photo: Y-Studio/iStock

For the boaties: Chidorigafuchi
Visited by more than one million people every year, Chidorigafuchi Park offers a one-of-a-kind hanami experience. Enthusiasts can rent a paddle boat at the refurbished boathouse and drift along the moat adjacent to the Imperial Palace. With the trees lit up at night, seafarers can float through a magical tunnel of illuminated sakura.
1-1 Kitanomaru, Kitanomarukoen, Chiyoda, Tokyo. Kudanshita Station (Hanzomon, Tozai, Shinjuku stations), exit 2; Hanzomon Station (Hanzomon line), exit 5. Boat rental 11am-5.30pm (¥800/about RM30 for 30 mins).

For the cyclists: Inokashira
To see the cherry blossoms on two wheels, head out from Hamadayama and bike along the Kanda River to Inokashira Park in Kichijoji. While the river itself features patches of sakura, Inokashira Park is a favourite place for hanami, especially among young families. With a petting zoo and boats to paddle around the pond, the 250 cherry trees aren't the only things that draw spectators.
1-18-31 Gotenyama, Musashino-shi, Tokyo. Kichijoji Station (Chuo, Keio Inokashira lines), park exit; Inokashira-koen Station (Keio Inokashira line).
Cherry blossom spots outside Tokyo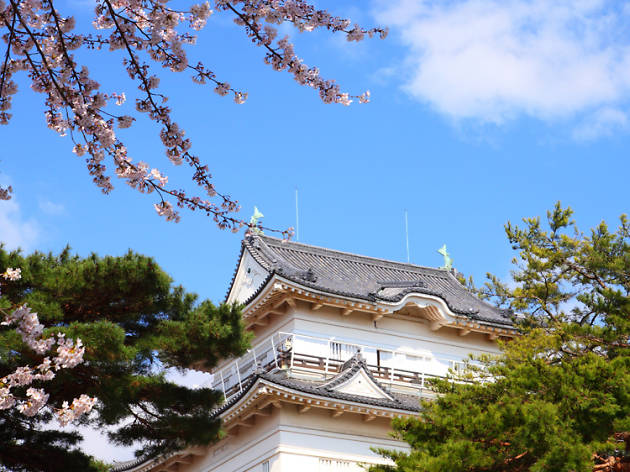 Photo: Noririn/iStock

For fans of the medieval: Odawara Castle (pictured)
This is one of the best hanami spots in Japan with 350 cherry trees surrounding the main keep and moat. Originally built in 1495, the reconstructed castle is a refurbishment of the former home of the Hojo Family. Don't miss the Sakura Festival, which features traditional dance and music.
Jonai, Kanagawa, Odawara. Odawara Station (Tokaido line, approx 100 mins; JR Tokaido Shinkansen, approx 35 mins).

For the history lovers: Kamakura
Enjoy a daytrip to view the 300 cherry trees at Kamakura's Tsurugaoka Hachimangu Shrine. The tree-lined approach that leads from the station to the shrine is one of Kamakura's most popular hanami spots. While sightseers can escape Tokyo, don't expect to escape the crowds as thousands flock to this ancient city.
2-1-31 Yukinoshita, Kanagawa, Kamakura. Kamakura Station (Yokosuka, Shonan-Shinjuku lines, approx 50 mins).

For the hikers: Mount Kobo
Strap on your hiking boots and head out to Mount Kobo, just an hour southwest from Shinjuku. This two-and-a-half hour hike to the peak (235m) can be strenuous, but the view is worth the trouble. Mount Fuji and Sagami Bay are visible from the sakura-ringed summit.
Kanagawa, Hadano. 30-minute walk from Hadano Station (Odakyu Odawara line, approx 80 mins).

For the late-comers: Hakone
If you missed hanami season in Tokyo, or if you just didn't get your fill, take the train to Hakone where the cherry blossoms bloom a week or two later. Stroll down the Hayakawa River bank, stop by Gora Park, or head over to Hakone-en on the eastern shore of Lake Ashinoko. The trees here are over 80 years old and the Sakura Festival starts in mid-April.
Hakone-Yumoto Station (take the Odakyu line's 'Romancecar' from Shinjuku Station, approx 85 mins).