Chef Matt Stone of 'Recipes that Rock' interview
Tattooed Aussie chef Matt Stone takes Blur bassist and cheesemaker Alex James on a food tour of Western Australia's Margaret River region in 'Recipes that Rock'. Time Out chats with the young chef to see how they're getting along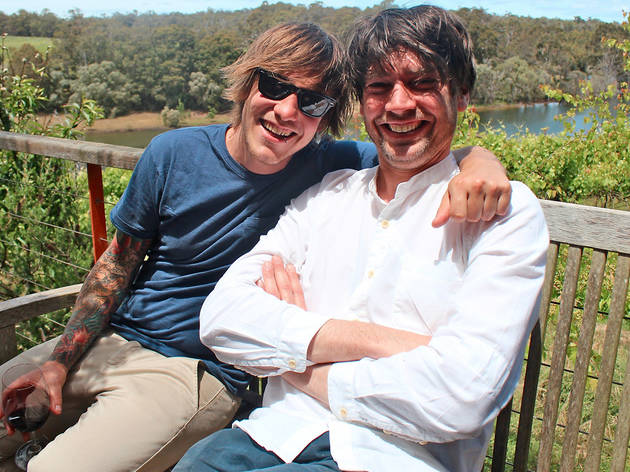 How did you end up doing a show with Alex James?
It was through brand events for the company. I do a lot of festival expos, and his festival [The Big Feastival in the UK with Jamie Oliver] was promoted by them. So they arranged the meeting and came together with the concept for the show. I guess it's [the show] just a lovely way to showcase a beautiful part of the world. It's where I grew up and trained as a cook. I've since left the region, but it's a lovely way to go back and meet with producers and just really showcase what the region has to offer in terms of food and wine.
And what's it like working with Alex? Does he occasionally go all rock star on you?
No, he was an absolute legend. We've become really good friends and I've been to his house a couple of times in the UK and stayed with him. I worked on his festival in the UK, and yeah, he's an absolute gentleman.
At the beginning, did you find it strange to suddenly be travelling together?
At first yeah, because we met the evening before we started filming the first day. So it was a little weird at first. We've got a lot in common, so it didn't take long for us to figure each other out and get along really well. [In the show] we get around, we do some fun stuff and Alex plays a bit of music.
Are you a huge Blur fan?
I wasn't a huge fan. I've always sort of liked their music. I'm a bit more of a punk and hardcore sort of fan, but I've got three of their albums and I've listened to their music. I used to play it in the restaurant quite a bit and still do.
You became a souschef when you were only 20; now you're 26 and an executive chef at Greenhouse and Silo by Joost. What got you into cooking at such an early age?
I wasn't really one for high school; I was spending more time at the beach than at school and basically my parents said, 'If you're not going to go to school, you have to get a job.' So I just got a job in the evening so I could surf during the day. I started off as a kitchen hand. And then through years of cooking, I now have very little time to surf and I spend too much time in the kitchen. I left school very early. I started cooking when I turned 15. I just worked really hard and made the most of my opportunities and I guess that just really paid off for me.
But what did you do to get there?
Basically I gave up having a life. Forget about having a girlfriend; I was working 16 to 17 hours a day, all weekend... I just really dedicated my whole life around cooking and working hard to get to where I am.
You champion the use of fresh, sustainable and locally sourced ingredients, but in some countries these ingredients aren't really accessible; most of us just go to supermarkets because we're too busy.
I think the way food has become such a commodity instead of a necessity has lent to that being the way we think. I think we all need to be a little bit smarter about planning meals for the week, making time to get to good producers.
Would you call yourself a bit of an idealist?
Most definitely. I really believe that our cities can be productive, producing food locally rather than transporting food around from big farms. In Australia, about a third of the food we produce just flows in transportation and I think we need to go back to small community farming and work with small producers - people who have a really strong ethos behind what they do and not just from the monetary point of view.
Your bio says you're a little anti-establishment.
It's a new generation of cooks coming through, you know? I don't run the kitchen on fear. I don't make the guys wear chef jackets. We listen to punk rock music in the restaurant. I just sort of changed that idea of the stuffy diner and made it fun and accessible but backed it up with serving really awesome food.
Okay, so it's nothing about anarchy?
Oh, there's definitely a bit of anarchy at times. Sometimes you have to do these sorts of things to get your point across, you know? But I think just working closely with like-minded people makes it a really special environment. I'd like to think that we can create a really fun place without the norm of having five sets of cutlery and glassware on the table and have classical music playing.
Do you worry about people who might be watching the show mostly for Alex rather than you?
Alex is always going to be a slightly bigger drawcard than myself. But I like to think once they do watch it, they'll see the food that I'm cooking and they'll be just as excited to watch me as they are to watch him.
'Recipes that Rock' airs every Mon, 7pm on TLC (Ch 707).