The events in Lisbon you can't miss until the end of the year
From music to movie festivals, with a mandatory pit stop in popular festivities, don't miss our calendar of events 2019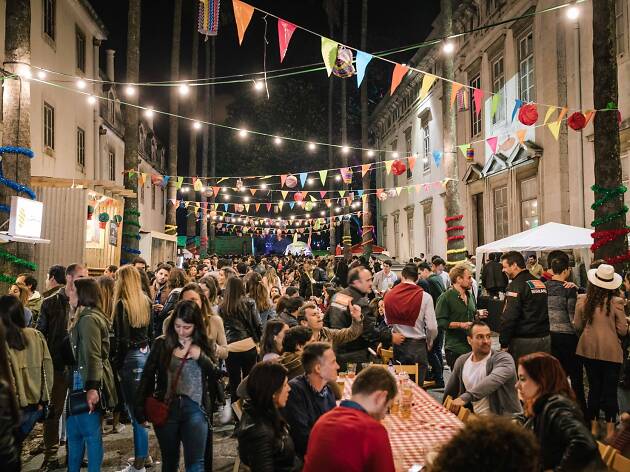 Lisbon is all about good food, nice weather, warm people and, last but not least, a lot of things to do. If you're planning a trip over the summer make sure to add these events in Lisbon to your things to do list. From June till November, get ready for an eventful year.
Recommended: The best summer music festivals in Lisbon
The events in Lisbon you can't miss until the end of the year
Music, Jazz
Calouste Gulbenkian Foundation, São Sebastião
The finest contemporary jazz interpreters will be playing in the various venues and gardens of one of the most beautiful buildings in Lisbon, Fundação Calouste Gulbenkian.
©Festival Santa Casa Alfama
Festival Santa Casa Alfama
Date to be determined.
This fado and Portuguese pop music festival is back in September with over 40 concerts happening on 12 different stages. Typical neighbourhood Alfama will be dressing up to welcome fado's take on Coachella.
Things to do
Passeio Marítimo de Algés, Oeiras
The greatest pop culture festival in the country is quickly becoming one of the geekiest events of the year. There will be premieres, debates, meet- and-greet sessions with famous actors and authors and, of course, lots of stalls selling comic books, films and videogames.
Film, Documentaries
Cinema São Jorge, Avenida da Liberdade
If you think documentaries are boring, take a look at DocLisboa's programme. Among hundreds of documentaries on different topics, and out of such an eclectic selection, one or many will be sure to catch your eye.
Every year in November, the biggest technology and innovation conference takes place in Lisbon. If you want to have a sneak peek into the future and buying a time machine is not on your priority list, come to Lisbon.
Things to do, Film events
Centro Cultural Olga Cadaval, Sintra
During the Lisbon & Estoril Film Festival, the city fills up with stars. Well-known Hollywood names, directors and actors can be spotted prancing around town in between workshops, debates and premieres.
Have fun in Lisbon
Lose yourself to dance. And to music. Here are the best summer music festivals. From the mainstream Rock in Rio to the more alternative (and recent) Nova Batida, there are artists and concerts for every taste - even for those who like to camp.
New to Lisbon, or just confused as to where you want to let your hair down? Fear not, Time Out Lisbon has spent many a late night exploring the city's party venues to put together this definitive list of the best of the best Lisbon clubs.
Want to get to know the Portuguese capital like a local? Try one of the many Lisbon tours on offer. With these, you can tackle the city's charming streets and take in sights and attractions on foot, by bike, bus, boat – even in an old school VW Beetle if that's what you fancy.