The best Lisbon clubs
Here's our guide to some of the hottest places to shake what yo mamma gave ya, and then some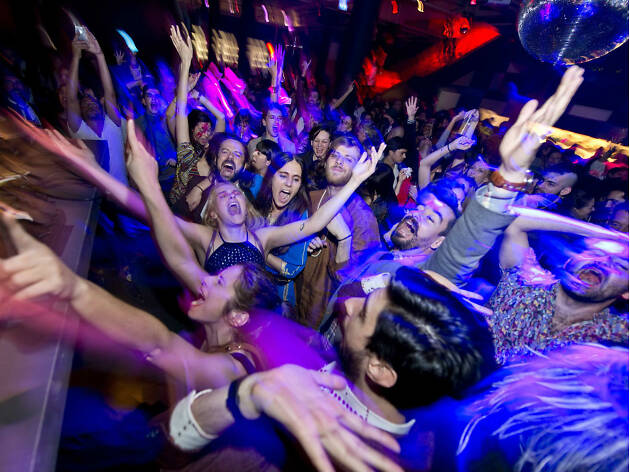 New to Lisbon, or just confused as to where you want to let your hair down? Fear not, Time Out Lisbon has spent many a late night exploring the city's party venues to put together this definitive list of the best of the best. Dance into the fire, twist and shout, shake it like a Polaroid picture and basically have a banging time at these world-class nightspots.
The best Lisbon clubs
1
Lisbon's best club, with two dancefloors (one loungey, one sweaty) and a roof terrace overlooking the river. As the hip furniture indicates, it's a see-and-be-seen place, but the crowd is friendly and the measures Lisbon-large. House and guest DJs offer everything from electro and hip hop to bursts of '80s music. Thursdays are popular with locals keen on leftfield names; on Saturdays the place is mobbed by out-of-towners. Lux's programme - which includes live bands and the odd Sunday afternoon event, as well as big international DJs - and its catch-all social role remain unrivalled. Exude photogenic importance at the door if you arrive after 2am.
Read more
2
This azulejo-lined former chapel of the Quinta da Dona Rosa, a palace built by Dom João V for one of his lovers, is owned by guitarra-player Pedro de Castro. It has a reputation as the fadistas' canteen, and you never know who might roll up in the wee hours and do an impromptu performance. The food is Portuguese, prettified - bacalhau com natas with parmesan and the like - but really not up to the quality of the fado. Booking is a must for dinner. If you drop in later (and can squeeze in) there's no minimum spend.
Read more
4
This building right on the riverbank with a large patch of sand in front of it is part of the K group, which has run some of Lisbon's leading nightspots over the years. It comprises bar, restaurant and nightclub with various dancefloors. Here you can hear EDM, house and the like, including slightly less commercial sounds on the more alternative dancefloor.
Read more
5
The managers of this key club in Cais do Sodré have music industry connections and exploit them creditably. It's one of the city's most interesting venues, with a regular programme of rock bands, electronic live acts, singer-songwriters and DJ sets (all night on Fridays). Note that some shows may start as late as 2am; for details, check the website, which is comprehensive. The space has an underground feel and look (it's literally beneath steep Rua do Alecrim) and is located in what was once one of Lisbon's seediest streets - and is now one of its buzziest at night.
Read more
6
This large central venue in a former government ministry has mostly one-off parties, so check first that there's something on. The attached restaurant and terrace, Ministerium Cantina (21 888 8454), is good for a late-night snack in summer.
Read more
7
A riverside café-restaurant-club in a glass box, Op Art looks like an aquarium. But even without its in-your-face architecture it would stand out from the identikit bars of Docas. Op Art is still a top spot for electro fans, with Fridays and Saturdays (after 2am) devoted to it; jazz and chillout dominate during the week. The dockside location makes for a lovely summer venue.
Read more