Heads up! We're working hard to be accurate – but these are unusual times, so please always check before heading out.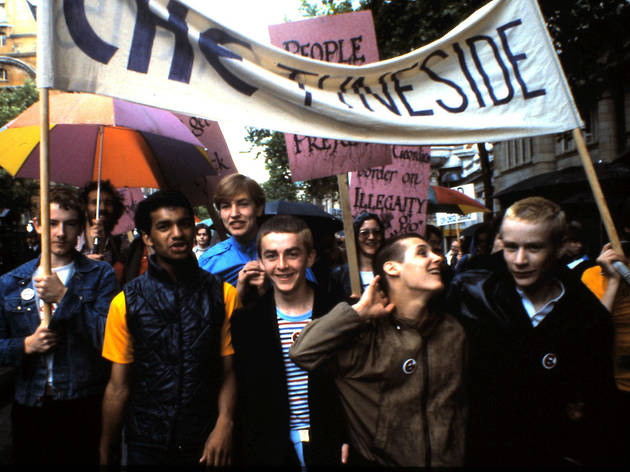 150 years of London protests in 20 photos
For centuries, Londoners have taken to the capital's streets to fight injustice. Here's a look back at the city's protests throughout the years.
Londoners love complaining about no end of things: the wait for a bus, the cost of rent, the no-bookings policy of their favourite restaurant. But when they think something seriously unfair is afoot, they know that kicking up a real fuss is important. Over the years, thousands of people have carried banners through the city's streets to make their voices heard and to effect change.
We've gathered 20 photos that span three centuries of protest, rallies and demonstrations in London – from universal suffrage to LGBT+ rights.
With thanks to the Imperial War Museum, the Museum of London and the Bishopsgate Institute for their help and contribution.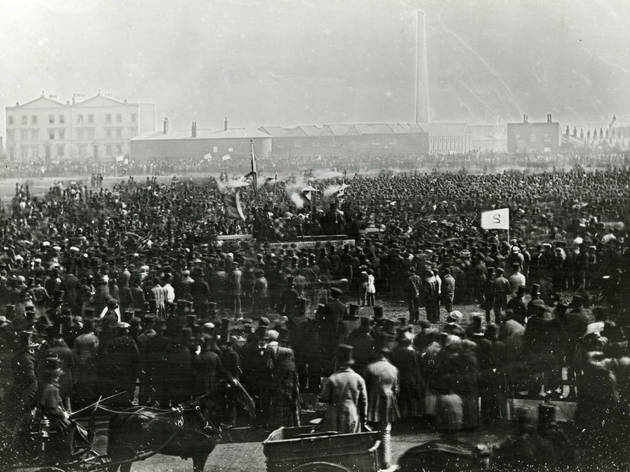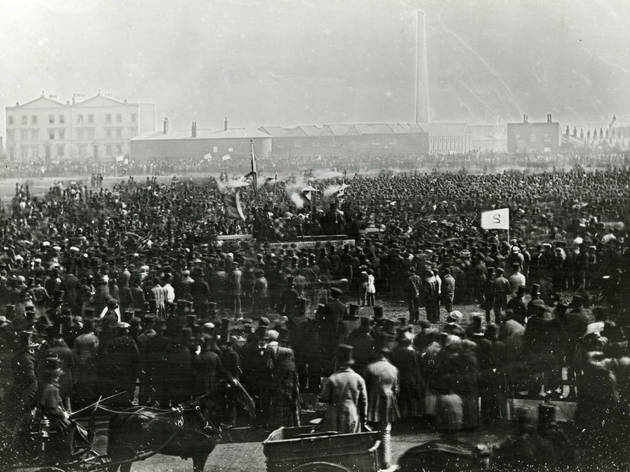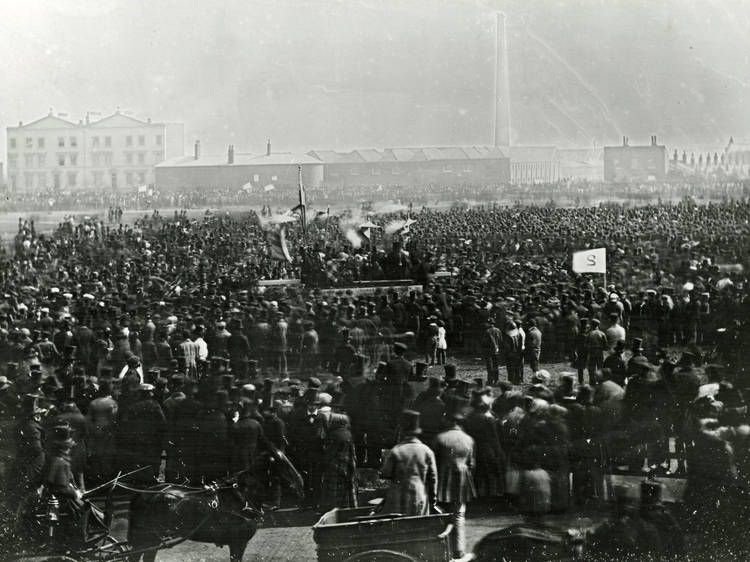 London History Workshop Archive, Bishopsgate Institute
1. 1848: Kennington Chartists
On April 10 1848, tens of thousands of people gathered in Kennington Common (since gone) to push for extended voting rights to working-class citizens. A vastly overwhelming police and military force, led by the Duke of Wellington, turned out to meet them.
© London History Workshop Archive, Bishopsgate Institute.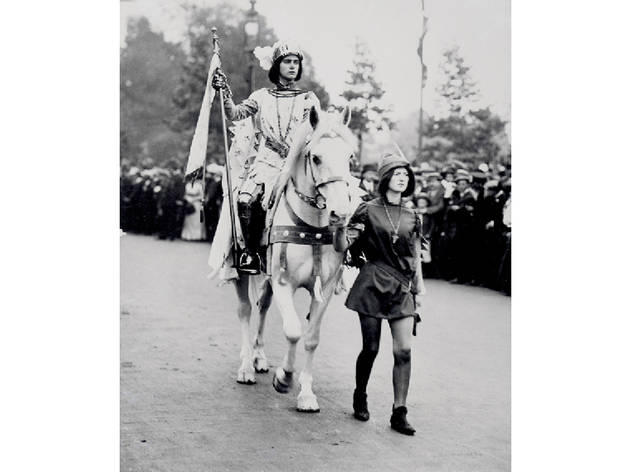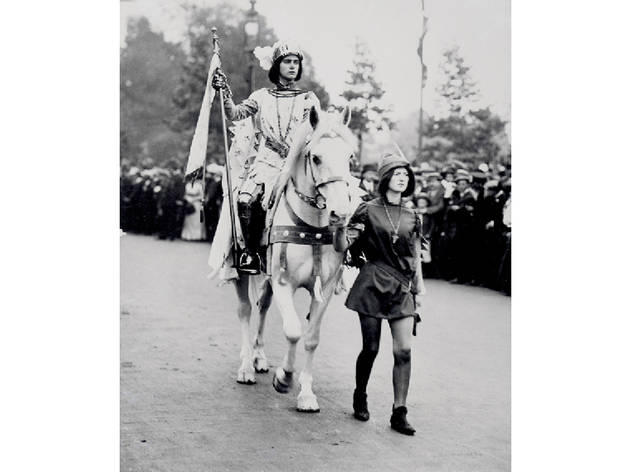 2. 1911: A suffragette dressed as Joan of Arc
In June 1911, Marjorie Annan Bryce led members of the Women's Social and Political Union through London dressed as Joan of Arc, the fifteenth-century French martyr who mobilised an entire nation, and the perfect symbol of solidarity to adopt.
© Museum of London.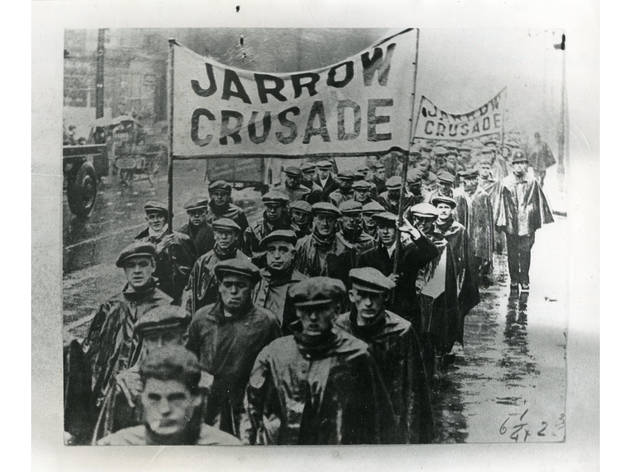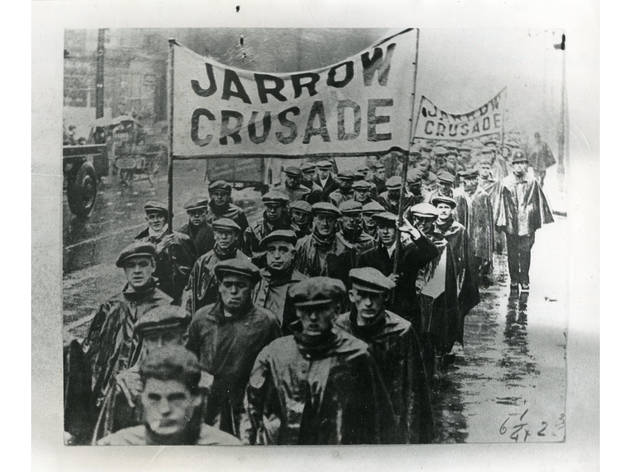 Between October 5 and 31 1936, around 200 men marched from Jarrow on Tyneside to London in protest against unemployment and poverty in the town, following the closure of its main employer, Palmer's shipyard. Despite it not producing immediate results, the 291-mile pilgrimage is widely recognised by historians as marking a shift in attitudes towards working conditions.
© London History Workshop Archive, Bishopsgate Institute.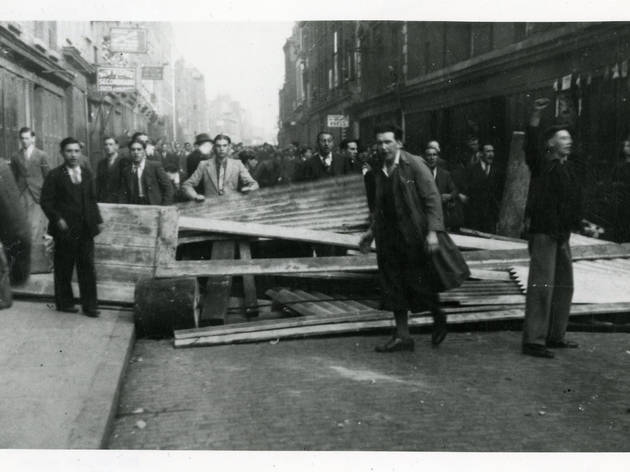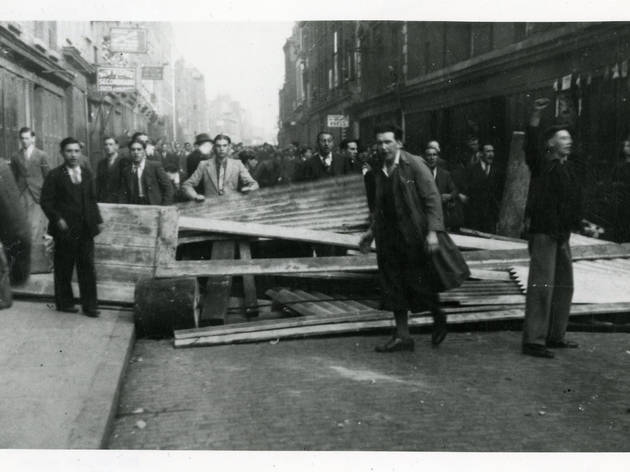 4. 1936: The Battle of Cable Street
On October 4 1936, the British Union of Fascists took to the streets of east London. The local community gathered to take a stand, building a barricade, throwing rubbish and emptying chamber pots onto the heads of the marching fascists. To this day, the chant of 'they shall not pass' is still associated with the biggest anti-fascist victory in British history.
© London History Workshop Archive, Bishopsgate Institute.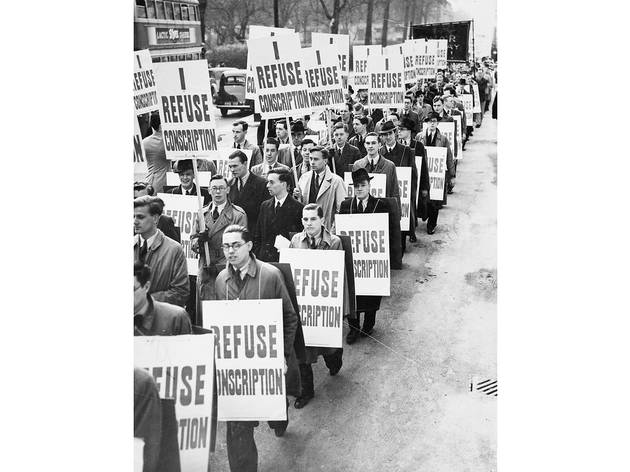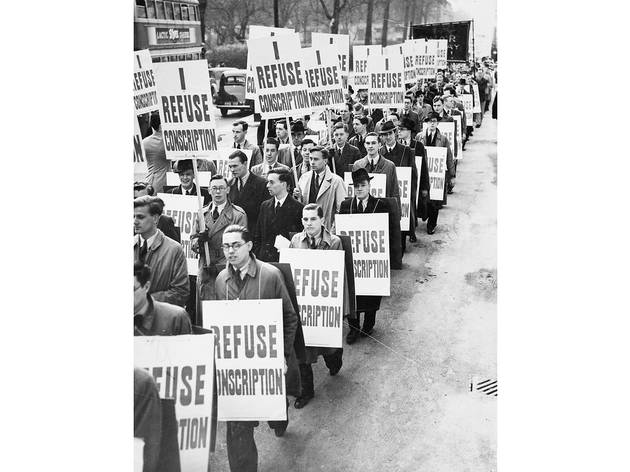 5. 1939: Conscripts march, WWII
After the horrors of the First World War, the pacifist movement grew in momentum during the interwar years. Although many campaigners fell by the wayside after accepting war against Hitler as a necessary evil, those who still refused to be conscripted into the armed forces offered their services in roles such as medical orderlies and ambulance drivers.
© IWM.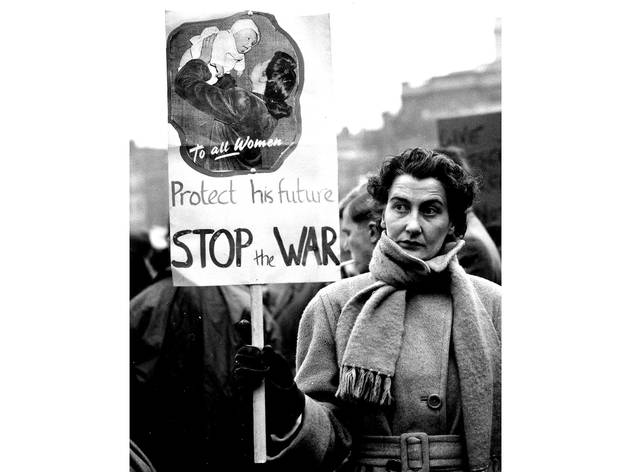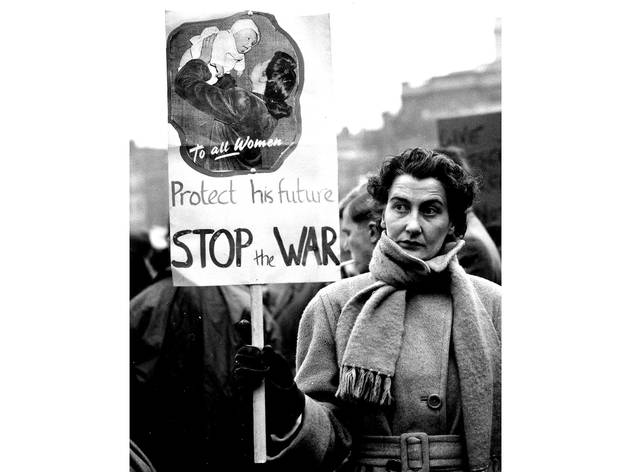 6. 1956: Protesting against Suez Crisis
This is what placards in 1950s Britain looked like. This one's protesting against the UK's invasion of Egypt, after its new government seized control of the vital oil trading route that was the Suez Canal. The government intrigue and vested interests of the Suez Crisis made it enough of a scandal to lead to the resignation of Prime Minister Anthony Eden.
© Sid Kaufman Archive, Bishopsgate Institute.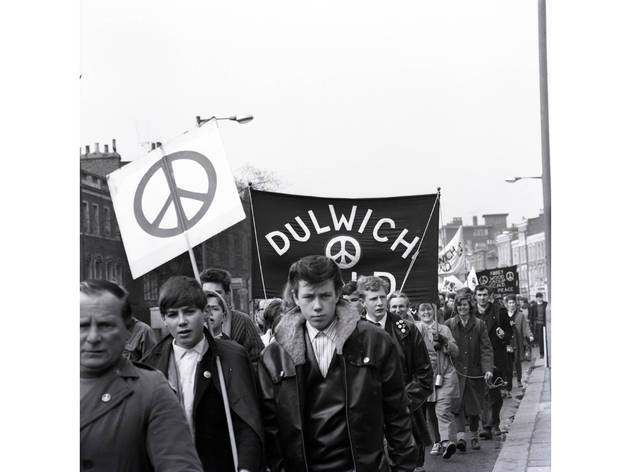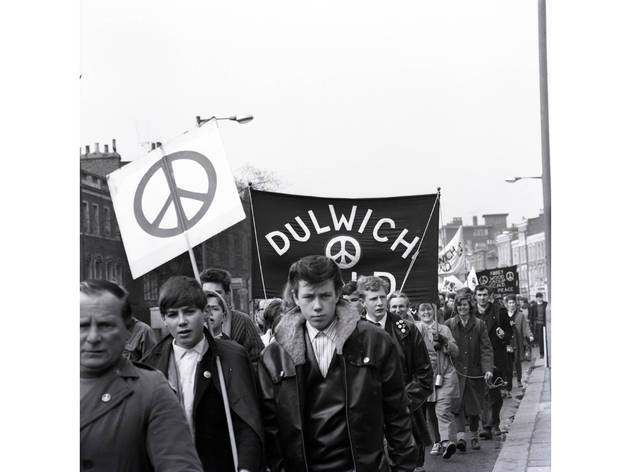 A series of anti-nuclear weapons marches took place between Aldermaston in Berkshire and London during the 1950s and '60s. This image is thought to have been taken on the 1963 march, in which an estimated 100,000 people gathered in Trafalgar Square and demonstrations were described as 'disorderly.'
© Derek Brook Archive, Bishopsgate Institute.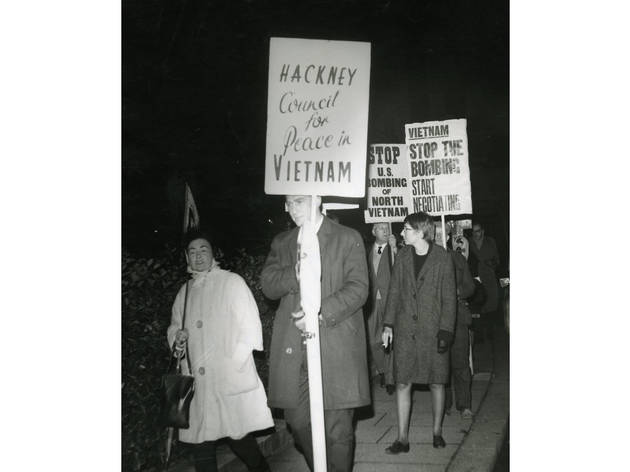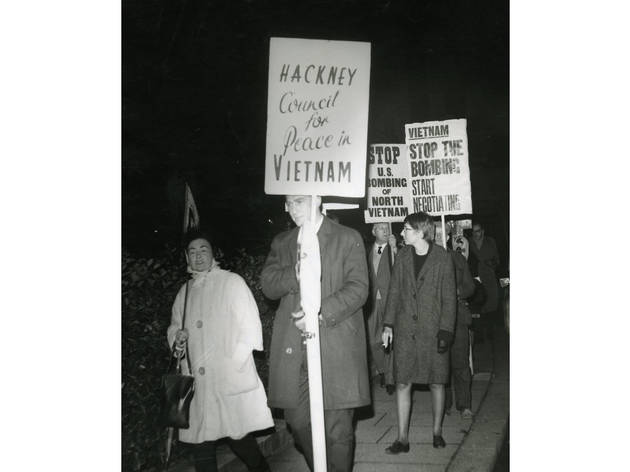 8. 1968: Hackney Council, peace in Vietnam
Although the UK never sent troops to Vietnam, the mass-televised nature of the war meant that it motivated students, activists and others caught in the counter-cultural mood to protest in their thousands. Many involved still argue today that the British protests were high profile enough to help facilitate America's final withdrawal from Vietnam.
© Morning Star Photographic Archive, Bishopsgate Institute.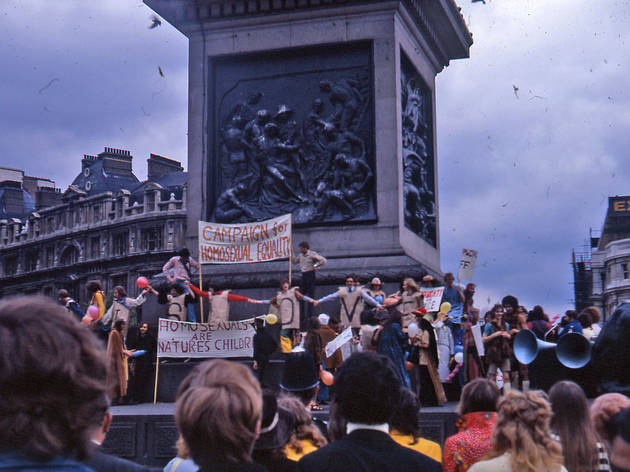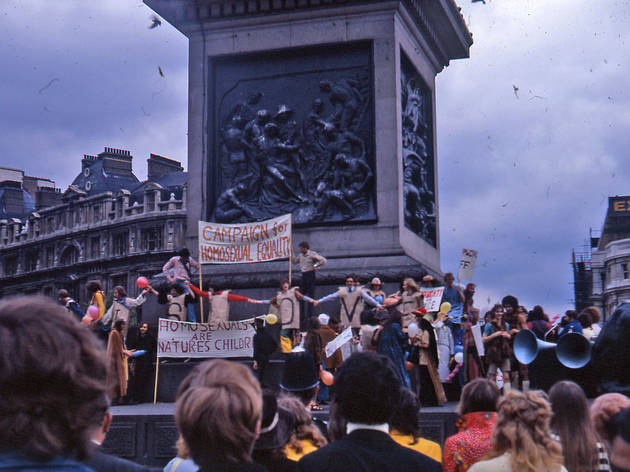 July 1 1972 marked the UK's first ever Gay Pride Rally, organised by the Gay Liberation Front with the theme of being 'out and proud.' Around 2,000 people attended and the event has grown to become an annual celebration of LGBT+ culture.
© Campaign for Homosexual Equality Archive, Bishopsgate Institute.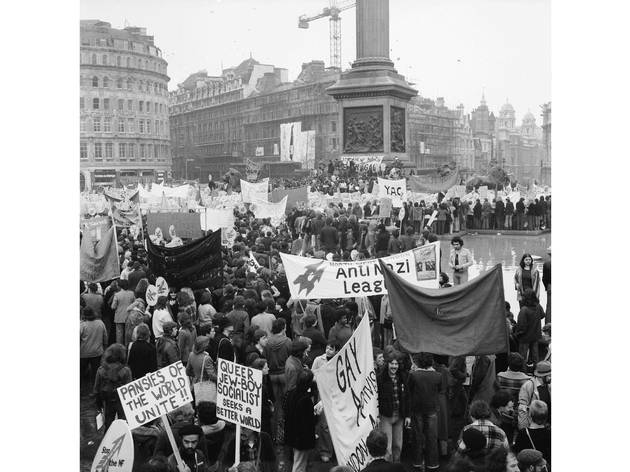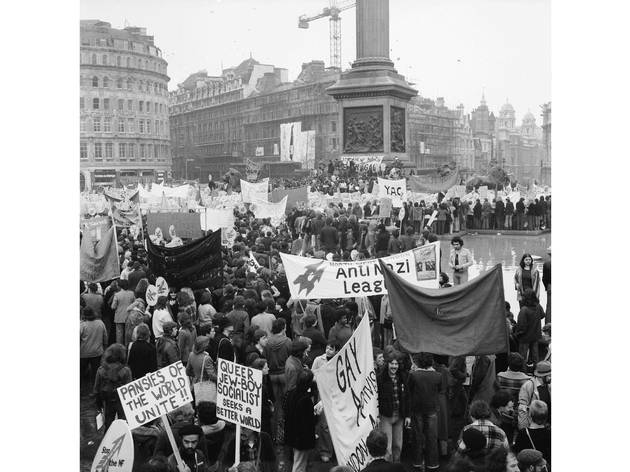 10. 1978: The Anti-Nazi League rally
On April 30 1978, thousands gathered in Trafalgar Square to respond to a rise in racism fomented by organisations such as the National Front. The crowd marched to Victoria Park, Hackney, for a concert staged in the name of 'Rock Against Racism', where The Clash and other artists performed to an estimated 100,000 people.
© Henry Grant Collection/Museum of London.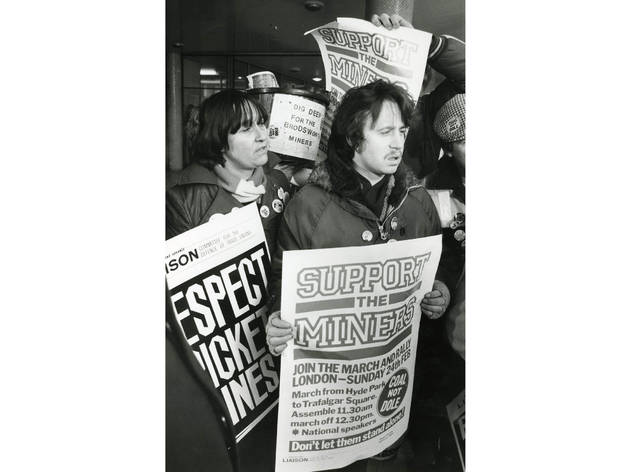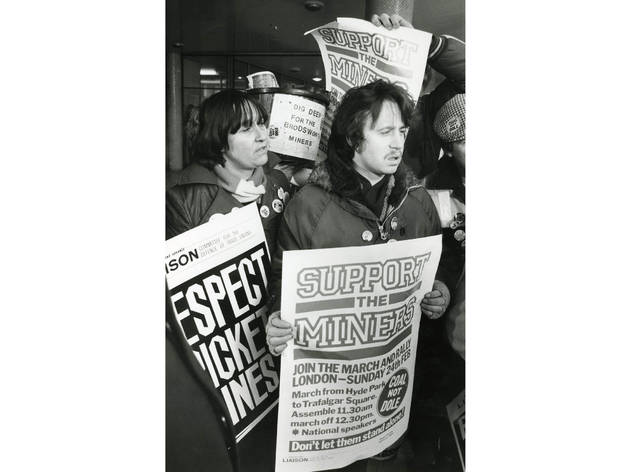 11. 1985: Miners' strike rally
On February 24 1985, demonstrators took part in a rally to support the ongoing strike of mine workers. Miners had been on strike across the country for almost a year in protest against the threat of colliery closures under Margaret Thatcher's government.
© Morning Star Photographic Archive, Bishopsgate Institute.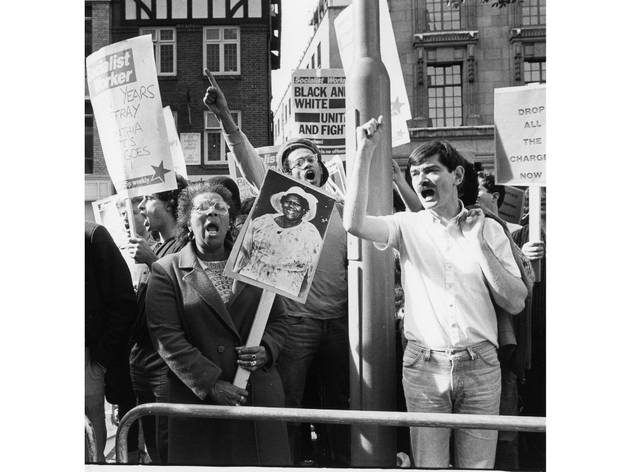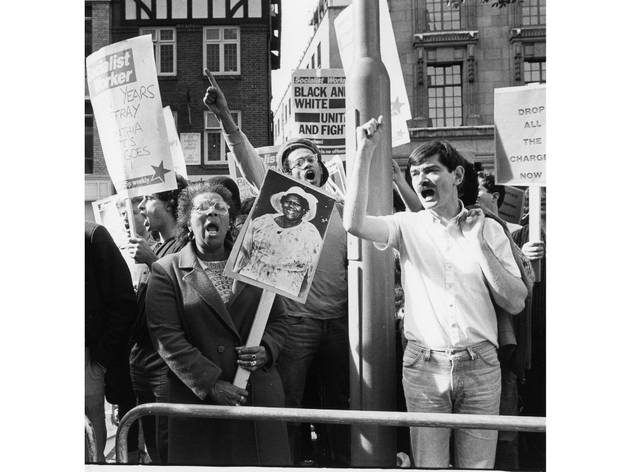 12. 1985: Broadwater Farm protests
A woman holds up a picture of Cynthia Jarrett during a protest in the aftermath of the Broadwater Farm Riots. The riots broke out in Tottenham on October 5 1985 after Jarrett died of a heart attack during a police search of her home. A London Metropolitan Police constable, PC Keith Blakelock, was killed by a group of rioters on October 6.
© Morning Star Photographic Archive, Bishopsgate Institute.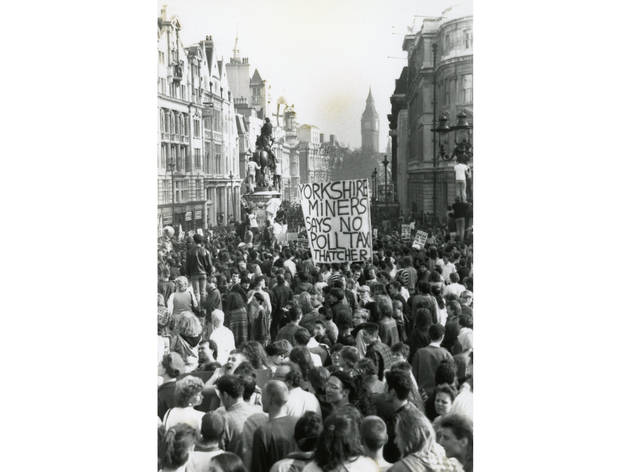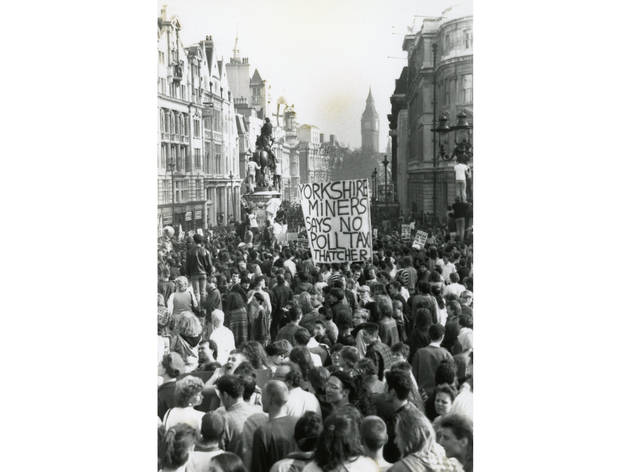 On March 31 1990, an estimated 200,000 protestors marched to Trafalgar Square to protest against the Conservative government's introduction of the poll tax. What began as a peaceful demonstration soured into a violent clash between protestors and mounted police, resulting in hundreds of arrests. But the outcry arguably precipitated the downfall of Margaret Thatcher: she resigned later that year and the poll tax was scrapped in 1991.
© Phil Maxwell Archive, Bishopsgate Institute.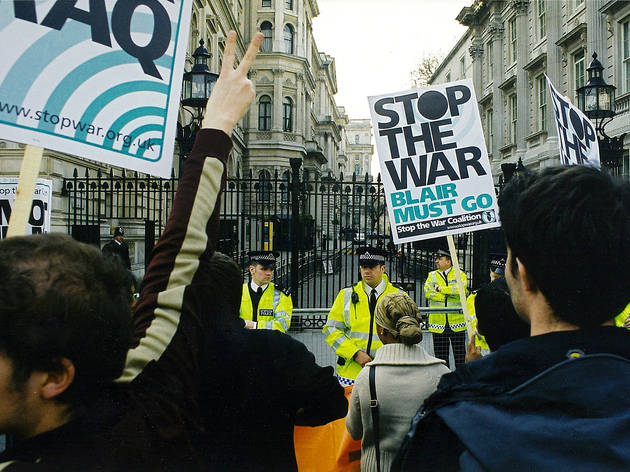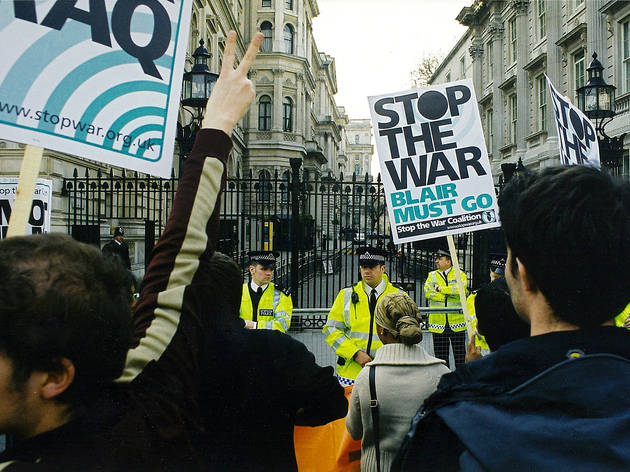 An estimated one million people protested against the Iraq war in London in February 2003. It was the biggest ever public peace rally in Britain. Just two years before, more than 20,000 people had marched through London to make a stand against the war in Afghanistan.
© Ben Rowe.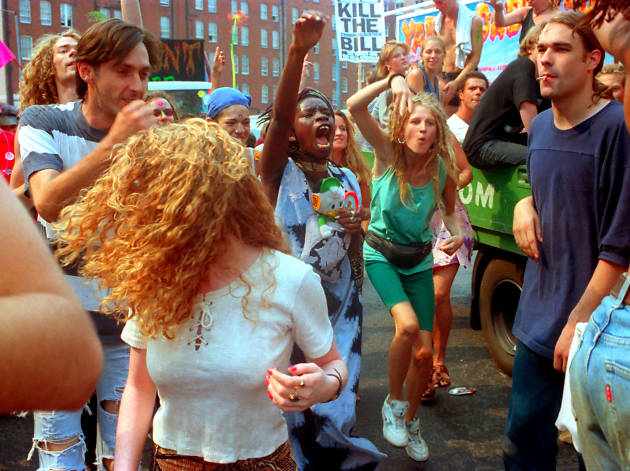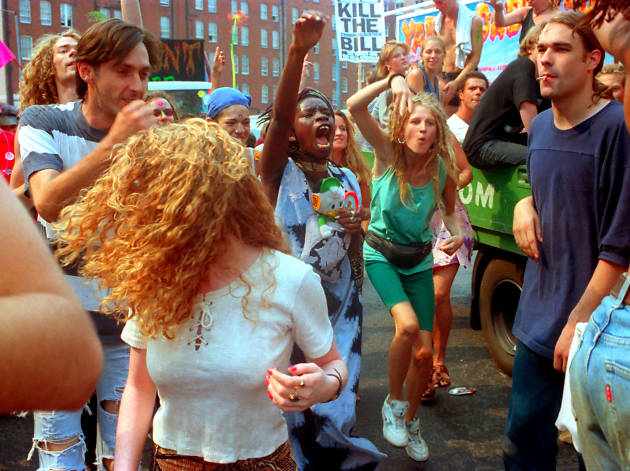 15. 1994: Criminal Justice Act
More than 50,000 ravers, squatters, travellers, eco-activists and civil libertarians marched from Hyde Park to Trafalgar Square in July 1994 for the second of three protests against the Criminal Justice Act. The law included a clause that attacked rave culture, aiming to ban music 'characterised by the emission of a succession of repetitive beats'.
© UIG via Getty Images.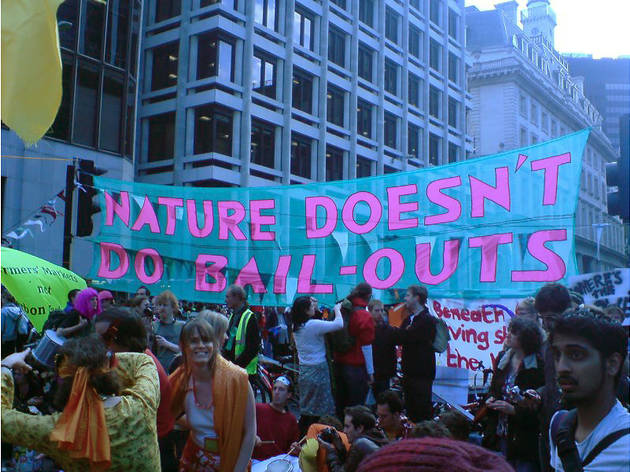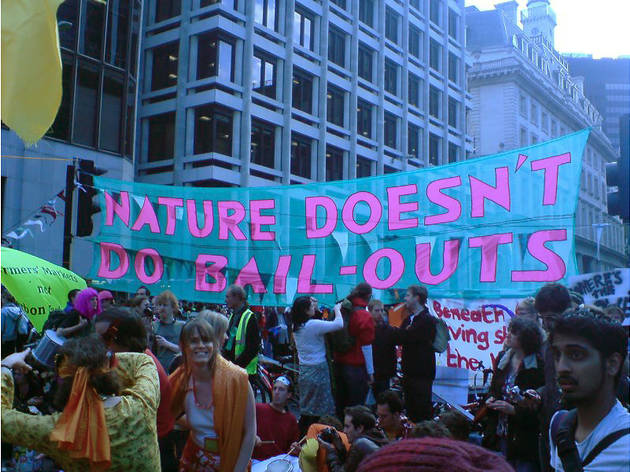 A number of rallies were organised ahead of the G20 summit in London in April 2009. On April 1 two to three thousand people joined the 'Climate Camp in the City' outside European Climate Exchange. Unlike the G20 Meltdown protest on the same day, in which bystander Ian Tomlinson was assaulted by a police officer and later died, the demonstration was largely peaceful.
© London Collection Digital Photographs/3/4/153, Bishopsgate Institute.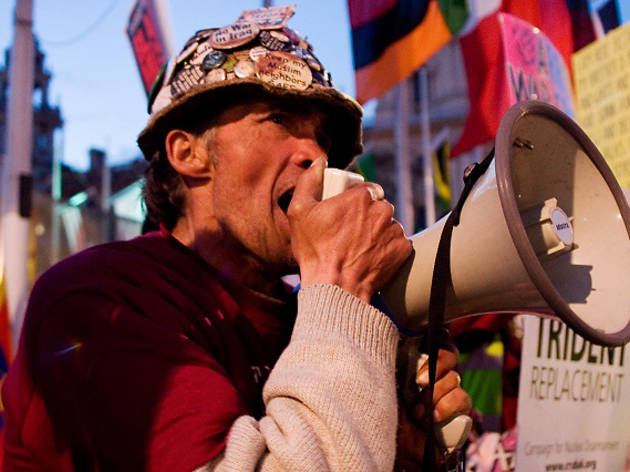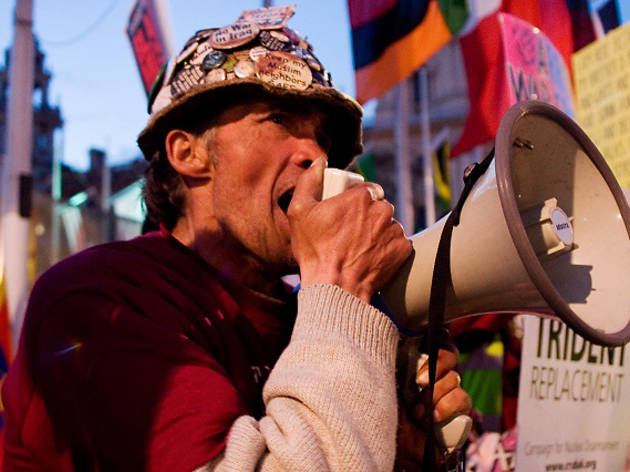 The late Brian Haw was a one-man peace campaign. A devout Christian, he travelled to London to protest against the UK's military interventionism. He built a camp in Parliament Square, and stayed there for a decade, tirelessly protesting against the war in Iraq and the subsequent fallout, until his death in 2011.
© Tom King/Alamy.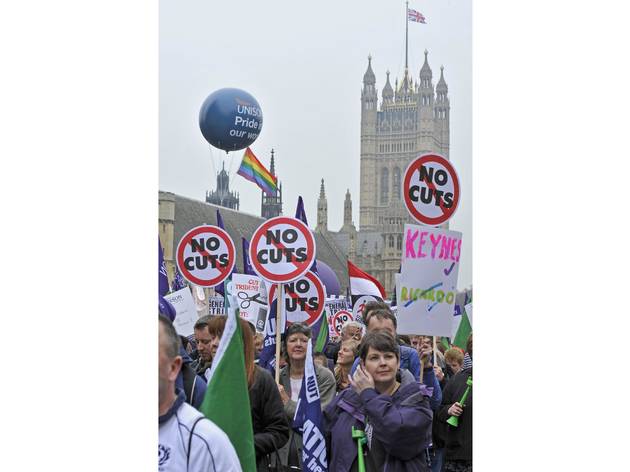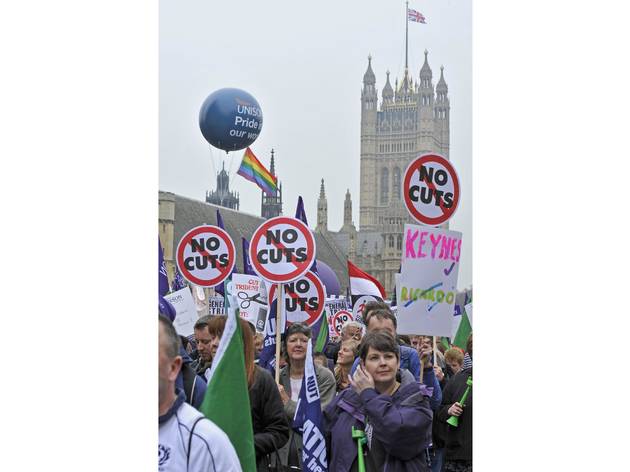 In March 2011, an estimated 400,000 people marched from the Embankment to Hyde Park in response to austerity measures imposed by the then-coalition government. It was the largest protest in the UK since the 15 February 2003 anti-Iraq War protest.
© Torla Evans.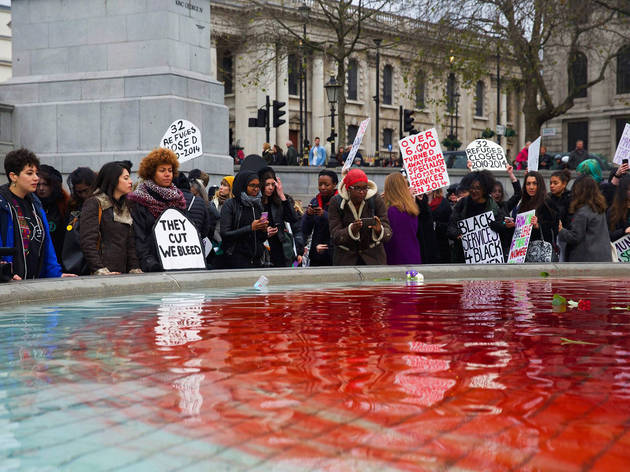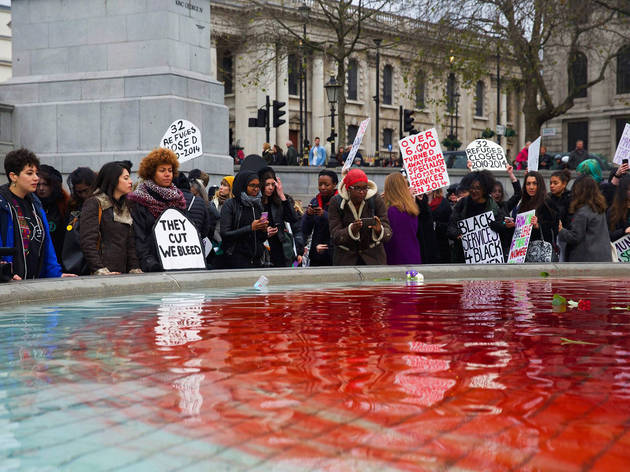 After cuts to women's refuge services, feminist activist group Sisters Uncut dyed the Trafalgar Square fountains red in November 2015 to symbolise the blood of women killed by domestic violence. They're one of a growing number of new radical protest groups in London now.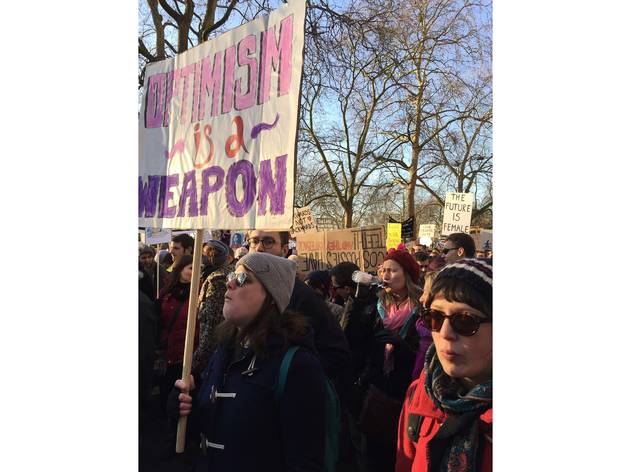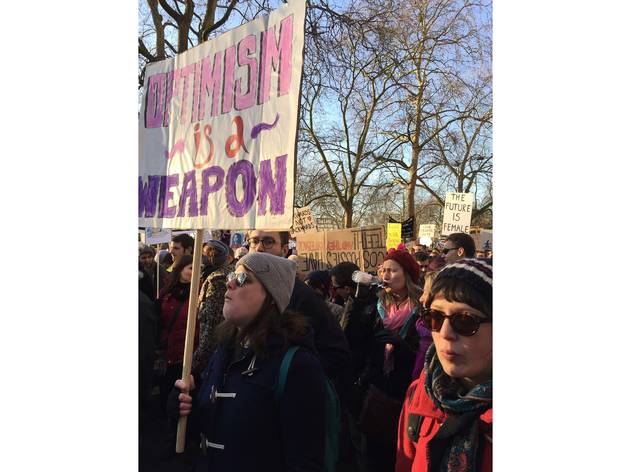 On January 21 2017, In response to the inauguration of Donald Trump as President of the United States, 100,000 activists gathered outside the US embassy in London to celebrate women's rights, diversity and equality. Nearly five million people worldwide were estimated to have taken part in the international day of action.
© WMOL Archive, Bishopsgate Institute.
For more of London in pictures...