The history of Carnival in photos
Notting Hill Carnival officially turns 50 this year. We look back at the long history of London's biggest party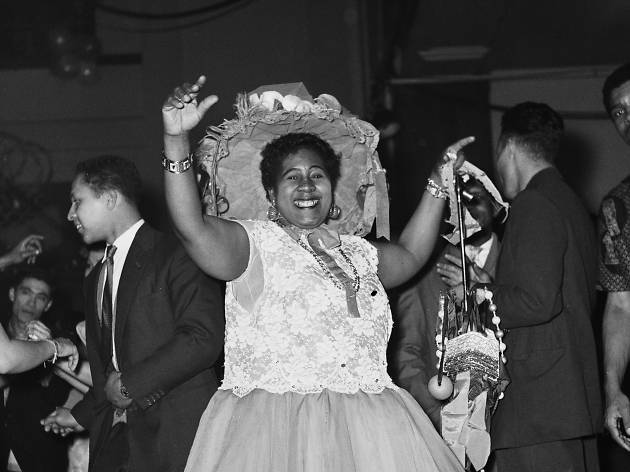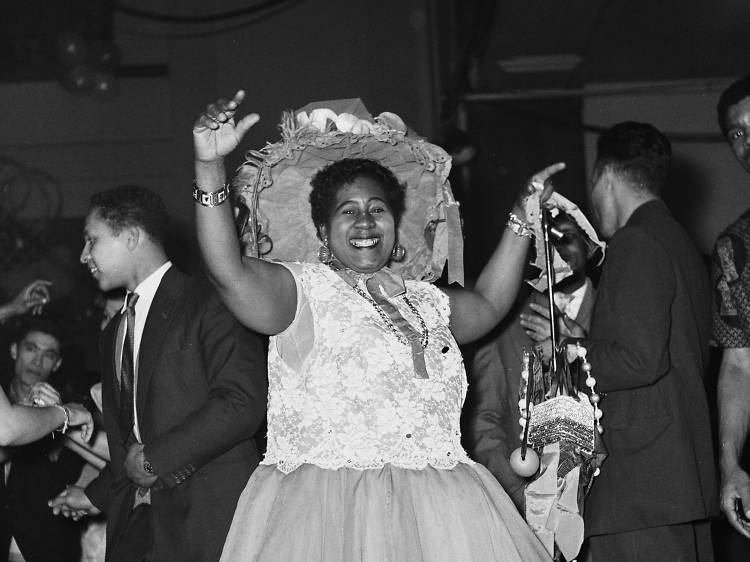 Alamy Stock Photo
1959: Indoor carnivals come to London
Trinidad-born activist Claudia Jones decides to organise a carnival that celebrates the culture of the Caribbean immigrants who have arrived in the UK in the post-war years. The first takes place at St Pancras Town Hall and is televised by the BBC. These indoor precursors to Carnival continue on an annual basis.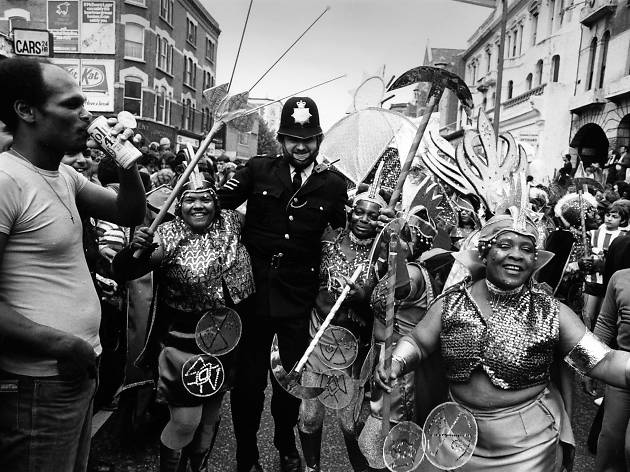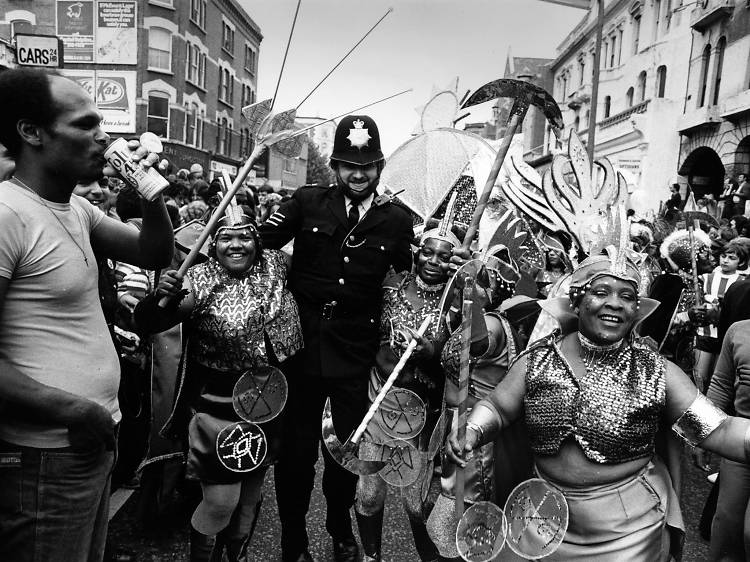 Getty Images
1964: The children's carnival
In the same year that Jones dies, west London social worker Rhaune Laslett has a dream in which people of all nationalities, dressed in colourful costumes, celebrate in the streets. She decides to act on her 'vision', and organises a neighbourhood party for children in Notting Hall. People from the area's Spanish, Portuguese, Irish and Caribbean communities come together and celebrate.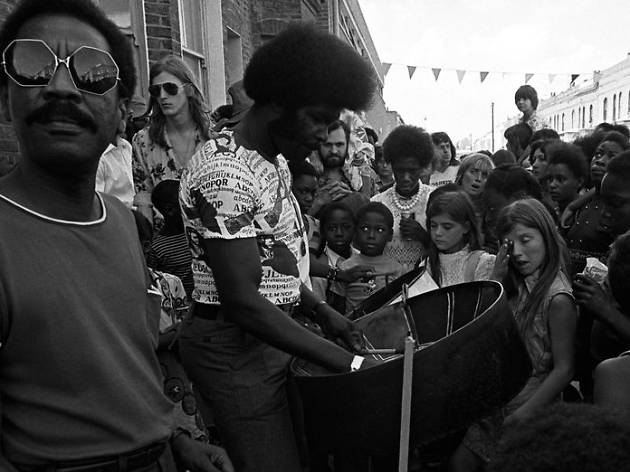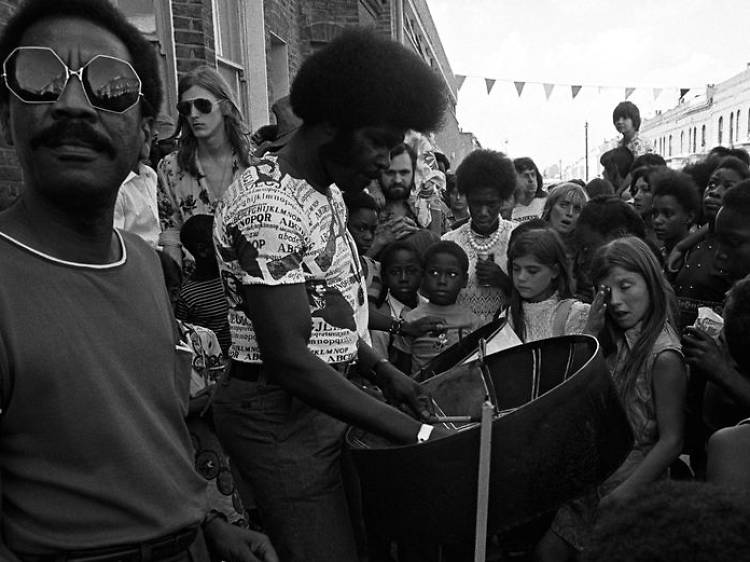 Chris Steele-Perkins/Magnum
1966: Music in the streets
Musician Russ Henderson - who performed at the St Pancras Town Hall Carnival - is invited to play with his steel band at this year's celebrations. He decides to lead the band on a spontaneous march through the streets of Notting Hill, with crowds following - and introduces an idea to Carnival that earned him an MBE in 2006.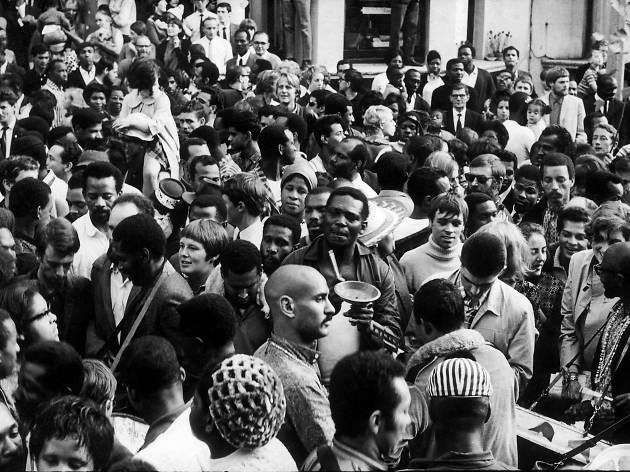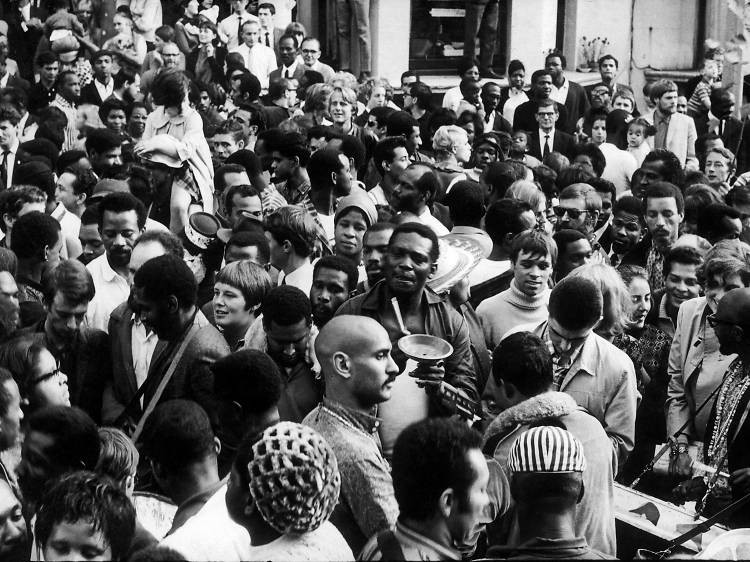 Charlie Phillips/Akehurst Creative Management
1968: Charlie Phillip's favourite shot
'I was in my makeshift darkroom at home when I heard a commotion outside. I went to investigate and saw a large group of people on the corner of Tavistock and Portobello Roads. This was 1968: one of the first times that the carnival took to the streets and became the large public event it is nowadays. Before that date, it had been started by Claudia Jones as a carnival gala which took place over one day in various halls like St Pancras Town Hall and around Notting Hall.'
Charlie Phillips, photographer and documenter of black culture in London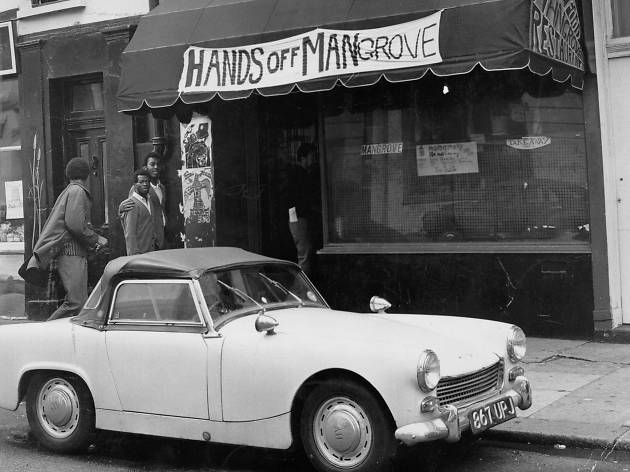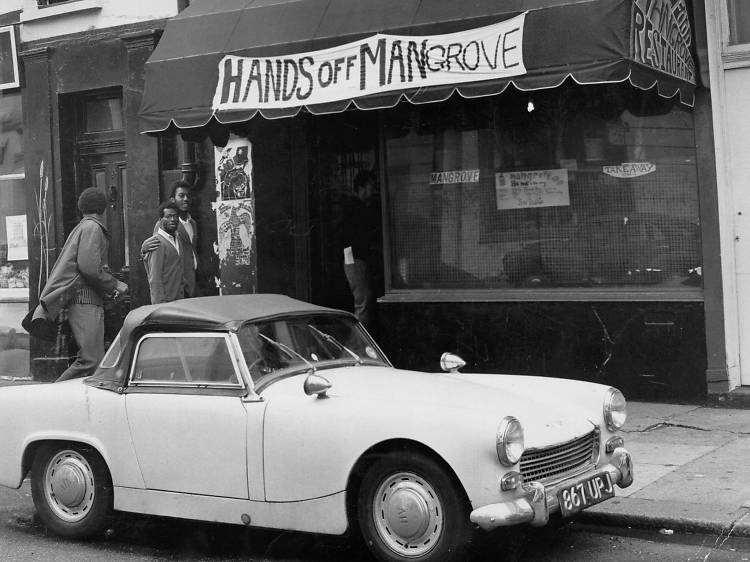 Getty Images
The Mangrove, a Notting Hill restaurant popular with activists and campaigners, is repeatedly raided by the police. After a demonstration against this perceived discrimination ends in violence, several protestors - known as The Mangrove Nine - are arrested. they are all acquitted in a groundbreaking court case that called out police racism for the first time.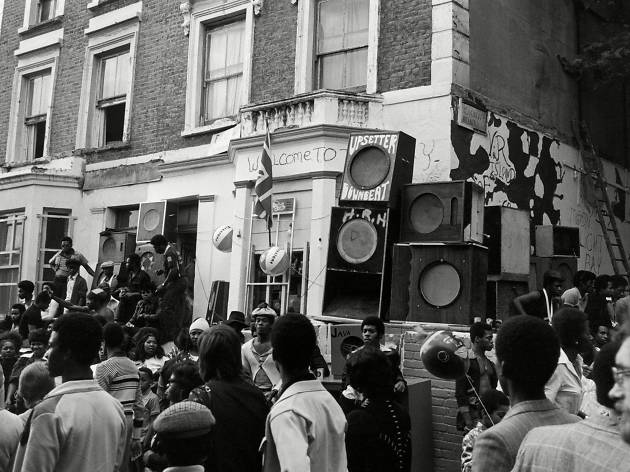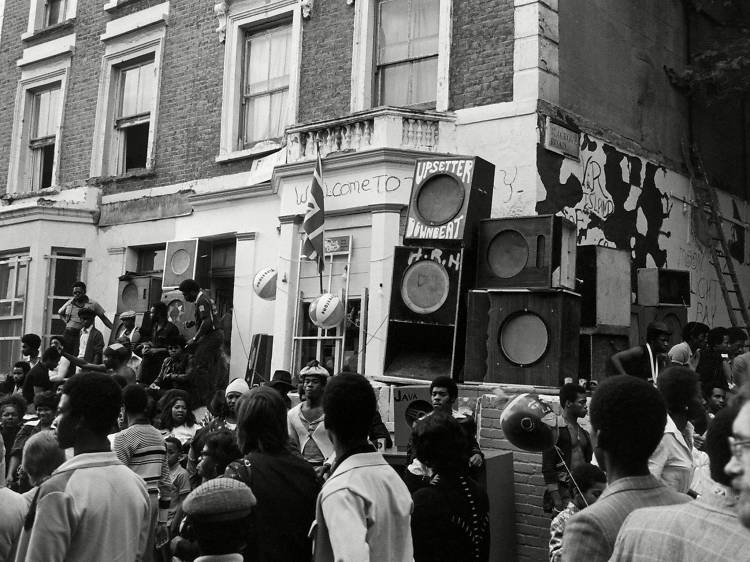 Braine/PYMCA/REX/Shutterstock
1973: The soundsystems arrive
After seeing an ad in Time Out, musician Leslie Palmer becomes chief organiser of Notting Hill Carnival. Wanting to appeal to the younger generation in the local community, he invites reggae bands and soundsystems to perform for the first time - helping define Carnival as the phenomenon we're familiar with today. At this point visitors number in the tens of thousands.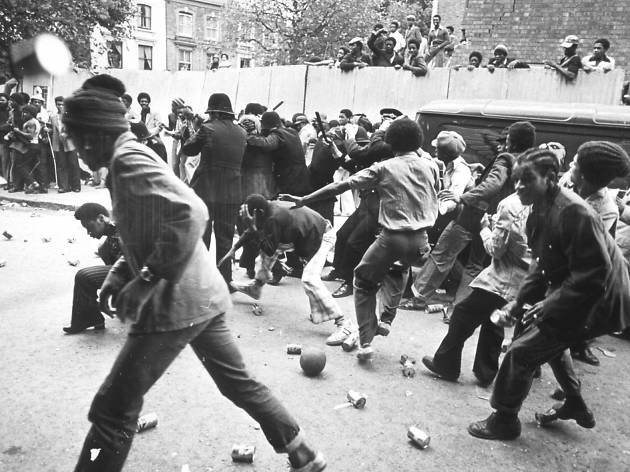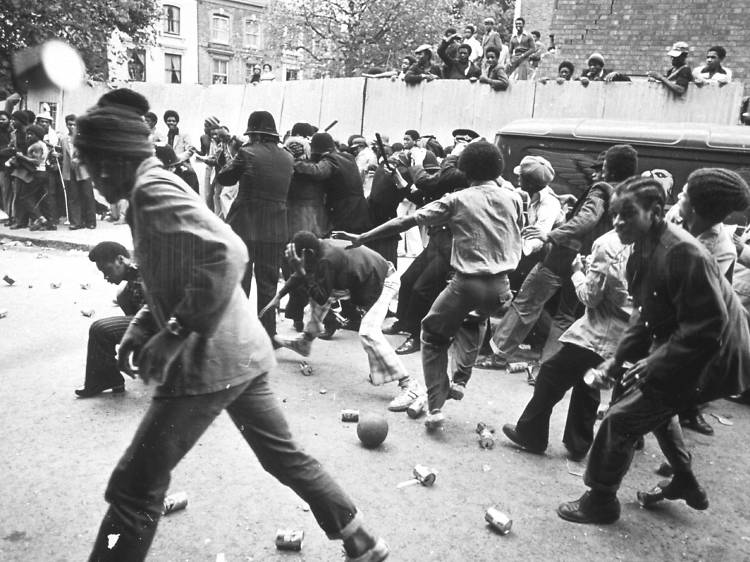 KIP RANO/REX/Shutterstock
Simmering resentment and distrust between the police and the black community (largely due to years of disproportionate levels of stop-and-searches) finally boil over. The police have more officers than ever on Carnival duty. Riots break out, resulting in vandalised property, hundreds of people injured and more than 60 people arrested.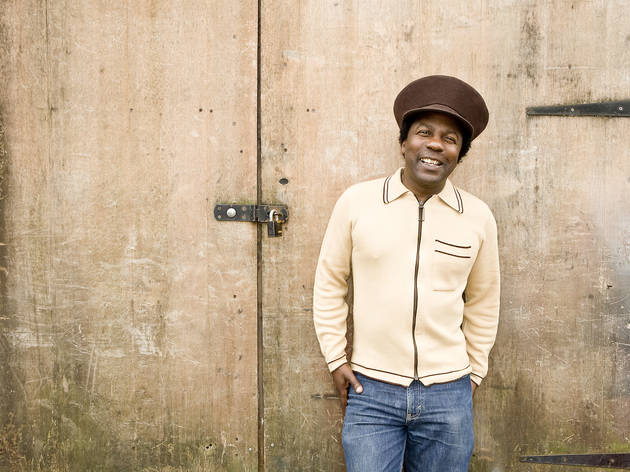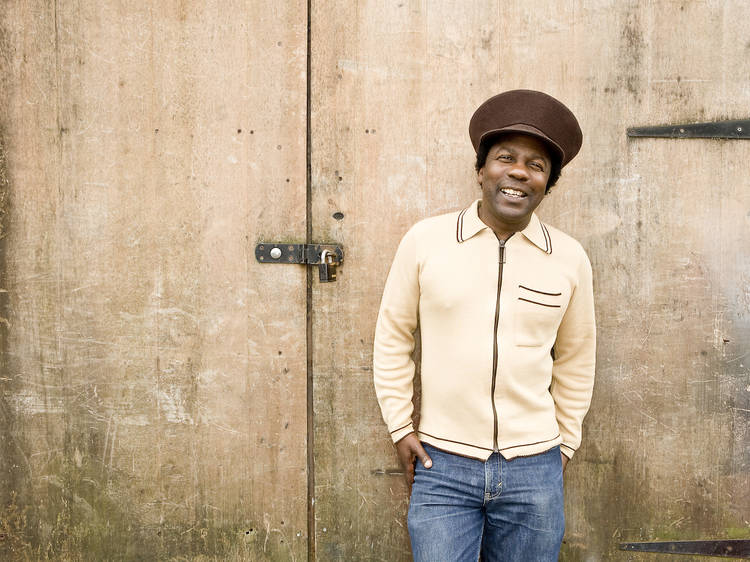 1981: Good Times soundsystem begins its reign
DJ Norman Jay's Good Times soundsystem arrives at this year's festivities. It brings a new soul-based dimension to the traditional reggae sounds, and opens up a new, more diverse era of music at Carnival. Good Times is set to become an annual fixture for another 32 years.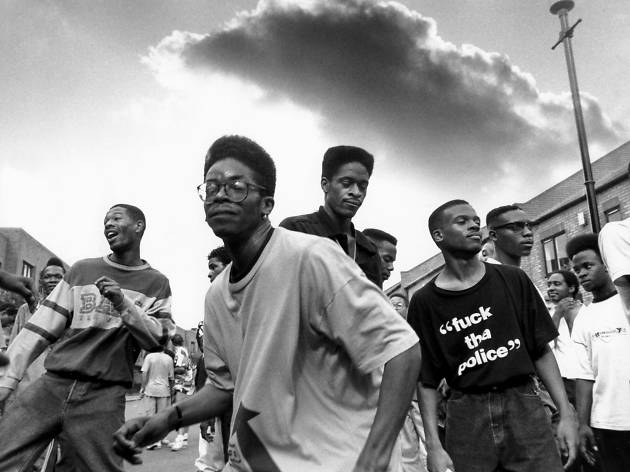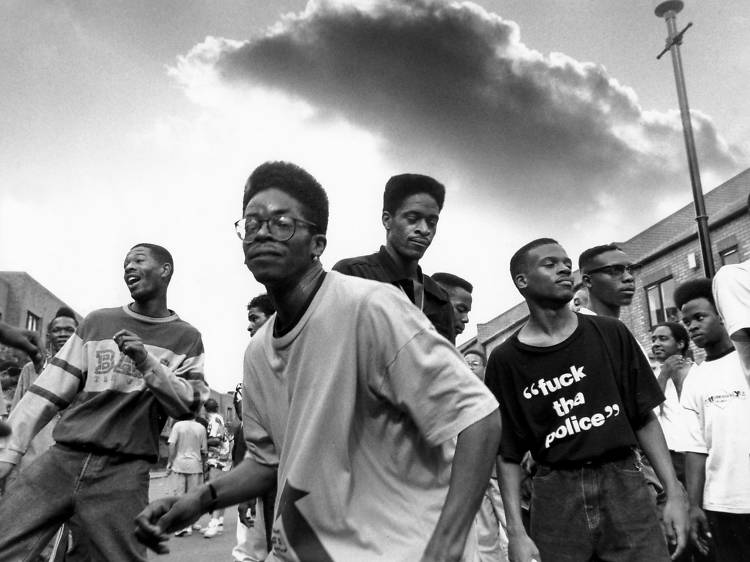 Giles Moberly
1990: Giles Moberly's favourite shot
'It's 1990 and I'm wandering around Tavistock Crescent looking for pictures. There's a group of men with flat top hairstyles: one had a message on his T-shirt I liked. A bass-heavy tune kicked off and they all started dancing and jumping. Instinctively I took a few shots and quickly moved on. The rest is history.'

Giles Moberly, photographer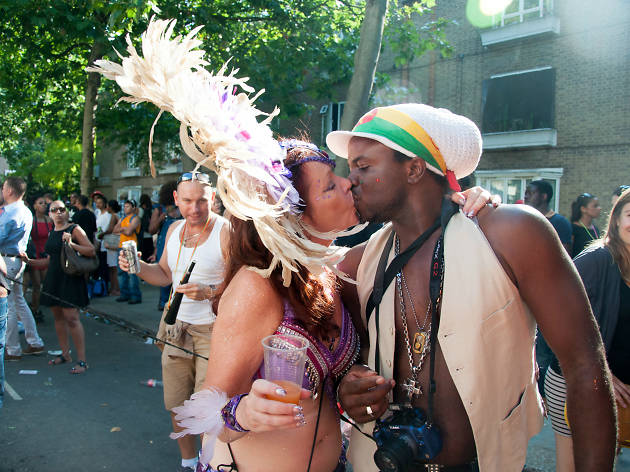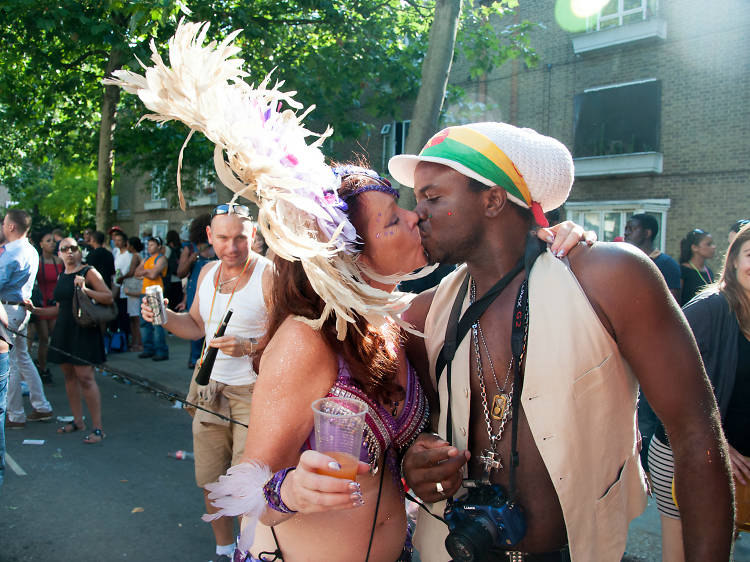 Maria Brosnan
2013: Maria Brosnan's favourite shot
'This was taken in 2013. I've been going to Carnival religiously since I was a kid. My mum's Trinidadian so I feel like it's a bit of our cultural heritage. I used to go to the soundsystems, but five years ago I started playing mas - getting dressed up and dancing behind a truck - with Arawak Mas Band. The year I started, this couple told me I hid behind the camera the whole time. I hadn't stopped drinking, so I think I just hadn't worked out what to do with my hands yet! I love this picture of them ignoring me. It makes me think of that conversation and how grateful I am for their honesty. And it reminds me not to hide behind the camera!'

Maria Brosnan, events and environmental photographer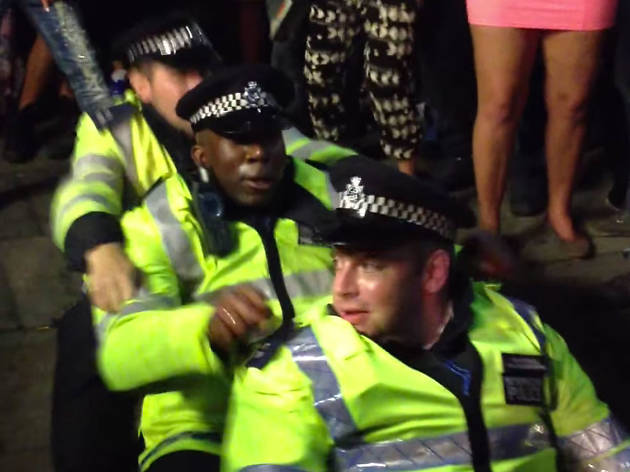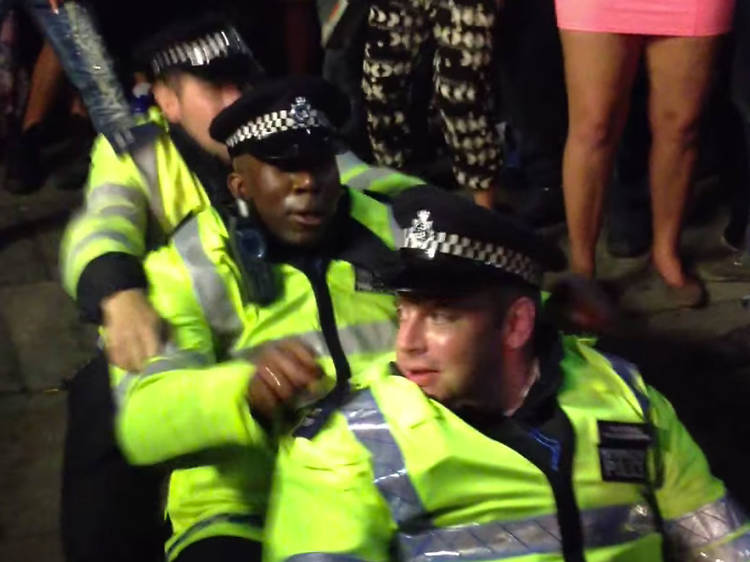 MOOFBulleh/flickr
Video footage of policemen in a dance-off becomes a viral hit. It's since gathered nearly 1.2 million views on YouTube and has become a symbol of good relations between police and Carnival-goers.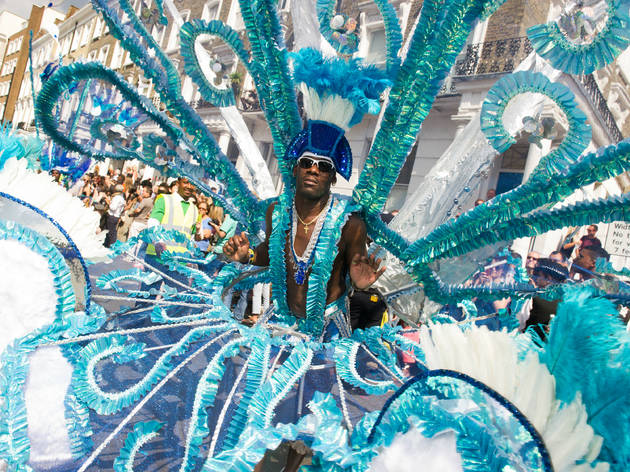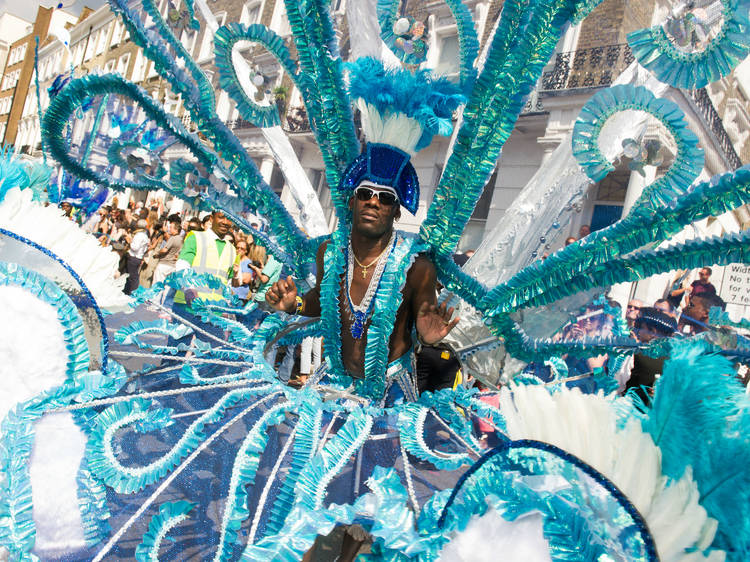 David Tett
Around 2 million people come to Carnival each year, making it the biggest street party in Europe. Approximately 16,000 records are played, 300 food stalls are set up and 30 million sequins go into the handmade costumes.
Find out about Carnival 2017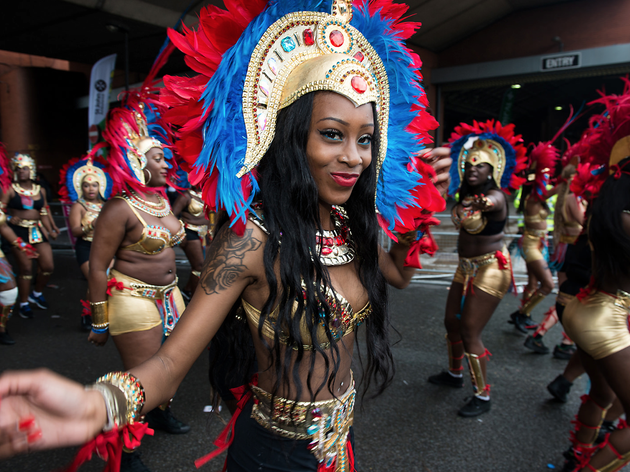 This August bank holiday, don't go anywhere without reading our guide, which includes invaluable information about Notting Hill Carnival 2017. Looking for route details and tips on having fun, while staying safe? You've come to the right place.