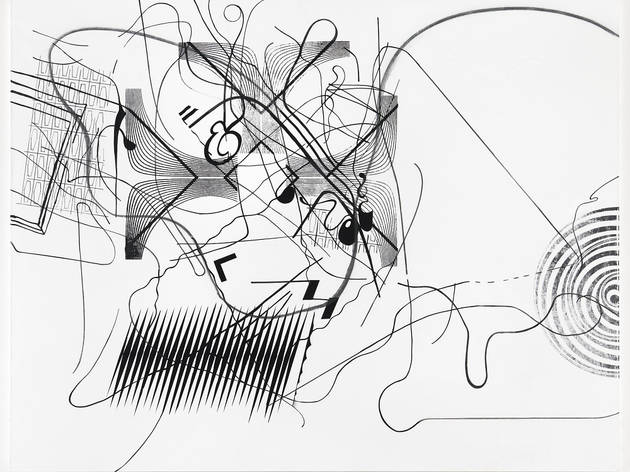 Time Out says
The peculiar collective title of these two shows, 'Painthing on the Möve', is never explicitly explained, but you kind of get the idea: disaffected, punning irreverence, a deconstruction of painterly elements. There's also the hint of something German, which nicely encapsulates one half, at least, of this double-exhibition, with its selection of new works by Albert Oehlen (his last show here if rumours about him being nabbed by American dealer Larry Gagosian are to be believed).
Oehlen's approach, here, is to offer a kind of drunken, whimsical tour though different historical styles and snippets of imagery – a tangled, overlapping mishmash of squiggly abstraction, diagrammatic forms, retro-computerish doodles, and subtle hints of fonts or punctuation. There are some big, tumultuous paintings (the best one evincing a broken symmetry) and also various smaller drawings, incorporating collage elements – cartoons, technical illustration, exhibition invites – whose lines and forms are then elaborated and riffed on.
Essentially, though, all this playfulness and quotation is familiar territory for Oehlen – albeit with one major difference: it's all black and white, instead of his usual bright-muddy colour combinations. The effect is to make the works seem more sophisticated and streamlined, yet also perhaps a bit too coolly inoffensive, given his more typically gleeful, bad-taste aesthetic.
Thankfully, there's also the other half of the exhibition: a mini-survey of works by the Chicago Imagists, co-selected by Oehlen, who teaches in the city. There's colour – great, mesmerizing, psychedelic wafts of it; plus, all the over-the-top schlock you'd expect of an art movement that, from the late 1960s, was orientated around notions of vernacular art forms: acid-trip art, comic books, tattoos, commercial signage.
Jim Nutt's psychosexual drawings are the best known pieces today, perhaps along with that incomparably named artist group, 'The Hairy Who'. Yet from Ed Flood's chintzy, plexiglass screens, to Christina Ramberg's lewdly swollen shoe designs, the nine artists' earthy, alternative take on Pop offers a fascinating foil to Oehlen's more nonchalant, quizzical meanderings.
Details
Users say