Amongst Heroes: The Artist in Working Cornwall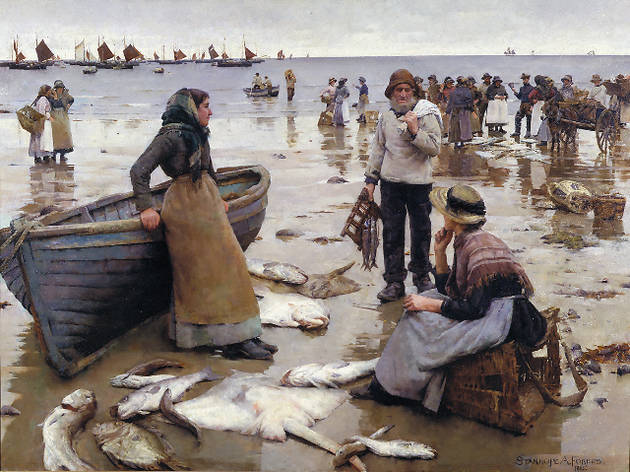 Two Temple Place stages its second winter exhibition with a major survey of work by Cornish artists. Created in partnership with the Royal Cornwall Museum in Truro, the show continues Two Temple Place's aim to showcase collections from outside central London while providing opportunities for emerging curatorial talent – this year's show has been curated by Courtauld Institute student Roo Gunzi, who is completing a PHD on Newlyn painter Stanhope Forbes. Forbes's work, including his famous painting 'A Fish Sale on a Cornish Beach' (1885), takes centrestage, along with other representations of Cornish men and women at work, primarily from between 1880 and 1920. The show charts the way in which these images played a role in the development and recognition of Cornwall as a centre for the production of realist art and its focus on the working landscape of Cornwall's coastline.
Average User Rating
3.5 / 5
Rating Breakdown
5 star:

1

4 star:

0

3 star:

0

2 star:

1

1 star:

0
The first review says it all really - its more about the venue than the actual exhibits. I picked this as a wild card for a day in London whilst on a day trip from the North. It was viable as it was near to a favourite watering hole, the Edgar Wallace. 2 Temple Place seems to be the place that does not open its doors too often. Banners on the railing to draw punters in brought them to a door with temporary signs to Push!. The doorbells even suggested a shared occupation with a dog breeders association. Once inside a couple of sweet old dears in pearls and twinsets tried to take stuff for a makeshift cloakroom. Please. The exhibition itself was exactly what it suggested, well almost. If you think that folks going to the south of the country because of the fabulous light were inspired well think again. They got a lot of inspiration but only for fish and fishing boats. If you were expecting landscapes and portraits scattered amongst scenes of fish being caught then think again. Great because it was free and took ten minutes to see and it was a new venue for me.
The exhibit here is only the icing on the cake. The interior of this "Astor House" mansion is wonderful with all the wood works in the walls, fireplaces, windows and every nook and cranny. William Waldorf Astor engaged excellent wood carvers and there are statues and friezes of notable authors and characters from literature throughout the house. Go and enjoy!