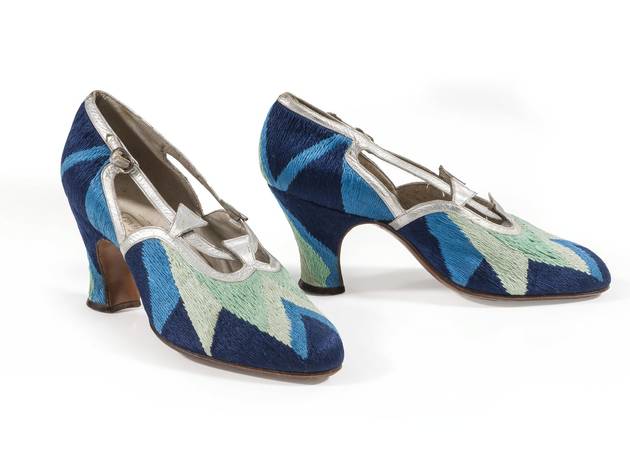 1/15
Sonia Delaunay: court shoes, 1925. Les Arts Décoratifs, Musée de la Mode et du Textile, Paris. Gift of Sonia Delaunay to UFAC, 1965. © Pracusa 2014083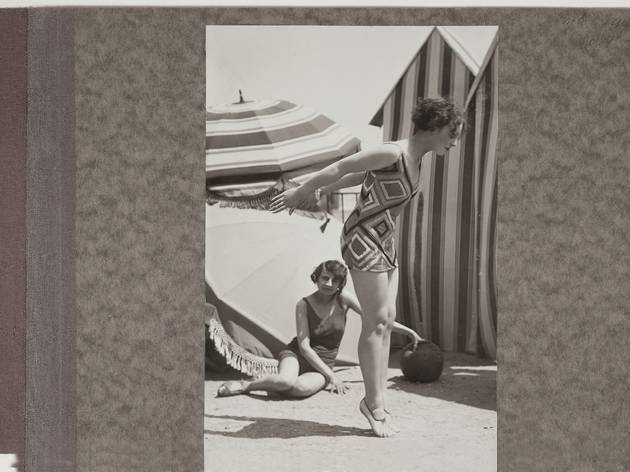 2/15
Luigi Diaz: Two fashion models in bathing suits designed by Sonia Delaunay, c1929.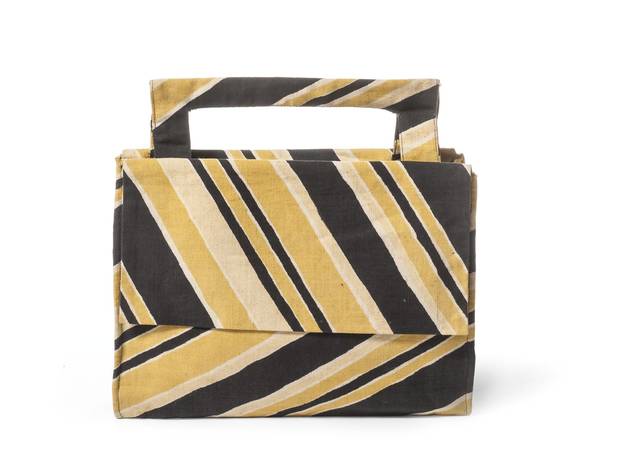 3/15
Sonia Delaunay: beach set (bag), c1928. © Pracusa 2014083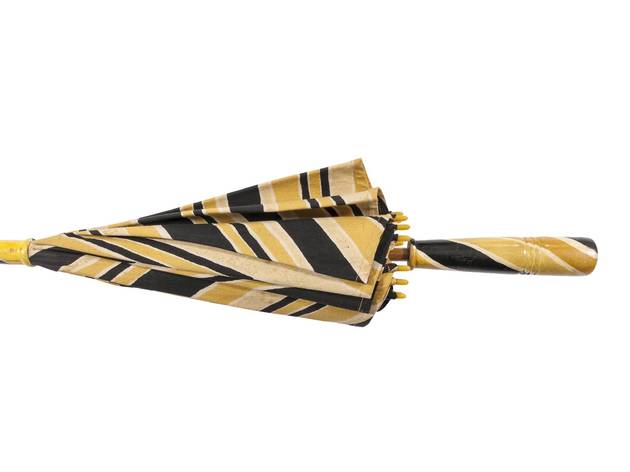 4/15
Sonia Delaunay: beach set (parasol), c1928. © Pracusa 2014083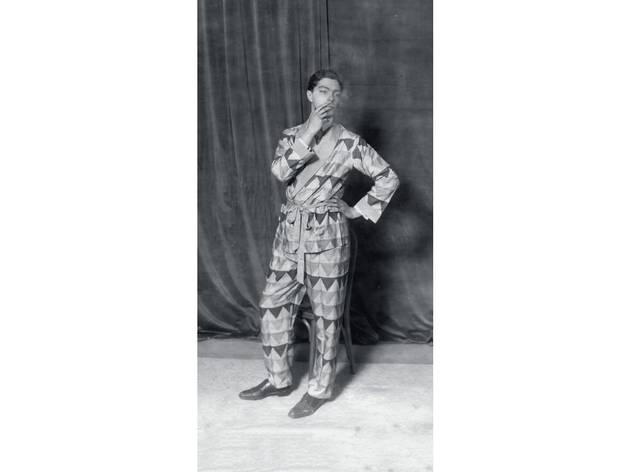 5/15
The architect Ernö Goldfinger wearing shantung pyjamas designed by Sonia Delaunay. Photographer unknown. © Pracusa 2013057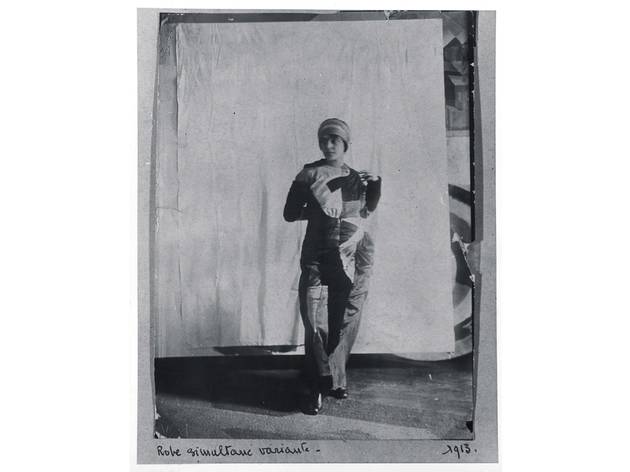 6/15
Sonia Delaunay wearing a Simultaneous dress, 1913. Bibliothèque Kandinsky, Centre de Documentation et de Recherche du Mnam - Cci, Paris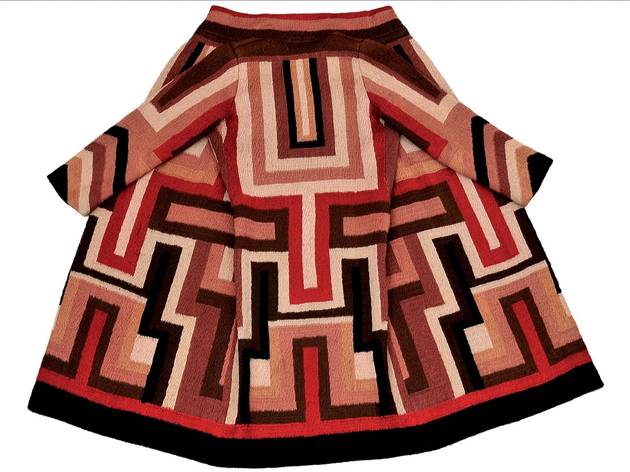 7/15
Sonia Delaunay: Coat made for Gloria Swanson, 1923. © Pracusa 2014083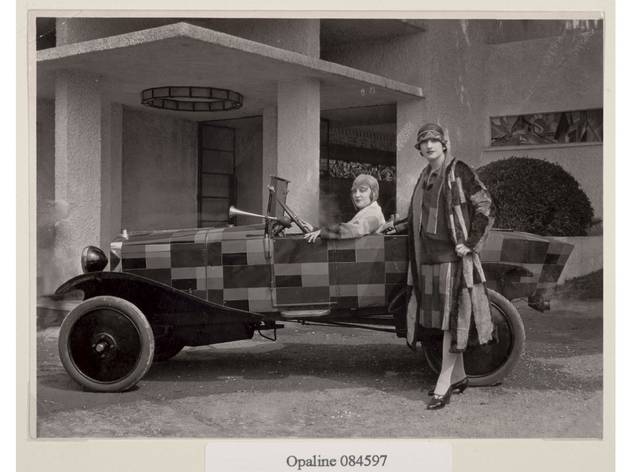 8/15
Two models wearing coats designed by Sonia Delaunay, with the Citroën B12 painted after one of the artist's fabrics, 1925. Photo André Villers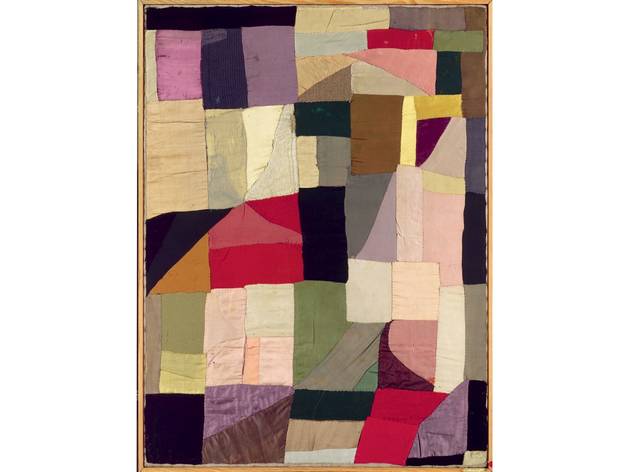 9/15
Sonia Delaunay: cradle cover, 1911. © Pracusa 2013057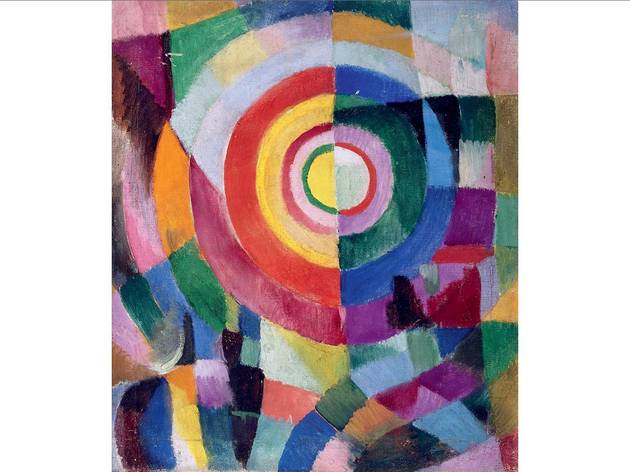 10/15
Sonia Delaunay: 'Electric Prisms no 41', 1913-14. Centre National des Arts Plastiques, Paris, France © Pracusa 2014083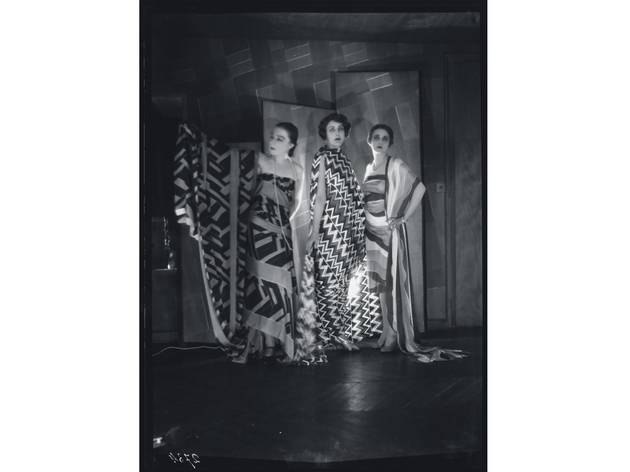 11/15
Sonia Delaunay: Three fashion models, boulevard Malesherbes, Paris, c 1925. Bibliothèque Kandinsky, Centre Pompidou.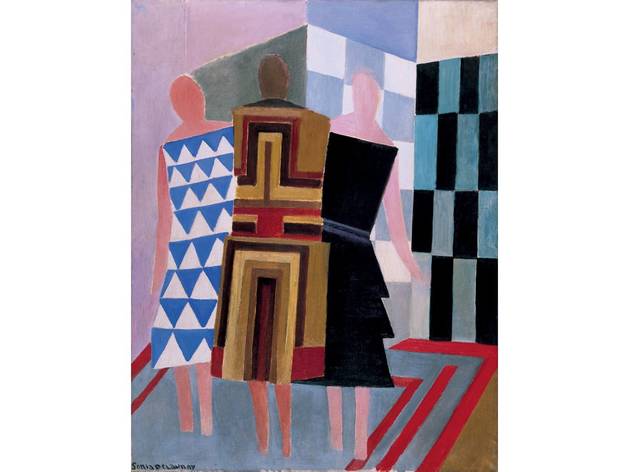 12/15
Sonia Delaunay: 'Simultaneous Dresses: Three Women, Forms, Colours', 1925. © Museo Thyssen-Bornemisza, Madrid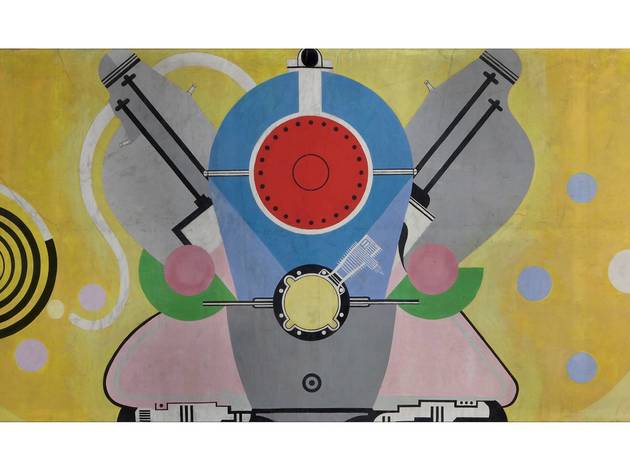 13/15
Sonia Delaunay: 'Aeroplane Engine', 1937. Skissernas Museum, Lund, Sweden © Pracusa 2014083 Photo: Emma Krantz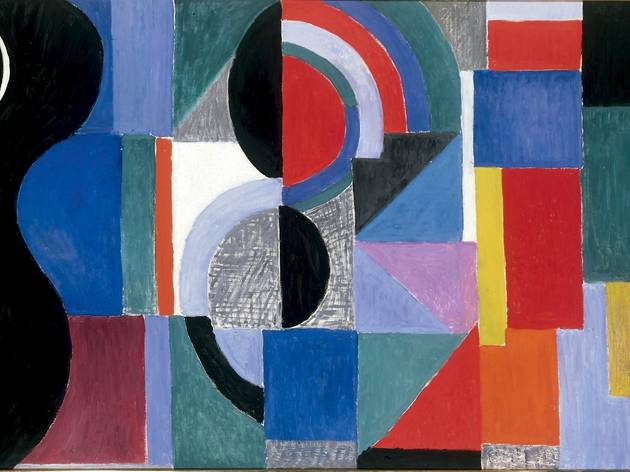 14/15
Sonia Delaunay: 'Syncopated Rhythm (The Black Snake)', 1967. © Pracusa 2013057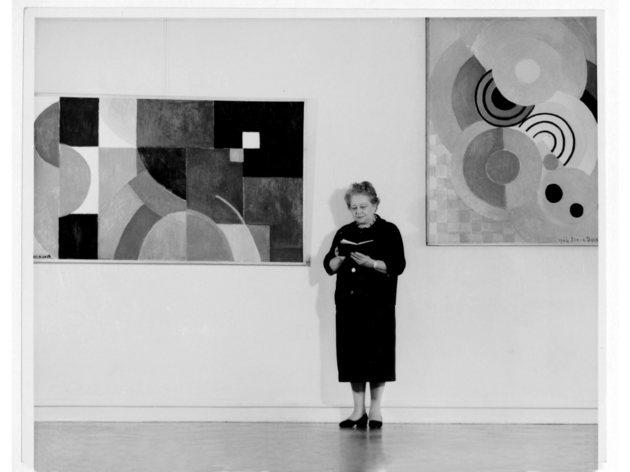 15/15
Sonia Delaunay at the retrospective organised by Städtisches Kunsthaus, Bielefeld, Germany 1958 Bibliothèque Nationale de France, Paris. Gift of the artist, 1977
An introduction to 'The EY Exhibition: Sonia Delaunay'
Sonia Delaunay is the best modern artist you've never heard of. As Tate Modern launches a landmark exhibition of her dazzling work, we discover why it's time for this unsung genius to shine
Sonia Delaunay (1885-1979) had two things going against her: she was a woman, and she made the kind of genre-defying art that brought critics, even sophisticated Paris types in the first decades of the twentieth century, out in a cold sweat. Obviously Delaunay – born Sara Elievna Stern to impoverished Jewish parents in Odessa, Ukraine – couldn't do much about her gender. 'She was working as a female artist at a time when there was less acknowledgement of women, generally,' says Juliet Bingham, curator of the artist's first UK retrospective. But, as revealed by the variety of paintings, textiles, furnishings and clothes in this exhilarating show, she had no interest in reining herself in to appease her detractors. 'Throughout her career, she was very experimental, very free,' adds Bingham. 'The critics were confused because she showed paintings and works on paper, as well as book bindings, cushion covers, lampshades and fabric works. She didn't make distinctions between fine art and applied art.'
It's this staggering range of work, of course, that makes Tate's Delaunay show such a visual feast. You'll see fabulous shoes, bags and frocks, vast panels dedicated to flight (made for the 1937 International Exposition in Paris), as well as sumptuous abstract paintings that pulsate with colour. But Delaunay went even further than that: she wore her art on her sleeve. In 1913, she designed herself a 'Simultaneous Dress' covered with a trademark pattern of arcs and discs, presenting herself as a self-styled living sculpture. 'She was a brand,' says Bingham. 'She was very clever in the way that she marketed herself throughout her life.'
Brought brilliantly to life by dozens of photographs from the period, as well as films – including one enchanting example in which she appears, smiling, through huge drapes of patterned fabric – the show locates Delaunay at the very heart of the Parisian avant-garde, surrounded by the poets, designers and choreographers she collaborated with. These included people like Sergei Diaghilev, whose 1918 ballet 'Cléopâtre' she designed costumes for, and the poet Blaise Cendrars, whose 1913 poem 'Prose of the Trans-Siberian...' she illustrated, attempting to express the written word through colour.
In an age when men called the shots, Delaunay needed drive and ambition to shine. She was fearless. Adopted by an uncle at an early age, Delaunay left her parents to live in St Petersburg. Still a teenager when she arrived in Paris, she was briefly married to the gay art critic and dealer Wilhelm Uhde – 'a marriage of convenience,' explains Bingham. 'For him and also for her, as she didn't want to return to St Petersburg.'
She was also miles ahead of the men. It was while married to Uhde that she met the painter Robert Delaunay. The couple were married in 1910, working side by side on their experiments with abstraction and contrasting colours. The results, Simultanism, also known as Orphism (think Cubism with the colour turned up), was expressed by Robert in beautiful, though rather dutiful, canvases of fractured cityscapes that certainly wouldn't have caused Picasso to lose much sleep. Meanwhile, Sonia streaked ahead, making poem dresses – words you could wear – as well as paintings, and designing her own typography.
Sonia was much more practical than the fragile Robert, too. During WWI, when the Delaunays left Paris for Spain and Portugal, Sonia set up the Casa Sonia in Madrid to tide them over when their money ran low, selling her designs for posh threads and snazzy interiors. Later, celebrities like film star Gloria Swanson and heiress Nancy Cunard would clamour for her clobber. You'll even see a photo of notoriously glum modern architect Ernö Goldfinger (of Trellick Tower fame) hand on hip in a pair of natty Delaunay pyjamas.
The sense of an artist finally getting her dues is what makes this show all the sweeter. Tradition dictates that the Delaunays are shown together. Certainly, Robert is by far the better known, and after his death in 1941, Sonia dedicated herself to promoting his work and ensuring his legacy, which says a lot about her love for the man. 'I think this is really a unique opportunity to present Sonia in her own right,' says Bingham. 'In her autobiography, she wrote: "What had people been saying about me up to then? – muse of Orphism, decorator, Robert Delaunay's partner… before admitting that the work existed in its own right."'
Even though she's revered in fashion circles it's taken the rest of us, especially on this side of the Channel, decades to catch up. 'The breadth of her work is very inspiring,' says Bingham. 'It's really incredible the way that she took her ideas across these different forms. She believed in art and life, and lived her art.' At Tate Modern you'll see that belief as emphatically clear in a tiny scrap of silk as in a seven-metre mural. It's a spine-tinglingly good introduction to the woman we reckon will be your new favourite artist.
Support Time Out
We see you're using an ad-blocker. Ad revenue is Time Out's main source of income. The content you're reading is made by independent, expert local journalists.
Support Time Out directly today and help us champion the people and places which make the city tick. Cheers!
Donate now