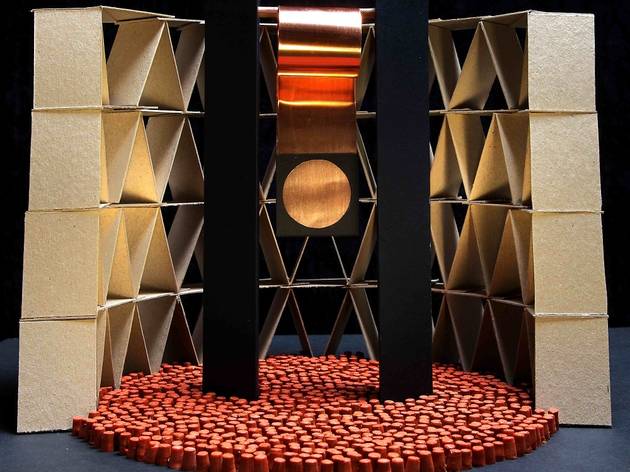 Annabelle Moreau's worlds-within-worlds-style installation, based on the Greek myth of the Cyclops, is a lot less annoying a physical experience than the accompanying text about the work, which brings to mind the hype on the back of herbal products and retreat pamphlets. Moreau's mission to mess about with the viewer's sensory settings, however, is sharp enough to destabilise certain preconceptions about her desire to 'inform the human spirit'.
This is very much a gallery installation, as opposed to an immersive Mike Nelson-type one – even with the 1960s fantasy filmic associations brought about by reflective surfaces and the artist's prop-like play and scaling of objects. The basement room is described as an 'interior maquette', housing two architectural models on plinths into which it is presumed the viewer will project their miniature selves. The descent into the space, with its golden metal floor, provides the most powerful part of the experience; like taking an enforced plunge into a rising vat of liquid gold.
The curious shifts in scale, meanwhile, afforded by the 'Russian doll' effect of the mini galleries inside the gallery are undermined by a nearby cabinet full of copies of the artist's new 3D publication and a breathy audio. It seems odd that the artist should purposely sabotage the immersive effects of the work by pulling us firmly into the present. Homer's Greece feels nowhere near, despite the abundance of copper, gold and terracotta, yet Moreau's slick illusory disco does expose some age-old themes: the vulnerability of the viewer to spatial suggestion and the lure of tiny and shiny things.